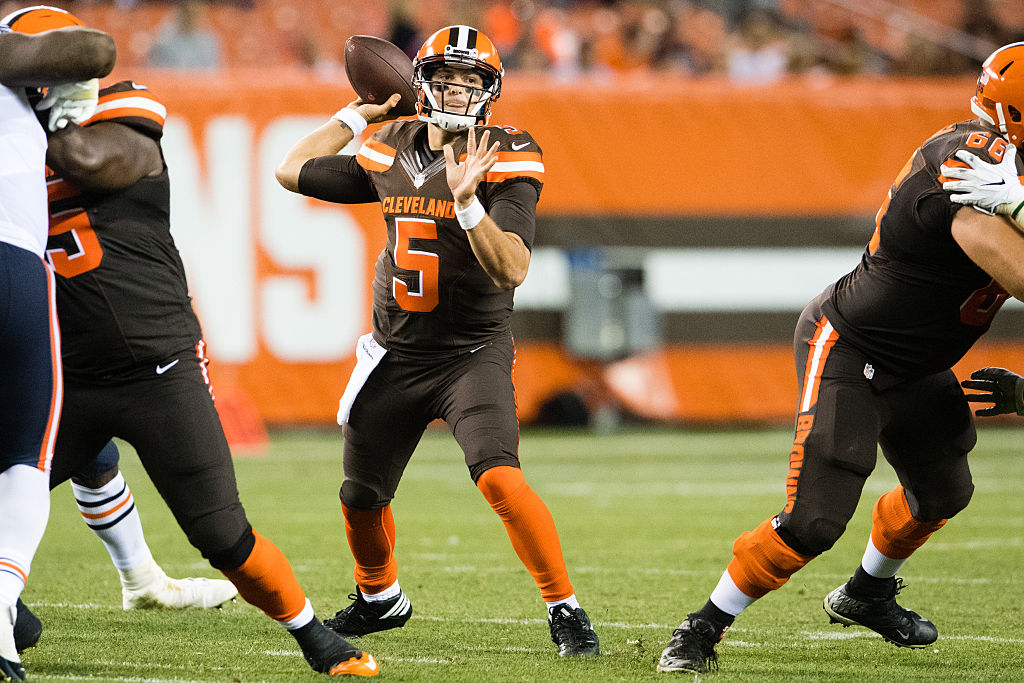 While the results have yet to be there, Browns fans have to be encouraged by the first two weeks at quarterback by for rookie Cody Kessler.
In two games, Kessler has shown poise as well as toughness, throwing for 467 yards one touchdown, and one interception. His ability to make plays has also helped out the run game, which had a big day Sunday with 163 yards, putting up 5.8 yards per carry.
It started with Kessler, who was able to bring the team back from down 14 points to lead at one point 20-17 before three straight turnovers doomed the Browns in the eventual 31-20 setback.
"He did some good things. His poise was better," Browns coach Hue Jackson said.
"Obviously, he started the game better this week than he did last week. That is improvement. Cody has made some plays. The touchdown pass to (WR) Terrelle (Pryor Sr.) was a thing of beauty."
The Browns were also very good Sunday on third downs, going 8-for-12 in that department, a category which keeps drives alive and builds confidence for a young quarterback.
It was something that wasn't lost on the coaches and Jackson when talking about the rookie QB.
"Some third downs last week that we did not convert as well, he did a great job of converting them, standing in there and throwing the ball," Jackson said.
"There was clear improvement from Week 1 to Week 2. Now, we have to do it again. That is the challenge. You have to keep getting better each and every week, and we have to keep growing."
The Browns as a very young team are still trying to figure out how to win, and more importantly they need to learn how to finish, which is something they would have been able to do Sunday if they would have made just 2-3 more plays.
"(Head) Coach (Hue) Jackson just keeps preaching about finishing the game, and it has shown up twice," Kessler said Monday.
"It has shown up two times in a row. That is a big part for us offensively is when we get ourselves in that position and we have worked hard the whole game, we want to be able to come out and execute and finish when it matters."
Sunday Kessler overall was 28-for-40 for 217 yards with the touchdown and the key fourth quarter interception that cornerback Josh Norman snagged.
While it was a key moment in a game the Browns win, it's also a moment of learning that hopefully Kessler will learn from moving forward with another tough task at hand with a ticked off New England Patriots team that was shutout a week ago.
There's another factor for Kessler on Sunday – the fact he's going up against a player he greatly admires in the returning Tom Brady.
It's something that Kessler can't be worried about as he works towards getting the Browns their first win.
"That can't have any factor in my mind. Obviously, I know that he has done a great job of putting up points and getting things in the right position to make plays. I can only control what I can control," Kessler said.
"That is how I go out on offense and play the game and continue to convert on third downs and have these long drives, run the ball well and just continue to extend drives."

NEO Sports Insiders Newsletter
Sign up to receive our NEOSI newsletter, and keep up to date with all the latest Cleveland sports news.