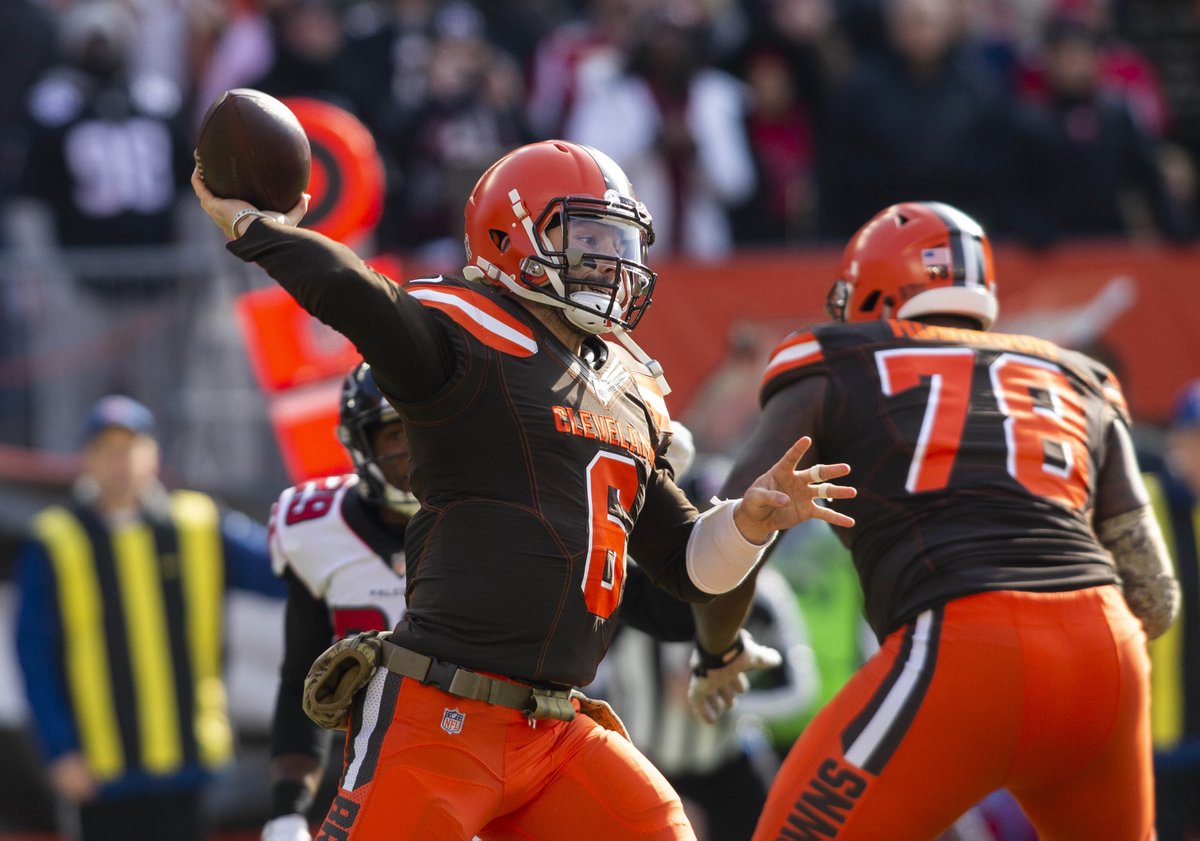 The Browns are coming off a great end of the season winning five of their last seven games, and a huge part of that reason was the play of rookie QB Baker Mayfield.
This week Mayfield is one of many NFL players down in Atlanta enjoying time at the Super Bowl doing the media tour, and today he spoke with Skip Bayless and Shannon Sharpe on FS1's 'Undisputed' about the season and a whole lot more.
Here's some quotes from his chat today with the pair as he looks ahead to Saturday night when he may wind up being named the NFL Rookie of the Year.
On His Chances of Winning the NFL Rookie of the Year Award Saturday Night:
"I think it's 50/50, (Giants RB) Saquon Barkley is a good buddy of mine, we have a fun back and forth about it right now, it's just a blessing to be in consideration for it, to think about where I was a year ago, and to where I am now, it's just a dream."
Hard Knocks and if it was a Good Thing to Have HBO Covering the Team this Summer:
"To me it depends on how you handle it, because there are cameras everywhere, some guys start acting different for the cameras, you know that's how it works, it's definitely not easy to deal with, I don't think a lot of people realize if we brought cameras into your workspace you wouldn't like it much either. I think our guys handled it very well."
On Being Called into the Office on Hard Knocks to be Told he was the Number Two QB:
"They had a plan. They told me that before even the draft, before I even knew I was going there. They asked me how I feel about it. Obviously I want to play, that's who I am. I'm going to do whatever it takes to make that team better, they were very upfront and honest about how they were going to handle it, they handed it very smoothly."
On If Something Happened to Make Him Think that Hue Jackson Wasn't on 'His Side':
"It wasn't anything like that, if you're not with us in Cleveland, you're against us. We have division rivals and that's how I feel about it. If you don't like that, then you probably don't realize what type of game football is. So that's OK."
On If He Thinks the Browns Would Have Made the Playoffs If He Would Have Started Day One:
"No, I think everything happens for a reason, the easy answer to that is 'yes,' but I think everything happens for a reason, I had to play the waiting game, and I am thankful for that, I had two great veteran QB's to learn from in the process, it's a difficult situation I wanted to play, but getting my chance to play and seizing the opportunity to play was very important to me."
On What the Turnaround for the Team Was after starting 2-6-1:
"Our guys realized that we had the pieces in the locker room, and just believing in that and doing their job, we have a very talented team, you could sense that when we got there, it was very important for our guys to just do their jobs and believe in it."
Watch the Complete Video Below: