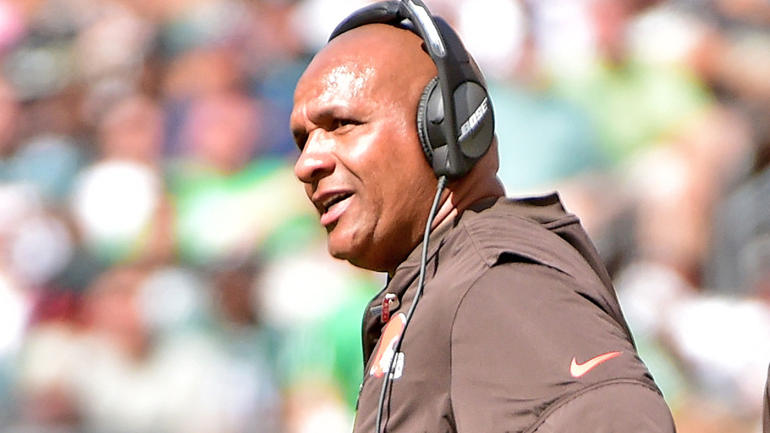 While I've never been one to scream, "fire the coach", it is getting harder and harder to be patient with Hue Jackson as he continues to tell everyone he is here to turn things around.  No one expected the Browns to be a playoff team this year or even a .500 team, but we all expected a lot more then this display through five games.
Perhaps the most frustrating thing about Hue is that he continues to change his mind and flip-flop on every decision.  The so-called "QB" guru told us to trust in his faith in Cody Kessler, the same quarterback he won't even let take a snap this season and suit up for a game.  Kessler is not the answer, but this is just one case of him saying one thing and doing another.
He told us he would ride his future quarterback of DeShone Kizer through the highs and lows, the thick and thin of his rookie season.  Through four and a half games, he has already benched him once and continues to script plays that don't give him a chance to win.  He is making things far too complicated for the 21-year old rookie.
The QB flip-flopping took place all season last year.  Yes, injuries played a major role but it was one bad decision after another.  On Hue's urging they signed RGIII after he had the best workout Jackson had ever seen.  We all saw how that turned out.  We trusted him with Robert Griffin and also Cody Kessler, two men who combined to win one game last season.
To make matters worse, they had a five-tool, All-Pro Quarterback sitting in their laps with Carson Wentz and chose not to pick him.  Instead, they opted to trade the pick for injury-prone Corey Coleman.  Yes, we can blame Sashi Brown for some of these decisions as well, but Jackson is the talent evaluator and should have known better.
For what it is worth, Wentz has also been a part of 21 games, his record slightly better then Hue's at 11-10.  Wentz has thrown 21 touchdown passes for 4,598 yards during that stretch.  This was the QB that could have saved Jackson's job before he even coached one single game for the Cleveland Browns.  Jackson wanted RGIII.
The one time the front office was finally willing to take a stud quarterback with a high first round pick, the "coaching staff" talked them out of it, and they went with Myles Garrett instead.  Once again, clearly Garrett was the smart choice, but here again is a clear example of the quarterback guru shying away from taking the impact QB when he is sitting right in his lap.
The verdict is still out on Mitchell Trubisky, as he made his first start Monday night at Minnesota for the Bears.  Time will tell, but Jackson had the backing of the front office. He chose to shy away, opting to be the smartest guy in the room and selecting a project in the second round.
Thus, it continues.
By some stroke of pure luck, DeShaun Watson falls to the Cleveland Browns with the 12th pick in the 2017 draft.  No trade needed, he is literally sitting right there waiting to put on a Brown and Orange ball cap and hug Commissioner Goodell.  The Browns don't do it. Again, blame the front office if you want, but I'm positive if your head coach demands the QB be selected it happens.
Through 5 weeks, Watson appears to be a stud.  He has 12 touchdown passes and over 1,000 yards in just 4 NFL starts.  Watson will get to show Jackson and the Browns first hand what they passed up on next week as the winless Browns travel to Houston to take on an angry Texans defense.
At the end of the day, Hue gave us all the biggest reason to want him gone this past Sunday against the Jets.  Down 10-7 early in the fourth quarter, the Browns still had a chance to regain the lead and make Hue look like a genius for pulling Kizer at halftime.  To his credit, Kevin Hogan put together a solid drive that got the ball inside of the ten yard line when a fourth and goal from the four-yard line arose.
At first choice, Jackson sent out his shaky field goal unit in the game to go for the tie.  While Zane Gonzalez was 0-2, even he would be able to make the chip shot attempt.  What happened next is unforgivable.  Hue Jackson made the cardinal sin no coach, on any level, in any sport, should ever make.  He listened to the fans!
While he may say something else, the cold hard truth is that he heard the boos of the fans when he didn't go for it so he panicked and called timeout.  Using a valuable timeout they would need later and not have.  From there he pulled the field goal unit from the field and called the most predictable fourth and short play in the playbook.
Sure enough, the Jets read it and stuffed it.  It wouldn't take long for the Jets to drive 97 yards and put the game out of reach shortly after.
You cannot flip-flop, you cannot listen to the fans. He did both, and he got burned again.  At the end of the day, in what other field could you go 1 for 21 and keep your job.  MLB hitters can't. NBA players can't shoot 1 for 20 and not get let go.  NHL goalies sure can't save 1 of every 20 shots.  A mailman can't skip every 20 houses on his route.  It is just insane to think that this is acceptable.
Since 2002 when the Browns made the playoffs, we have seen countless teams get completely blown up, start over and win a few short years later. Sure they did it with smart drafting and key free agents, but they also did it with coaching!  Jackson needs to figure it out and fast.
If Mike Pettine, a glorified high school coach can win 7 games with a journeyman quarterback in Brian Hoyer, then Jackson can at least get 4 or 5 wins this season.  Sadly for him, 3 of those chances just flew out the window.
I can already hear your arguments.  One being the push for stability, you want stable losing then?  Two, no one else will coach this team?  Chris Palmer left the Browns in ruins after 00-01, going just 5 – 27 during his miserable stretch.  Things looked bleak until Al Lerner ponied up and paid for the hottest college coach in Butch Davis to come to town.  The same Butch Davis that led the Browns to their only playoff appearance since returning to the NFL in 1999.
Bottom line, the fans deserve better, the players deserve better and by God, the writers and media who cover this team deserve better.  Enough of the losing.  Hire a legitimate team president who will bring in someone who can properly evaluate talent.
I'm a reasonable man and willing to give him the next 11 games to ride this thing out. But I cannot imagine a single likely scenario that he makes through the middle of January.
Bring Peyton Manning in to be the president and let him hand select a coach, perhaps Tony Dungy?  Hey, anything can happen.  Only one thing is for sure, Hue Jackson shouldn't be here to see it.

NEO Sports Insiders Newsletter
Sign up to receive our NEOSI newsletter, and keep up to date with all the latest Cleveland sports news.