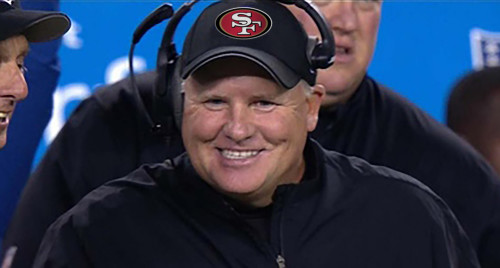 Yesterday was our weekly reminder of how not good the Browns are, and now past the halfway point in the season, the noise about a winless season is getting louder.
It would be a historic embarrassment, even for a franchise that has been historically embarrassing since returning to the NFL, but it also just might be necessary.
Meet the San Francisco 49ers, owners of the NFL's second worst record (1-7). The 49ers are one of the few teams whose quarterback play has been worse than Cleveland's, they only score about two more points per game than the Browns and they are the only team that has allowed more points per game than Cleveland this season.
San Francisco hasn't won a game since opening night, when the Rams might have put together the most unseemly performance in NFL history, and the 49ers have only lost one game by less than 10 points since then. It would be a shame for the 49ers to get the top pick because the Browns won a meaningless game in November to get to 1-15 then lost a coin flip.
The worst part is, the 49ers are some how under the radar terrible. The Browns are in the public eye because of their "pursuit" of the imperfect season, but the 49ers are weird Ravens Thursday night performance from being in god-awful lockstep with the Browns.
Maybe it's the Kaepernick situation, but people do not fully understand how awful the 49ers are. Sure, they're 5th in the league in rushing, but I can't think of a more useless thing to be good at for a team that starts most games behind by two scores.
Everyone is assuming the Browns will get the number one pick, despite their frisky performances against the mediocre teams that make up 90% of this season's NFL. Meanwhile, the 49ers have been blown out by the likes of the Saints, the Bucs, the Cardinals, and the Panthers.
Three quick reasons why the Browns should just accept their fate:
The Browns kind of sort of wink wink did this on purpose, and the number two pick would be a mini-disaster for the front office, they want to make their own choice at the top of the draft.
It would be so much more poetic if the Browns rose out of these depths to win the Lombardi Trophy one day.
The 49ers are really, really bad. They're bad enough to out bad the Browns, don't test them.
It could hurt the psyche of some of the young players, but how much different is 1-15 from 0-16? Especially if it's for a good cause?