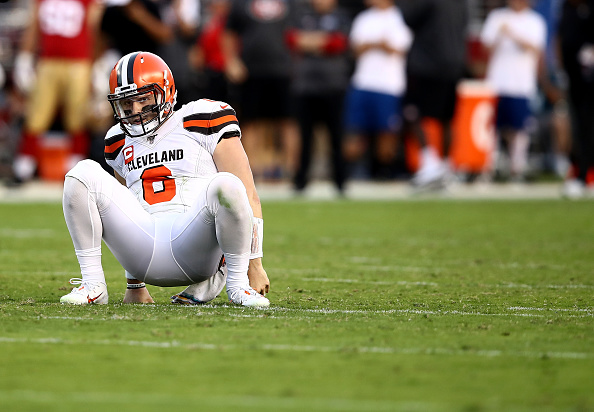 By Mike Holzheimer
All the signs appear to be there.
The Cleveland Browns, perhaps hyped to a level of presumed success so unrealistic even for the well-established consistently winning franchise to achieve, now seem to be facing the music, if you will, coming to the harsh realization that such pre-season talk of "we're back" and memorable postseason feats may have been very premature.
There was even talk, mostly at the betting windows in Las Vegas that Cleveland could very well be heading to the Super Bowl in 2020.
But the way things look now, the only way the Browns will see the National Football League's symbolic championship game this year in Miami is if they buy a ticket to the game.
And while there is still an entire second half of the season remaining, and the seemingly difficult part of the 2019 schedule has come and gone, the Browns are giving every indication that their team is a mess, and that the wheels are definitely in danger of coming off the wagon.
Let's be clear in that most knowledgeable fans weren't expecting this team to magically rise up from the ashes and transform itself into a championship contender overnight-myself included. Such an achievement rarely happens in professional sports but the Browns were taking positive steps in a much better direction as evident by their efforts on the field last year.
Still, considering where Cleveland was as far as its standing in the NFL over the past several years, and even going back to its return to the league in 1999, improved play and putting games into the "W" column instead of giving away contests at the drop of a hat would have been more than a welcome site for a city's fan base so starved to see a winner on Sundays.
The reality is that the 2019 Browns are currently 2-5. I wasn't looking for a 7-0 start but what I was hoping to see was a commitment to improving the overall concentration and discipline on the field. After seven games, I've seen nothing close to either of those two characteristics.
In fact, I've seen a decline with more inexcusable penalties than one can stomach. Not only penalties, but the same mistakes over and over again each and every week. And that, my friends, falls upon the head coach.
It would be an understatement to say that Browns head coach Freddie Kitchens has been under fire thus far as the team's bench boss.
More to the truth, the flames surrounding Kitchens have resembled a raging inferno. Many will say that such criticism is justified, and regarding certain areas, I would have to agree.
General Manager John Dorsey, the perceived genius guru of NFL executives in terms of fitting the right players into the team puzzle so as to produce winners, is responsible for the hiring of Kitchens.
I've gone on record as saying, and I still believe this to be the case, that Dorsey knew of the importance in making his franchise player happy. That player, of course, is quarterback Baker Mayfield, who clearly had a comfortable role and rapport with Kitchens as the play-caller for the Browns.
Once Kitchens threw his head coaching hat into the ring of Cleveland candidates, it became clear that if Kitchens didn't get the job, he'd be out the door.
That wouldn't have rated very high with Mayfield, and so, Dorsey took the path of least resistance in choosing to keep Mayfield happy, and not "rock the boat." It's true that those being interviewed for the Browns job didn't exactly reflect names football fans might associate with the head busts seen in Canton, Ohio, so maybe Kitchens was a logical choice.
Time will tell, but as of right now, the clock seems to be running out, as is the patience of the fans and certain Browns players.
That has been seen (and heard) with the comments made by Odell Beckham Jr. following the New England game. Beckham, in an attempt to disguise his criticism with wording that reflected he was merely suggesting the team didn't "challenge" the Patriots enough, clearly was sending subliminal messages to Kitchens to the tune of "throw me the damn ball."
Kitchens then responds by not-so-subtly-firing back to the media saying that Beckham was targeted seven times, and that should be enough.
I've written before that I wasn't exactly doing cart-wheels when the Browns acquired Beckham. His off-the-field and sideline antics (outbursts) are well-documented. I said it would only be a matter of time before Beckham sounded off, and in that regard, he has not disappointed.
One could suggest to the wide receiver that when the ball is thrown your way, it might help if you would actually catch it. A few balls have escaped the grasp of Beckham this season, including a key third-down passing play against New England.
Of course, during his "challenge," he said he can only do what he can do and was catching what was thrown his way. He obviously, in his quest to throw the coaching staff under the bus, forgot about that would-be catch that went through his hands like a hot knife through butter.
In short, Beckham, who didn't exactly make OTAs and training camp a priority in terms of truly preparing for a new quarterback and a new team, simply needs to adopt the mantra of "less talk, more action."
Mayfield might be well-advised to heed those same words. In one of his press conferences, he made reference to the team needing to tune out all of the outside distractions.
That, to me, appeared to be somewhat hypocritical in that Mayfield, the very first chance he gets, runs to Twitter and Instagram to post (vent) comments left and right. I get it that television pundits, be they former players or coaches will say things that can get under a player's skin.
Those words, including the harsh commentary offered by ESPN analyst and former NFL head coach Rex Ryan, should have been taken with a grain of salt. But Mayfield, and other members of the Browns, seem to not be able to do that. And like Beckham, Mayfield just needs to pay more attention to what is on the field, and not what transpires on social media.
And speaking of the media, Mayfield was back in the news again, and unfortunately, it had nothing to do with a football statistic to brag about. A long-time Browns reporter, now working for ESPN 850 WKNR in Cleveland, may have stayed on a topic a bit too long with the Cleveland signal-caller-and Mayfield wasn't happy about it.
Getting to the main point of that exchange, the reporter was discussing a drive by the Browns in the New England game with time being factor towards the end of a quarter.
The Browns failed to put points on the board and with Mayfield obviously not answering the other reporter's questions to his satisfaction, asked if Mayfield was happy with the drive.
As a journalist and one who covered many games, I remember the words of one of my mentors in that one should not ask a question you probably know the answer to.
This reporter, in my opinion having been around long enough to know better, didn't need to ask that question, or at best, he needed to find a better way to ask it. Mayfield's response was the obvious in that no, he wasn't happy with the drive because the Browns didn't score any points.
He followed with telling the reporter that he couldn't have asked a more stupid question. Then lets out a "geez" followed by saying the reporter's first name as he left the press conference.
Again, there is blame on both sides here but Mayfield has to remember that as the franchise quarterback and the face of the franchise, he simply has to act better. His conduct during this particular exchange was not a good look. And when you're team is struggling, it's downright ugly.
Things, though, get magnified when a team or player is finding the sledding a bit rough. But that goes with the territory.
Media members are going to ask the questions that gets them the noticeable line or lead graph for their newspaper or internet blog, while TV and radio reporters will "push that envelope" to get the video or sound bite they are looking for.
I don't always agree with certain questions media members ask, and I also don't agree with the way players choose to address those inquiries. Again, I go back to something my dad taught me a long time ago: "it's not WHAT you do it's HOW you do it. Simply put, professionals have a job to do but in this case, more effort is needed to do it better.
And so, with the controversial winds blowing throughout the Browns offices and practice field in Berea, as well as the various stadiums on game day/night, everyone needs to step up their game as members of the Cleveland Browns, and those others associated with the team.
Everyone needs to answer the call, and do better. A win this Sunday against Denver will certainly do wonders for calming things down and reducing the tensions surrounding this team.
The schedule shows nine more games are to be played. If the Browns can readjust their focus and practice discipline on the field and if the coaches can put together better game plans with basic fundamental plays that can produce a winning result as opposed to gadgets looking to fool a defense, then the second half of the season might prove to be a remedy to cure what is ailing this team.
If not, Browns fans may want to tighten their seat belts more because the 2019 season ride could take a turn for the worse. EVERYONE is accountable.

NEO Sports Insiders Newsletter
Sign up to receive our NEOSI newsletter, and keep up to date with all the latest Cleveland sports news.