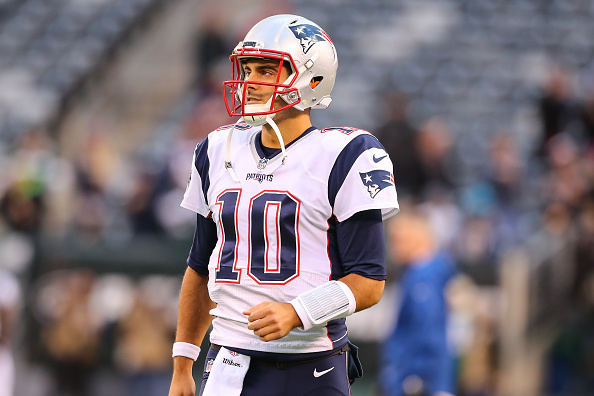 Yet another potential franchise quarterback for the Cleveland Browns is no longer available as Adam Schefter of ESPN is reporting the New England Patriots have traded backup quarterback Jimmy Garoppolo to the San Francisco 49ers.
The talk all day has been about how badly the Cleveland Browns whiffed on not drafting two stud quarterbacks that both fell into their lap.  Those two quarterbacks being Deshaun Watson (Houston) and Carson Wentz (Philadelphia) who have both been impressive since coming into the league.  Wentz in 2016 and Watson in 2017.
The pair of young signal callers have been arguably the most consistent and effective quarterbacks in the NFL thus far this season.  The Browns front office is under a lot of heat for passing them up.  Now, things have gotten even worse for those who were holding out hope that the Browns would find a way to use one of their 5 picks in the first 60 next season (2 first round, 3 second round) to trade for New England's Jimmy Garoppolo.
The backup to Tom Brady has now been dealt to the other winless franchise, the San Francisco 49ers for a second round pick in the 2018 NFL Draft.  To think the Browns could have had him by giving up one of their own 3 second round picks, and passed on it, is simply inexcusable, but what we've come to expect from this front office.
In three starts last season for the suspended Tom Brady, Garoppolo shined.  He tossed 4 touchdowns with 0 interceptions while completing 68.3 percent of his passes.  Far better numbers then any Cleveland Browns quarterback during any 3 game stretch the past two seasons.  To make room for Garoppolo, the 49ers will be releasing former Browns quarterback Brian Hoyer.
The beat rolls on……