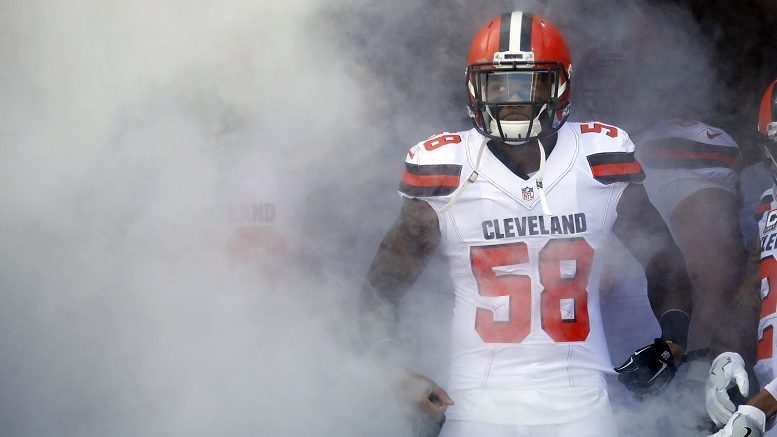 On May 30 Christian Kirksey signed a four-year deal, $38 million contract extension with the Cleveland Browns.
On Wednesday, Kirksey spoke with the media for the first time since signing his new contract with the Browns.
Christian Kirksey had this to say on the following topics:
On signing his four-year contract extension:
"It means a lot that this organization put a lot of faith in me. Signing in Year 3, it just speaks a lot about them. I can't thank Dee and Jimmy Haslam enough for giving me this opportunity. It definitely feels good. (Executive Vice President of Football Operations) Sashi (Brown), (Director of Football Administration) Chris Cooper, (Head) Coach Hue Jackson, they all believe in me so I have got to elevate my game and just make sure I get the job done."
On if he knew he was getting close to reaching a new deal:
"My agent was talking to me about it. I just told him to let me just go out here and play ball and just work out this offseason and I will just let him handle all of the legal stuff and all of the contract stuff, and when they get it done and situated, just let me know. My agent, that is what he did, and I am glad to be a Brown."
On his impressions of the defense and defensive coordinator Gregg Williams:
"Gregg Williams, he has given us the opportunity to just go out there and play ball. He has given us this confidence that what we do and what we learn in the film room, just come out here and let it loose. Just come out here and play football. We have all been at it since we were little kids so he is just putting us in the best position to win. He is making us become more of a student of the game and just allowing us to play fast. Gregg is doing an extremely good job right now, and I just cannot wait until the season to see how everything comes into shape."
On why he wanted to stay in Cleveland:
"I was drafted here, and I have a lot of loyalty to this organization. This organization has been loyal to me. I love my teammates. I love the coaches here. I really believe that Cleveland has something special, and it could be bad for me to just try to play one year and walk away from this. I truly believe in my heart that we will do something good here so that is the reason why I stayed."
Browns running back Isaiah Crowell had this to say on the following:
On if he constantly feels like he has to prove himself:
"Yeah, I'm used to that because all of my life that is what I had to do. I have always been the underdog so I always had to prove myself and prove that I was as good as I am. It is not a problem for me. To your question, yes, it is always going to be like that. Coming in, that is how it was. I just take it in stride."
On explaining why he did not participate in all of the team's offseason workouts and waiting to sign his contract tender:
"I really don't want to talk about that right now. I feel like everybody wants a long-term deal. That was one of my goals, but I'm just here right now trying to get better with my team and trying to have a winning season, so I am just focused on myself and my team."
On if the Browns can solidify the QB position this year:
"I really feel like we have a lot of talented guys at the quarterback position. I feel like either of those guys can get it done. We are just out here trying to work and everybody is trying to get better together so when the time comes we will see. I feel like each of those guys are very talented and they've got the capability to get it done."
On the Browns emphasizing the offensive line during the offseason:
"I was just happy about it. I was happy about it just because I know how strongly Hue wants to run the ball. We talked about it at the end of last year. He told me we would be way better running the ball this year, and I have faith in him and I believe him."
Lastly, offensive lineman Kevin Zeitler had this to say regarding these topics:
On if it was tough leaving a team that he had invested time with and been to the playoffs with frequently at Cincinnati:
"Any time that you are drafted by a team, you think that you are going to be there your whole career. I had some great memories in Cincinnati, some great teammates and a lot of good times, but when times like these come up, you have got to make the right decision for you and your family. Coming to Cleveland with (Head Coach) Hue (Jackson) and everything was just perfect timing. I have been having a blast since I have been here. The Haslams have treated us great, the facility is top notch and we are working hard right now. It is a really exciting time out here."
On being on a team that wants to run the ball:
"I think any O lineman enjoys running the ball, but saying it is one thing. When it is time to play the game, if we have to pass it all game, we will. If we get to run it all game, that is awesome. We will be ready for whatever we need to do."
On playing guard with OL Joel Bitonio:
"I have seen Bitonio a lot on film. That is what I do, I watch what divisional opponents do against teams we play. AFC North football, a lot of players play the same way. He is very talented. When he is healed, he is a true monster. He is very quick. He is very strong. He can get anything done that he needs to get done. I am excited to play with him."

NEO Sports Insiders Newsletter
Sign up to receive our NEOSI newsletter, and keep up to date with all the latest Cleveland sports news.