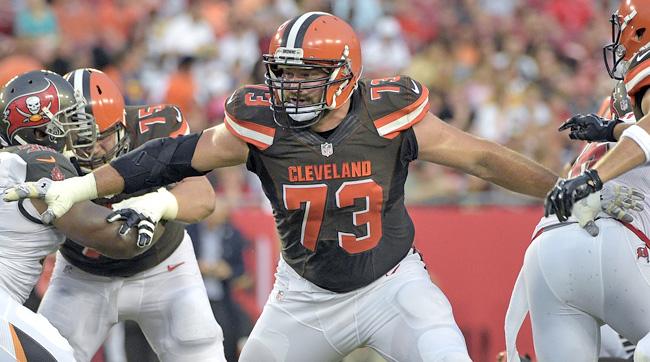 One could never accuse Joe Thomas of not being entertaining.  While he is best known for his consecutive streak of snaps played, broken only earlier this year in his 11th NFL season, he has recently shown some excellent personality off the field.
It was again today that the intelligence and wit of Thomas was on full display via twitter.  Troy Aikman who was doing a horrible job calling the FOX game between the Detroit Lions and Minnesota Vikings made a rather bizarre remark about how he was shocked that the recently acquired Dwight Freeney wasn't suited up for the Detroit Lions.  Perhaps Aikman had no clue that Freeney had just played only 61 hours ago in the Monday Night game for the Seattle Seahawks. Either way, a linemen with less then 3 days of full rest and a new playbook, would not be suiting up for a new team that quickly.
If anyone can attest to the grit and toughness of playing in the NFL, it is Joe Thomas and that is why his twitter backlash at the insane comments earlier today of Troy Aikman are more then justified.  Aikman himself benefited from years of a stout offensive lines and many weapons around him to excel to and NFL Hall of Game career.
As usual, Thomas used tact, but put Aikman in his place today on twitter.
Troy Aikman just expressed surprise that @dwightfreeney isn't playing today after playing for @Seahawks on Monday night (61hrs ago); only a QB could be so out of touch with what lineman's bodies go thru during a NFL game. He's lucky to be able to get out of bed this am #MINvsDET

— Joe Thomas (@joethomas73) November 23, 2017