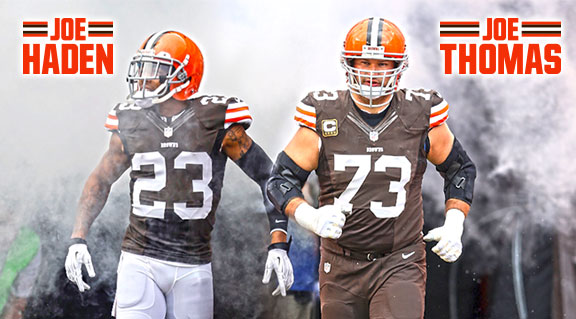 On Wednesday the Cleveland Browns were preparing to start their first day of training camp for the upcoming NFL season. Expectations are high from both a player perspective and also a fan perspective.
Browns defensive back Joe Haden, and offensive lineman Joe Thomas, spoke to the media.
Here are some of the topics that Haden and Thomas spoke about:
On if this year feels different from the past eight seasons:
Thomas :
"There is an excitement from me this year. I think we made some really awesome changes this offseason adding talent on offense and defense. I'm excited about (defensive coordinator) Coach (Gregg) Williams' defense. I think they are going to be improved this season. For me, it is exciting. It is seeing the new guys. We obviously have some outstanding draft picks that people have high expectations for. For me, there is the excitement of seeing if these guys are going to live up to the bill and watching how everybody gels in training camp and all of the fun things that go on in training camp and all of the hard times during training camp too when you have to persevere with your brothers. It is a fun and exciting time to be a Cleveland Brown."

Haden :
"I'm super excited about [this season], especially for me my last two years not being as healthy as I wanted to be. We got some great dudes on defense – (LB) Jamie Collins (Sr.) and Kirko (LB Christian Kirksey) re-signing – getting (DL) Myles Garrett. Then with the offense, we got some new linemen that we picked up. I'm just excited about it. I'm really excited about our defensive coordinator, just being able to see how he has been challenging us as a group and then just everyone going out there and trying to make plays and trying to get better. I'm super excited about the direction we are going."
On if the Browns will try to erase the memory of the 2016 record or keep it in mind for motivation:
Thomas :
"There are a lot of guys on this team that weren't here last year when we were 1-15 so they weren't able to go through the grind of a 1-15 season. Certainly, I think the guys that were there, especially the young guys, can use that as motivation going forward and see that what we did last year wasn't good enough. Everybody needs to raise it a notch this year going into this season. Hopefully, you can forget about it a little bit because you don't want it to drag into this season, but at the same time, you want to use it as a little bit of motivation going into this season."
On the impact DL Myles Garrett will have for the defense, his reaction to Garrett's injury this past offseason and relief that Garrett returns healthy:
Haden :
"I was super excited that he was OK. When he went down – injuries happen, but sometimes it seems like they happen to us a little more – but I was just hoping that he would be good to go. I watched Myles a lot just to see what he has. He didn't practice a lot in OTAs, but just seeing how he can move and bend, how big and strong he is I could tell that it is something that I really haven't seen much of. I think that he can be a really good force on the team. I'm super excited for him. I just hope our team can go into this season healthy and ready to go because I know that we have a lot of players who are ready to get after it and ready to change what happened last year and I know for me, for one. We are hungry to get out there and start playing."
On being eager to play again and looking to prove his status as an elite NFL DB:
Haden :
"I love playing football. That is one of the biggest things that I don't think everybody else understands. The game means so much to me. I love playing ball. It is what I do. Being able to be out there for my teammates and letting them know they have somebody to depend on. I'm not too much of a 'rah-rah guy', but I like to do it on the field. Not being able to be the player I wanted to be for the past two years, it definitely motivated me to go after my surgery, attack my rehab and just get after it as hard as I possibly could. I know that I do have a lot to prove. A lot of my teammates, they believe in me and they know what I can do, but it's a 'what have you do for me lately' business. I'm trying to be the best that I can. Just from my rehab to my offseason work to the way I went about it, I just can't wait to get back on the field."
On the CTE study that came out Tuesday and the impact it had on him:
Thomas :
"It is obviously a very interesting topic because it is very deep and very intertwined with what we do in the NFL on a daily basis. There are a lot of parts to all of these stories and I try to follow it as much as I can. I think the study that came out yesterday is interesting because obviously, they studied all of these former players and only one of them did not have signs of CTE. Coincidentally enough, that one player that did not have CTE was (Browns Legend) Doug Dieken, which is probably a surprise to a lot of his colleagues (laughter). They thought he was probably the most affected by it (laughter). I can't wait to see the study on the average population to see how much CTE is in the average population because to have a study where almost 100 percent of the people have what you are looking for is pretty amazing, and I think it doesn't really tell you much yet. This is just kind of the tip of the iceberg of what we are learning about brain injury and how it relates to football and things like that. It is definitely something that I have been following and paying attention to and I think we have just only started to uncover the relationships between head trauma and memory loss and dementia and all of those things that go with it and how that relates to the sports that we play growing up and sort of our lifestyle. It is definitely something that as NFL players it is good to keep our thumbs on it a little bit, but I don't think it is anything that can scare you right now. Certainly, monitoring is what you want to do right now and just follow along as they kind of continue the research and continue the studies."
On if the topic of concussions is frequently discussed in the locker room:
Thomas :
"Not really. I mean, if somebody gets a concussion, and I have been lucky that I have not had a concussion, but I am sure that maybe guys would talk about it a little bit, but it is not uncommon. It happens every year. It is something that you need to be aware of but you do not want to panic because I know plenty of old former NFL players who are doing fantastic, and maybe when they study their brain, they are going to have CTE. It is just a matter of sometimes the CTE in your brain affects what happens in your life, how your mood is, your attitude and you have those issues; and sometimes, it does or it does not. I think there are so many more studies that need to be done and research that needs to be done before we have sort of a clear idea of what this even means. Until they study the general population and find out what the likelihood of CTE in a soccer mom is versus an NFL brain, we really have no baseline to rate this study off of."
On if he has sought medical attention since experiencing some memory loss:
Thomas :
"I am happy to keep my medical records very private and confidential (laughter). I will say that for me personally, I do monitor those situations very closely. The Browns have unbelievable medical resources. I am always seeking the best help and advice possible. I will continue to do that even when my career is over."
On how Williams' scheme impacts the secondary:
Haden :
"He doesn't really mess with the secondary too much. The coverages are the coverages. He is more with the front seven and making sure that they are able to get to the quarterback. The thing I like about Coach (Williams) is that he compares it to the D line when they are going against one on one against the linemen; the corners are out there playing one-on-one coverage. Like, 'We ask them [the defensive backs] to win every time. If you can't beat your man on one-on-one blocks, then why do we keep screaming at them?' It is just about making sure everyone wins their one on ones, but the secondary doesn't do too much changing. It is more about his scheme with the linebackers and the front seven."
On Kyrie Irving demanding a trade from the Cavaliers:
Haden :
"It caught me off guard. It definitely caught me off guard. It is tough. At the end of the day, Kyrie is his own man. He is a professional and a superstar. I don't really get into the why everything is going on, but if he wants to go play for his own squad… If we lose Kyrie, we need to get two All-Stars back for him. I just hope the best happens for him. I hope that the Cavs end up working things out, but it was definitely a little bit upsetting because he is my second-favorite player in the league after LeBron (James)."

NEO Sports Insiders Newsletter
Sign up to receive our NEOSI newsletter, and keep up to date with all the latest Cleveland sports news.