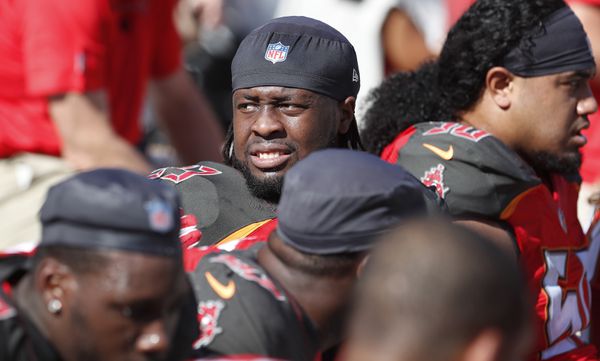 Count new Browns head coach Freddie Kitchens as a fan of free agent defensive tackle Gerald McCoy, who spoke to the team last week in Berea.
McCoy is still undecided upon who he is going to play with in 2019 after his release from the Tampa Bay Buccaneers, but if it was up to Kitchens, the tackle would be wearing brown and orange this season.
"I like the kid," Kitchens said of McCoy and meeting him. "I like the person. Of course, I like the player. More importantly, just getting to know the kid, and I really like him."
McCoy spent two days with the rival Baltimore Ravens, and according to reports had an "A+++" meeting with them. He's also chatting with a rival of his former team, the Buccaneers, as he's sitting down with the Carolina Panthers today.
Kitchens said on Thursday following Browns OTA's that he has no issues with McCoy talking to other teams and does not take it personally.
"We want Gerald to go out and look at other places because when he makes the commitment here, we want him to be all in," Kitchens said.
"Everybody that is going to be here is going to be all in, and that is what we need to get to where we are going. We are fine with him taking a look at everybody else.
"We do not care because we have told him who we were. If that is who he wants, he will end up here. He knows the direction we are headed."
McCoy has been effective rushing the quarterback in his career, as with the Bucs in his time there he put up 54.5 sacks, 296 tackles, 79 for a loss and 140 quarterback hits.
Kitchens said that there's no doubt that if McCoy decides to play for the Browns this season, he's going to play, play a lot, and in the mind of the coach be a force for the team.
"He knows he is going to be playing," Kitchens said. "I know the more good football players you have, the better you are, the better rotation is and the better you can get after a quarterback in a two-minute drive.
"There is a staggering stat or something like 78 percent of two-minute drives, if you have a sack or give up a sack anywhere along that way, your chances of scoring goes under 20 percent.
"He knows we will want to put pressure on the quarterback. He knows that is what we are going to be about. Hopefully, he wants to be a part of it."
Kitchens wants McCoy, the Browns want McCoy – now it's all up to the defensive tackle on where his NFL career will continue.