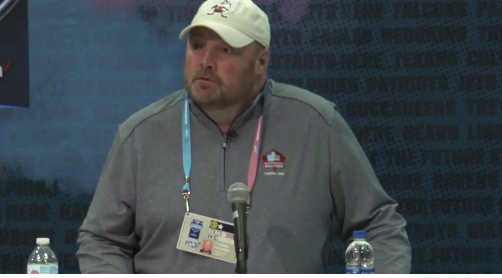 CLEVELAND, Ohio — The Cleveland Browns returned to Berea today as it was the first day of Rookie Minicamp. This is also the first Rookie Minicamp under Freddie Kitchens. Browns rookies gather in Berea today to begin their practice in the Brown and Orange. Head coach Freddie spoke to the media about today's Minicamp session.
Here are some quotes from today's practice and media sessions:
What can the Browns accomplish during camp?: 
"Really, we are trying to see what kind of ability from a skillset point of view they have and really knowledge. This is not a physical camp so you are trying to get knowledge and see what they can maintain from the meeting room to the practice room."
On Greedy Williams: 
"He is smooth. He transitions well from a back paddle and can close on the ball. He is long, of course, and then he competes."
On Greedy Williams tackling: 
"I wasn't joking. He is going to have to tackle some. When the ball gets out on the edge, we are not going to let him go. I don't have a problem. Greedy is going to tackle. He wants to tackle. He is a willing tackler. That maybe have not all been on tape as an example, but peer pressure gets through them sometimes. It gets through our players, and if we have the leaders that I think we have, then he will tackle."
On Takitaki standing out due to his physical nature:
"I think that is the dilemma you have with offensive lineman and defensive lineman – they can't stand out right now. You are really judging the same things with them that you see on tape and you try to make good decisions based on that. That is the worst thing about the offseason and the offseason program in general. It is not made to be physical; it is made for skill guys to kind of have the advantage, but you can see the aggressiveness in how they get to the ball. He did that today fairly well."
On how much the Browns can learn about the team prior to training camp:
"Every segment, you are not really starting over but you are seeing how much you can retain. We are not going to find anything out about our team until we hit some adversity. Once we hit some adversity – which it's going to happen – you try to create it during training camp and I don't know how much you can relative to how the season unfolds, but we are going to hit some adversity at some point and then we will find out what kind of team we have and not until then."

NEO Sports Insiders Newsletter
Sign up to receive our NEOSI newsletter, and keep up to date with all the latest Cleveland sports news.