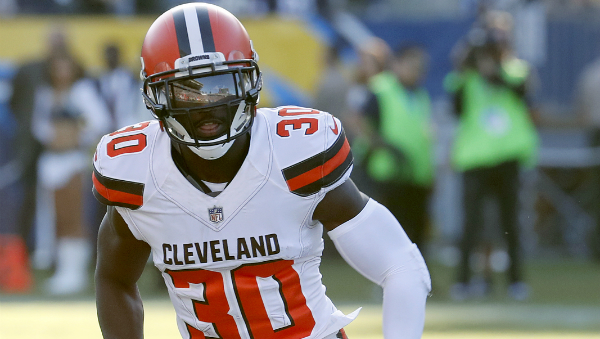 The Cleveland Browns have traded cornerback Jason McCourty to the New England Patriots, according to NFL Network's Ian Rapoport report on Thursday afternoon. As part of the trade, Cleveland and New England will swap sixth and seventh-round picks in the 2018 NFL Draft.
Trade: The #Browns have traded Jason McCourty to his brother Devin McCourty and the Patriots… They are swapping 6th and 7th round picks this year.

— Ian Rapoport (@RapSheet) March 15, 2018
Initial reports stated earlier in the day said McCourty had been cut, as Mike Garafolo's tweet reported.
Browns are releasing CB Jason McCourty, source says. They're rebooting with their own guys obviously. He should have interest elsewhere.

— Mike Garafolo (@MikeGarafolo) March 15, 2018
McCourty played in fourteen games for Cleveland last season, earning three interceptions and fifty-four tackles. He served as a veteran presence in an extremely young secondary group and helped teach Briean Boddy-Calhoun and Jamar Taylor throughout the year. The nine-year pro has played with Tennessee and Cleveland but will now look for another team.
Cleveland signed cornerbacks Terrance Mitchell and T.J. Carrie as well as trading for corner-turned-safety Damarious Randall.
In other news, the Browns also announced some other cuts to the roster. The most notable of names is wide receiver Sammie Coates. Coates was acquired from Pittsburgh last season and played in eleven games for the Browns, starting just in one contest. In those games, he caught six passes for seventy yards.
Browns announced the following roster moves:

Terminated contract (2):
DB Jason McCourty
DB B.W. Webb

Waived (8):
DL Ricky Ali'ifua
OL Zach Banner
DL Collin Bevins
LB Jeremy Cash
OL Joseph Cheek
WR Sammie Coates
DB Trevon Hartfield
RB Josh Rounds

— Adam Schefter (@AdamSchefter) March 15, 2018