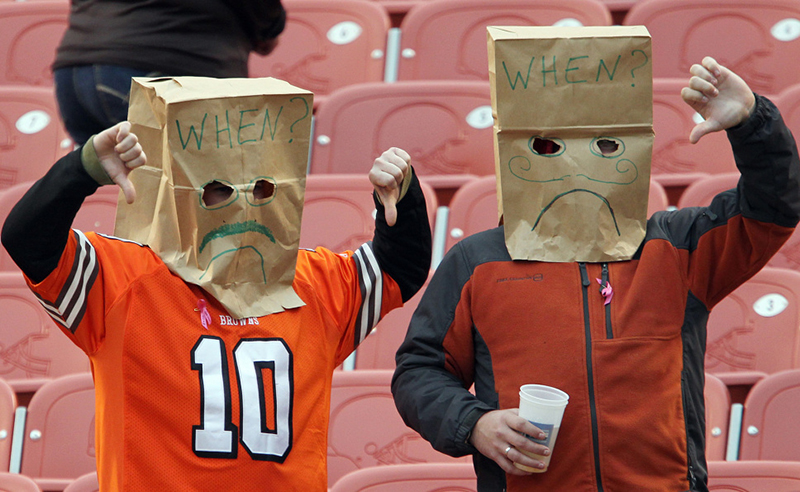 This is a very sad exercise.
As the season wears on, the talent mismatches the Browns face will become more apparent as injuries mount, they play better teams, and their non-depth gets tested further. Coach Hue Jackson doesn't seem to be one to let his team bail on any game no matter the circumstances, but heart and effort can only get you so far.
Barring injuries to starting quarterbacks, there isn't a single game the Browns will be favored in the rest of the season, and even with a backup it's a stretch to give the Browns points in Vegas.
So, our goal today is to find the game that the Browns can catch the opponent off guard. Division games first since those often end up being the wonkiest outcomes.
Bengals vs. Browns
Sunday October 23rd (away) and Sunday December 11th (home)
It's possible that the talent around Andy Dalton has eroded enough to set this team back because of his limitations as a franchise QB. But, it's also possible that everyone is going to overreact to a team whose losses came to the Steelers, Cowboys, Patriots, and Broncos. That's a combined record of 26-6.
The Bengals may no be able to hang with the elite of the elite in 2016, but they are in desperation mode now, so they can't afford to overlook anyone, which includes next week against Cleveland. The Bengals might put a large whooping on the Browns next week in Paul Brown Stadium.
December 11th is a different story, however. It all depends on how the Bengals' playoff chances are looking, but they could be out of it by then. They did lose their four games to elite teams, but that doesn't change the fact that they're 2-4. December winds are no fun for anyone near Lake Erie, but Andy Dalton's slightly undercooked noodle arm will especially struggle with it. This game has potential if the factors surrounding it add up right.
Ravens vs. Browns
Thursday November 10 (away)
The first matchup in this series should've been the one for the Browns. But, in typical Cleveland fashion, they couldn't hang on to a 20 point lead that began to erode with a blocked extra point returned for a two-point conversion. When you say it out loud, it really is unbelievable how many different ways this team finds to lose.
Anyways, even though Baltimore has been thoroughly exposed as one of the most fraudulent 3-0 starting teams we've ever seen, their playoff hopes will still be alive on this night.
That being said, I think this is the best chance the Browns have to win. It's in Baltimore, where the Ravens are typically good, but the Ravens aren't actually that good in general this year. They rank 24th in points per game, and only have a top 10 defense because of their putrid beginning of the schedule.
This is Thursday night, where ugly, weird things happen, Corey Coleman might be back, it's a division game, and the Ravens just aren't that good.
Steelers vs. Browns 
Nov 20 (home)
Jan 1 (away)
Unfortunately, it looks like the Browns aren't going to get to play Landry Jones. Assuming Roethlisberger doesn't need full meniscus repair surgery, the recovery time is going to be about 4-6 weeks, and you always lean on the short side with the cyborg that is Roethlisberger.
Nov 20 is Roethlisberger's first game back, so the Browns could catch some rustiness, but Le'veon Bell is enough to beat the Browns alone. Barring Ben being out for the season or a massive collapse while he's out that renders the January game worthless, I don't see either of these games being wins.
Quickly through the non-division opponents
Oct 30 vs. Jets: Totally plausible. Ryan Fitzpatrick is reverting to form, the Jets might already be out of the playoff race, and their defense is 22nd in total yards allowed. If the Raven game wasn't on a Thursday, this would be the leader in the clubhouse.
Nov. 6 vs. Cowboys: There is no limit to the amount of rushing yards Ezekiel Elliot will run for on this day. This one could get ugly.
Nov 27 vs. Giants: Eli has been known to lay an egg or two, but the Giants' receiving core is too talented. Plus, the "Eli storms back in the second half of the season and snags a wildcard spot at 9-7" card can't be thrown out yet.
Dec. 18 at Bills: The Bills are all of a sudden good, and their run game is incredible. that does not bode well for the Browns. The run game will be extra incredible against Cleveland and the Bills will be fighting for a Wild Card spot.
Dec 24 vs. Chargers: Great christmas present for all Browns fans: a team that blows as many fourth quarter leads as Cleveland. I don't think the Browns win this game because Phillip Rivers is still awesome and Mike McCoy might be fired by this time, but I'm sure it'll look like the Browns are gonna win this at some point.
Best Three chances:
Nov 10 at BAL
Oct 30 vs. Jets
Dec 11 vs. Bengals
It's a tough season, but 0-16 is really hard to do. This team is actually competent on the sidelines and even in scarce spots on the field, so I would expect them to catch someone off guard.

NEO Sports Insiders Newsletter
Sign up to receive our NEOSI newsletter, and keep up to date with all the latest Cleveland sports news.