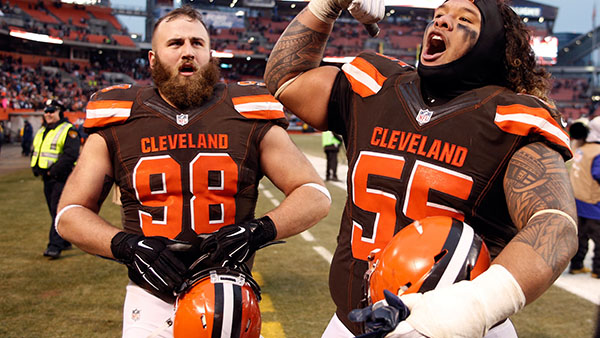 The rumors are true. It wasn't in a bowl game against a college team spurned by being left out of the playoff. They weren't spotted three points to start the game. And they didn't win because a professional kicker missed a 45-yard field goal as time expired.
Ok, that last part happened. But who cares. The Cleveland Browns won a football game.
This isn't a meaningless win. There is a huge difference between going 0-16 and 1-15. And an even bigger difference between going 1-15 and having your fanbase through a satirical parade because you went 0-16.
The reason the Browns' win yesterday was a big deal, other than avoiding embarrassment, was there has been an unequivocal stench that has followed teams that couldn't muster a single win during an NFL season.
In the Super Bowl era, three teams have gone winless: the 1976 Tampa Bay Buccaneers, the 1982 Baltimore Colts, and the 2008 Lions.
In the 39 full seasons since the Bucs went o-14, they have had 11 winning seasons, (four of those 9-7 seasons) and won one Super Bowl because of one of the greatest defenses of all time.
Since the 1982 Baltimore Colts embarked on the football equivalent of kicking the bucket, they literally kicked the bucket. The Colts moved to Indianapolis in 1984, and had five winning seasons in 15 years until they drafted Peyton Manning and Andrew Luck.  Football didn't return to Baltimore until 1996.
The Lions' 0-16 season yielded the ultra-talented yet flawed Matthew Stafford, and he has delivered one playoff win and countless heartbreaking losses in the eight seasons since (currently working on another devastating heartbreak as we speak, by the way).
Cleveland sports franchises, particularly the Browns, have enough ghosts of demoralizations past as it is. They didn't need the 0-16 stench to be added to the already impressive list of ways the Browns have lost credibility as a franchise.
The only way yesterday's win wouldn't have been considered an unequivocally good thing was if it led to 49ers snatching the #1 pick, and San Francisco wasn't even good enough at being bad to do that.
So, rejoice, Browns fans, you have avoided one horrible thing happening to your franchise. The Cavs won The Finals, the Indians won the pennant, and the Browns avoided going winless. In a football first city, the Browns have always lagged behind the other franchises in my lifetime, but this is a start.

NEO Sports Insiders Newsletter
Sign up to receive our NEOSI newsletter, and keep up to date with all the latest Cleveland sports news.