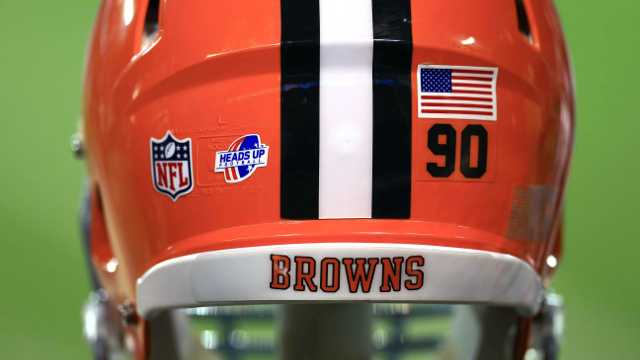 By Ryan Kaczmarski
1:01 — Are we ready for the kickoff? I am. And it will be glorious!!!!
1:03 — Browns win toss, and defer
1:03 — Should have went with white socks! Oh wait they did
1:04 — KO is a touchback. Let's see what the defense can do
1:06 — the Browns secondary is playing too soft on that third down play. Jets first and 10; 22-yard pickup
1:08 — I feel like I'm watching Bowling Green
1:09 — D makes good penetration, secondary with nice coverage and pop on the incompletion…punt. Browns come on offense
1:13 — Jim Dray should have had that catch. hits him right in the hands
1:13 — McCown takes another big hit, but gets the first down on the 10-yard scramble
1:14 — Jets D is eating some Crow right now
1:16 — Taylor G. makes the big third-down catch. Browns 2-2 in third down conversions
1:17 — Crow finally gets a head of steam, gains 9
1:20 — McCown with a great throw to G. Barnage. Then Draughn gains a few. Browns in striking distance
1:22 — Crowell up the middle for a first and goal
1:25 — McCown runs into the endzone, then fumbles… touchback Jets. McCown cannot dive head first like that! He needs to try to avoid the big hit. Nice effort, but dumb play
1:29 — McCown to the locker room via concussion protocol. End of 1st Q 0-0
1:34 — Jets' Ivory is stuffed, but NY offense comes out on 4-1. TO Browns
1:37 — Jets stuffed! Browns come out with Manziel at QB
1:41 — Manziel's first pass for a nice first down
1:41 — Duke Johnson Jr. up the middle for 6; then loses one on the next play; McCown officially out with a concussion
1:43 — Manziel with a great scramble- brought back by a chop block
1:44 — Manziel to Benjamin for a Browns TD. 45-yard throw looked beautiful! Browns up 7-0 11:01 left in second quarter on 48-yard PAT
1:49 — KO results in Jets touchback
1:53 — Browns D getting great penetration, rushing Fitzpatrick; next play Fitz gets rid of ball quick for a 1st and 10
1:55 — Gipson int., Marshall strips ball from him. Jets ball first and Goal.
1:56 — Ivory TD called back on holding by Marshall
1:57 — Ivory up the middle for a Jets TD. PAT good; score tied 7-7
2:02 — Manziel runs to the sideline and gets a few yards. Smart play while avoiding contact
2:05 — Manziel throws on the run, looks good; called back by a holding call. Penalties killing good plays today
2:06 — Browns to punt because of a stupid holding call
2:07 — Craig Robertson with a huge open-field tackle on kick coverage. 60-yard punt, 2-yd return
2:11 — Fitzpatrick fumbles snap, get ball back on 3-yd line- punt. Browns start with great field position
2:13 — Jets' Cromartie doubtful to return, with a knee injury
2:14 — Hartline makes an amazing catch from his back! Jets to challenge that it was a catch, but replay clearly shows it was…
2:16 — Nice swing pass to Benjamin. Brown knocking on the door again. 1st-G
2:18 — Hawkins with a nice grab, but not in bounds
2:20 — Travis Coons make first-ever FG. Browns up 10-7 with 2:46 left in first half
2:27 — Jets TO with 56 seconds left in half
2:29 — Jets TD, Fitzpatrick to Decker. Jets go up 14-10 with 26 seconds left in half
2:33 — Halftime. Jets 14, Browns 10
2:44 — First half notes: McCown had a death wish going into this season,  but at least Manziel looks like an NFL quarterback. The Browns defense is not getting the penetration it needs to make Fitzpatrick hurry his throws. Browns have a great punter, MVP…MVP…
2:48 — Hawkins makes a nice grab on low pass from Manziel
2:50 — Hartline with the great third down grab. Shades of Brian Brennan?
2:52 — another false start. Dumb. Ten flags, for 84 yards so far
2:53 — Johnny threw a terrible pass right to Jets' defender Williams. first really bad play by Manziel
2:56 — Marshall bobbles ball on out route, but no challenge. Might bite Browns in the ass…
2:57 — Browns meet Ivory at line of scrimmage. Hello, go back!
2:59 — Marshall grabs a 1-yd TD on the fade. Jets go up 21-10 with 7:51 left in third Q
3:06 — Crowell up the middle is not working today
3:06 — Barnidge can't get the pass, Browns punt…MVP…MVP
3:11 — Another bad penalty by Haden
3:13 — Ivory looks like a world beater today. Not good for the Browns D-line. His backup is looking strong too
3:15 — Mingo tips ball, Jets settle for FG. Jets lead 24-10 with 29 sec. left in third
3:19 — RANDOM THOUGHT: The Browns pants are too long. They remind me of those full-pant CooperAlls some kids wore in hockey in the early-mid 80s. Get them hemmed below the knee already!
3:25 — Manziel is now a lefty. Ugh
3:26 — Marcus Williams just knocked the snot out of Hawkins
3:28 — Mack with a hold, that brings back another big play by Johnny's legs
3:29 — Manziel fumbles, Revis picks it up and almost takes it to the house. Flag, but still Jets ball
3:37 — Only hope for Browns is for a turnover
3:38 — Another Ivory TD. Jets 31, Browns 10 with 10:38 remaining
3:42 — Uptempo Browns offense will put up stats in garbage time
3:42 — Manziel saw TV stat about McCown being Browns leading rusher, so he makes a big scramble and slides
3:43 — Maziel fumbles and loses football again to the Jets D
3:52 — Johnny, despite the three or four mistakes, looks like he can lead the Browns this year. To where? Sadly, I don't know.
3:55 — Hit Gabriel in the hands, started to turn up-field too early
4:04 — Final Jets 31, Browns 10 
Final thoughts: Johnny Manziel looked a hell of a lot better than I thought he would, but he still made too many mistakes for a NFL quarterback. The offensive line did not look like it was full of Pro-Bowlers. The defense looked like a kitchen strainer, especially the D-line up the middle, which was supposed to be a strong point, as well as Haden on Marshall. Haden looked like petite Randy Moss trying to cover him. One extremely bright spot was veteran punter Andy Lee. He pinned the Jets deep in their own territory all day long. Again – I hate to say it – Lee was today's Browns MVP.

NEO Sports Insiders Newsletter
Sign up to receive our NEOSI newsletter, and keep up to date with all the latest Cleveland sports news.