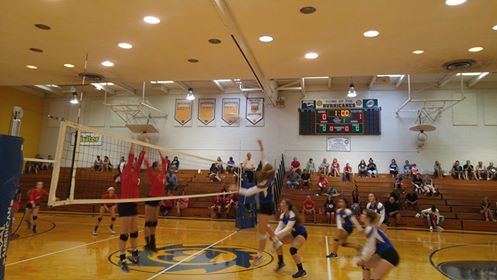 BROOKLYN, Ohio – It was a great night of intense volleyball action at the madhouse in Brooklyn. The visiting Fireland Falcons brought a strong attack but in the end, it was no match for the Hurricanes as the ladies from Brooklyn took the best of five set, three games to one. 25-20, 25-21, 18-25, 25-17
It wasn't easy, and at several moments all of the games looked to be up for grabs. The Lady Canes took the first two games, but they were both tight, and they survived a late rally in Game Two to hang on for the win, going up 2-0. They would drop Game Three before putting the Falcons away for good in Game Four.
Hurricane Head Coach Debbie Hall, is now in her sixth year and is very proud of her team. She discusses her early impressions on the team and what has been a strong start to the season, "We have a great team effort, they are very cohesive and work well together. As you can see even when we dropped Game Three, they didn't get down and still came back. We have players playing out of position, but it didn't matter because this team knows how to rally together and they don't let things get them down. They push each other to the limit and they push each other to get better. It was an all around team effort and I'm very proud of them."
The Hurricane players take after the positive encouragement of their coach, and never get down on themselves or each other. Coach Hall does a tremendous job keeping spirits high and the focus on the task ahead strong.
After the Hurricanes lost Game Three 25-21, coach Hall had words of encouragement and wisdom and it was exactly what the team needed to bounce back and win Game Four 25-17 to take the set. Coach Hall shares what she told her team after the Game Three loss to turn things back around for Game Four, "I just told them, hey, we are at home so we have to play another game, we know we can do it. I let them know the loss was our fault and not that we were outplayed. I want them to have confidence in themselves and confidence in each other. I knew as soon as they picked up the confidence in their skill they would come out winners."
It's been a great start to the season for the Lady Hurricanes, but coach Hall knows there is always room for improvement, she talks about what she hopes to see moving forward, "We have been working on a lot of plays in practice and I want to see them introduced in the game as they get more comfortable. I know they fall into the same rotations out there sometimes and that is natural. I also feel our defense needs to talk a little bit more to our offense. We are also working on a brand new setter and she is really coming through. They work hard, and our motto is that a perfect practice makes perfect. They are doing well, I enjoy watching them, and I think the fans enjoy them as well. I don't want to jinx it, but I think we are headed for a really good season."
With the leadership of Hall at the helm, and a team that truly plays like a group together, expect big things out of the Hurricanes this season.
They look to stay hot this Thursday night as they welcome in Columbia High School at 6:30.

NEO Sports Insiders Newsletter
Sign up to receive our NEOSI newsletter, and keep up to date with all the latest Cleveland sports news.