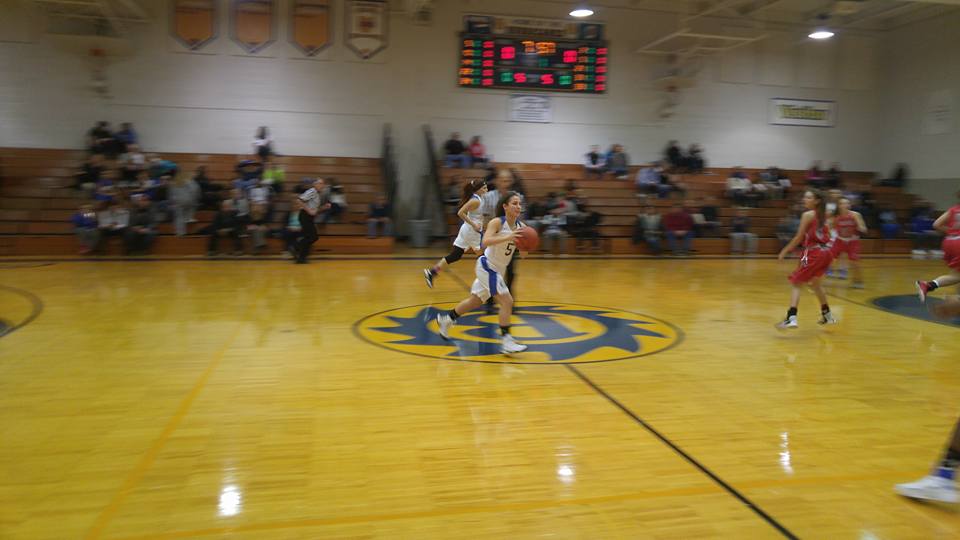 BROOKLYN, Ohio –  The Fairview Warriors rolled into Brooklyn tonight for a heated interconference battle with the Hurricanes.  It was a very tight game that saw the Warriors overcome an 8 point fourth quarter deficit to defeat the Hurricanes 41-36.
The Warriors were down 32-24 midway through the final quarter when Head Coach Andrea Petta called a timeout and rallied the troops.  Cate Schmiedl nailed a three pointer out of the timeout, and the rally was on.
Schmiedl finished with a game high 16 points, including going a clutch 10 of 11 from the foul line.  The Warriors foul shooting was on point all night long, and it proved to be the difference.  The Warriors went 14 of 17 from the line, while the Hurricanes went 2 of 7.
Second Year Head Coach Andrea Petta had this to say following the thrilling contest, "We have been in this position a lot of times and it is something we actually practice pretty much on a daily basis.  Every game we've played this year has been really close, so I just need to remind them to play as a team and we generally play pretty well." 
The clutch shooting from the foul line was no accident, coach went on to explain how they have become so precise from the line, "We've been practicing our foul shots a lot lately, it is something we struggled on in the beginning of the season and have worked hard to improve on.  The last few games it has been really important for us."
The Brooklyn squad has nothing to hang their heads about, they played hard all night and came within a few bounces here and there of victory.
Brooklyn led after the first quarter of play 11-8.  It was a rough quarter that saw a lot of hard plays going uncalled, the refs swallowed their whistles quite often on both sides of the ball and let the girls play.  That is with the exception of Jelly Benz, who picked up two quick fouls.
With Benz on the bench and the Hurricanes trailing 8-7, Brooklyn went to their fire plug off the bench DiDi Rivera, who as usual, provided an instant spark with her high energy, high hustle style of play.  Rivera is all heart, and showed it again tonight.
With Rivera in the game, the Hurricanes went on a 4-0 run to close out the quarter.  In the final minute of the quarter, Rivera accounted for two points, two steals, and an assist.  It was part of a 10-point game for Rivera.
Even with Rivera in the game however, the Hurricanes went cold in the second quarter and only scored one point. The Warriors battled back and led 15-12 at halftime.  The Hurricanes wouldn't stay down long however, as Bre'Ajha Williams got hot to start the second half, scoring the first four points of the third quarter.  Williams finished with a team high 12 points.
With 2:55 left in the third quarter it was tied 20-20 and anyone's game.  Brooklyn would then catch fire again on the legs of Williams, Rivera  and Benz to take a 28-22 lead in the closing seconds of the third quarter.  However, a rarely seen "delay of game" penalty gave Fairview two technical free throws, that they sunk to make it 28-24 going into the fourth quarter.
As mentioned earlier, the Warriors overcame a 32-24 deficit to take a 35-32 lead with 2 minutes to go. A Rivera jumper made it 35-34, but the Hurricanes never got any closer.
Speaking of Rivera, I spoke with her mother Michelle about her daughter's long road to recovery following a concussion that kept her off the court for the first 9 games of the season, "I'm really proud of her and she has learned a lot and come a long way.  She has only played for three years as she didn't start playing until high school.  She plays hard and gives 110% percent and it makes us proud, she is all over the floor."
The top scorers for Brooklyn were Williams with 12, Benz with 8 and Rivera with 10.
Brooklyn will host Firelands this Saturday at 2:30
Fairview will return home this Saturday afternoon to host the visiting Black River Pirates.
Score by Quarter
Fairview 8 7 9 17 = 41
Brooklyn 11 1 16 8 = 36
JV – Brooklyn 23 Fairview 25

NEO Sports Insiders Newsletter
Sign up to receive our NEOSI newsletter, and keep up to date with all the latest Cleveland sports news.