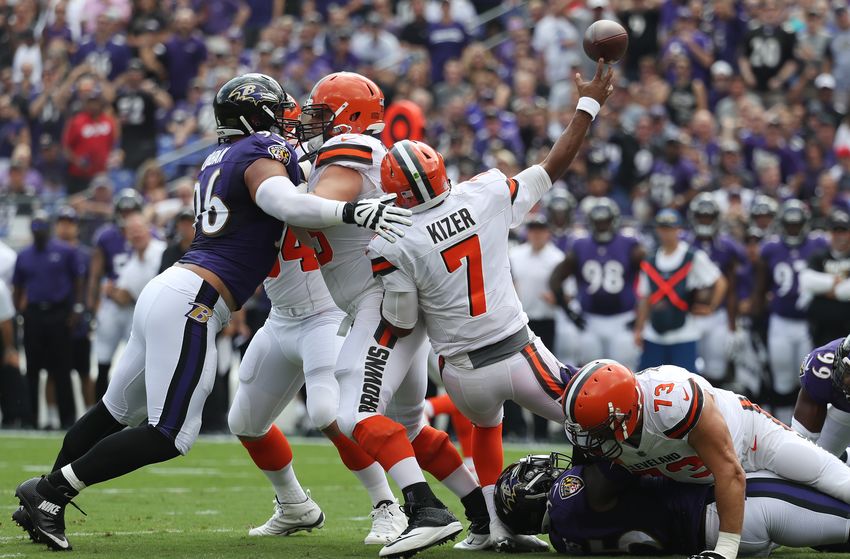 By: Nick Broulis
Some ideas on ways to improve the Cleveland Browns.
It's no secret that, more than likely, the current Browns front office will all be gone almost immediately following their final game in Pittsburgh. The bigger question is who and who they'll be bringing in.
The first order of business should be to either fire Sashi Brown or put him in the role of focusing strictly on player salaries. It's what he's best at, not evaluating talent for a draft. Brown has no business in that department.
Keeping Paul DePodesta isn't necessarily a bad thing. Every football team has an analytics group, but they don't base their drafting evaluations as heavily around analytics probably like what Cleveland does. I, personally, don't see him coming back. If he does, his role will likely be reduced.
Hue Jackson has been dealing with a roster that lacks talent, but he's also mismanaged games, playcalling has been a question mark and the use of talent has caused people to scratch their heads. Unless the Browns can find a better replacement, why fire Jackson?
I have no idea why he continues to use Kenny Britt and Isaiah Crowell.
Kenny Britt, I'm guessing, is only being used sparingly because of front office pressure to use him. Everyone has noticed that Britt doesn't see much playing time. In 2017, Britt has played in 9 games. Britt has been targeted 38 times and caught 18 of those passes. This year, Britt has totaled 233 yards and 2 touchdowns. Those stats are within a 9 game time span! That could have been accomplished in a two or three game span, depending on the quality of receiver. Unfortunately, the Browns do not have an Antonio Brown, Julio Jones or A.J. Green out wide. They're hoping that Josh Gordon can get back to form soon. But, with only four games remaining, that's going to be impossible.
The Josh Gordon situation is an interesting one, to say the least. Gordon will be a RFA (restricted free-agent) after the 2017 season. That allows the Browns to match any offers that Gordon will receive from other teams. Can Gordon prove he's really moved on and grown up? If Gordon has grown up and truly has matured, he would be one of the centerpieces of the team. But, if the Browns bring him back and he slips up again, that'll be on the Browns.
A lot of talk around town is for the Browns to give up on quarterback DeShone Kizer and draft either Josh Rosen (UCLA), Sam Darnold (USC), Josh Allen (Wyoming) or Baker Mayfield (Oklahoma).
I don't want anything to do with Mayfield. Sorry, but I don't trust quarterbacks from the Big 12 conference. Plus, Mayfield isn't much bigger than Johnny Manziel. Baker Mayfield has a better arm, but I'd still steer clear of him.
My question is, why are we giving up so soon on a guy that's A) Only 21, B) Has very few weapons to work with and C) Never had a good quarterback to help mentor him. I would love for Cleveland to go out and sign a decent free-agent quarterback who can hopefully help out the young quarterback. Kizer stands 6'4 and weights 235. Plus, remember that Kizer still has more room to fill out. Give him another year of hitting the weight room and let him watch and study film with a veteran quarterback. I'm not saying Kizer is the answer, but I still say it's too soon to judge.
Isaiah Crowell will likely be gone. Crowell hasn't even come close to earning a new contract. In 12 games, Crowell has run the ball 155 times for 595 yards and two touchdowns. I know the Browns don't have a great offensive line, but notice, when Duke Johnson runs behind the same line, good things happen. For the record, Johnson averages almost 5-yards a carry. Crowell averages 3.8.
I would love Cleveland to draft Saquon Barkley out of Penn State. The Browns could then run a 2-man featured back system with Johnson and Barkley. Both are good at catching the ball out of the backfield. I would also love to see the Browns incorporate Matthew Dayes as well. Dayes has good vision, balance, and speed. He would be a great change of pace back.
With their second pick in the first round, Cleveland could then take wide receiver Calvin Ridley out of Alabama. Another option would be Courtland Sutton out of SMU.
Cleveland needs to draft more quality at the skilled positions, so the quarterback, whoever it is, has weapons around them. If the Browns do that, then they could properly evaluate the QB position.

NEO Sports Insiders Newsletter
Sign up to receive our NEOSI newsletter, and keep up to date with all the latest Cleveland sports news.