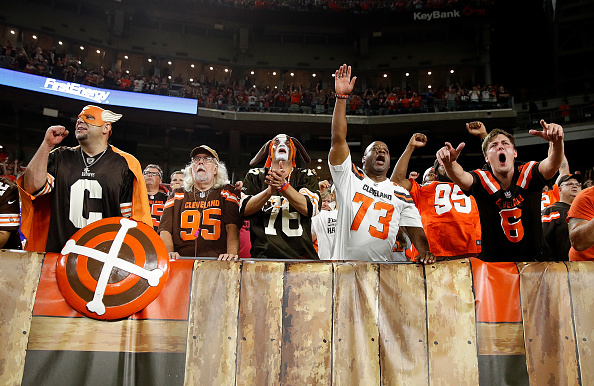 I have to admit, I'm still blown away by how much fanfare there's been leading up to the release of the Cleveland Browns' 2019 schedule. We've known for some time who they were playing this season. All we needed was confirmation of dates and times.
Yet, the past few days have been filled with Browns fans doing everything from over-analyzing leaked (and fake) schedules to eliminating weekly opponents based on what's been released from league beat writers.
Where we're at with the Browns schedule:

Key: green – game set
orange – eliminated
grey – still possible pic.twitter.com/yZcpOVvKyp

— Mikey (@lilOUmikey) April 17, 2019
A further attempt to poll the audience was made on my Facebook page, as I was curious to see if anyone felt the excitement surrounding the release of a regular season schedule was being overblown.
The responses confirmed exactly what I believed was behind the enthusiasm. This wasn't just clarity on who the Browns will be playing and when.
Instead, it's a starving fan-base being served proof their favorite team has finally arrived.
I'd understand if you felt the above statement was a bit much. If that's the case, I'd ask you to consider how a schedule release is typically viewed by Browns fans.
Usually, an official look at the regular season is met with trying to guess how many points Cleveland will lose by each week. The optimists will point at a few games and say "oh, I could see them winning that one," but only because something like this is far easier to do in April.
You'll also never see the phrase "1PM start" more often than you will on a Browns schedule. Typically, the only "prime time" appearance Cleveland would get was a courtesy Thursday night game. It felt like the equivalent of the NFL telling the Browns "my mom said I had to invite you."
This should help better explain why Cleveland fans were so eager to see the schedule this time around. This year's version included actual prime time appearances instead of weekly 1PM billings. The league's top broadcasting crews would be calling Browns games instead of CBS interns.
Simply put, the 2019 schedule release is seen by Cleveland fans as yet another signal that times are changing. It serves as further proof the NFL is starting to recognize the Browns as a team which needs to be in front of a larger audience than just those watching in northeast Ohio.
National recognition isn't exactly something Cleveland is used to. The last time the Browns received a good chunk of prime billing was the 2008 season, when they were fresh off a surprising 10-6 campaign.
Naturally, the team flopped something awful in the national spotlight, winning just two of their five night games, a series of contests which featured three different starting quarterbacks.
It took Cleveland over a decade to finally get back to a place where it deserved league-wide recognition. Monday night showings were few and far between. Call it an aftereffect of ESPN being forced to broadcast a game with Ken Dorsey as a starter.
Are you getting a better idea as to why Browns fans were so giddy about something as simple as a schedule release?
Cleveland fans have spent years seeing their team viewed as nothing more than early afternoon fodder. Prime time games were for franchises on the rise, not ones which have only been above .500 twice since 1999.
While there's still a lot for Cleveland to prove, the team finally getting more national billing than the usual Thursday throwaway is proof the NFL expects a big year for this star-crossed franchise.
Likewise, the local excitement surrounding the schedule release is more evidence showing just how ready this downtrodden fan-base is to get a potentially huge season underway. It's been years upon years of watching the Browns get hidden from as many broadcast cameras as possible, mostly due to the fact the team itself was unwatchable.
Cleveland getting more prime time appearances is obviously no guarantee a playoff season is on the way. That said, it's at least an indication the league expects as much.
Considering what Browns fans have had to endure over the past two decades, something like that is clearly worth getting excited about.

NEO Sports Insiders Newsletter
Sign up to receive our NEOSI newsletter, and keep up to date with all the latest Cleveland sports news.