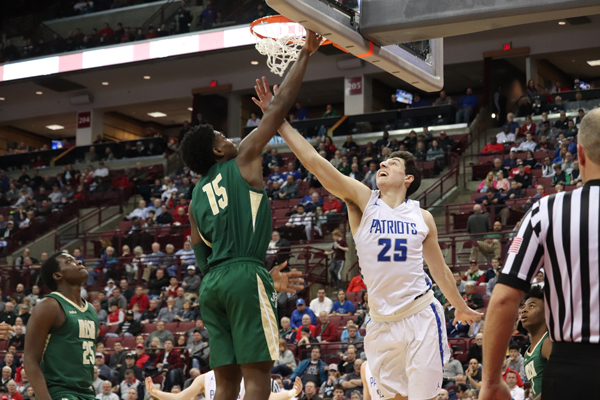 By Don DiFrancesco
Akron St. Vincent-St. Mary 15 13 10 20 = 58
Olentangy Liberty 9 7 16 17 = 49
OHSAA Division 1 State Semifinal
St. Vincent-St. Mary will try for their third consecutive state championship on Saturday after defeating Olentangy Liberty 58-49 on Friday night in Columbus. Liberty (24-5) was making their first appearance at the state semifinal level.
One big difference this season for STVM, though: they are now playing in Division 1 after winning the last two titles in Division 2. And in top-ranked and undefeated Cincinnati Moeller, they have a mighty tough opponent standing in their way.
Liberty had a 5-0 lead to start Friday's game, but STVM came back to grab a 15-9 advantage after one quarter.
In the second quarter, Liberty was unable to score for the first 6:27. STVM sophomore forward Malaki Branham gave the Irish their largest lead of the night (25-9) when he sank two free throws with 1:46 remaining in the half.
Two baskets by Liberty senior forward Ben Roderick plus a three-pointer by senior guard Joey Thatcher drew the Patriots within 12 (28-16) at halftime.
Liberty continued that momentum into the third quarter as STVM went into a cold spell, making only three baskets in the period.
Senior forward Nick Nakasian scored on a layup with 0:06 on the clock as the Patriots reduced the gap to six points (38-32) after three.
When Thatcher sank two free throws with 1:32 remaining in the game, Liberty was within three points at 52-49. But STVM responded with four free throws plus a put-back basket from senior guard Lunden McDay to close out the 58-49 win.
McDay was the leading scorer for the Irish with 21 points. Liberty's Roderick finished with 25 to top all scorers.
St. Vincent-St. Mary
McDay 9-2-21
Painter 5-2-13
Branham 3-4-10
Cone 3-4-10
Johnson 1-0-2
Wilson 0-2-2
Rebounds: 43 Turnovers: 7
Field goal shooting: 21/56, 38% 3-point shots: 2/12, 17% Free throws: 14/20, 70%
Olentangy Liberty
Roderick 10-4-25
Thatcher 3-2-11
Kershner 3-0-7
Nakasian 1-2-4
Hinkle 1-0-2
Rebounds: 34 Turnovers: 12
Field goal shooting: 18/50, 36% 3-point shots: 5/24, 21% Free throws: 8/14, 57%