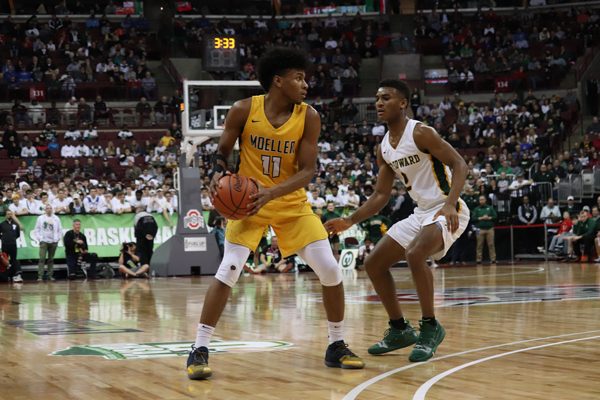 By Don DiFrancesco
Cincinnati Moeller​ 20​ 18​ 12​ 22 72
Lakewood St. Edward​ 15​ 10​ 10​ 17 ​52
OHSAA Division 1 State Semifinal
An outstanding shooting night from Cincinnati Moeller has sent the undefeated Crusaders (28-0) to Saturday's state championship game.
Moeller shot 26 for 39 (67%) for the game and closed out the contest with an 11-0 run to end St. Edward's season. The Eagles finished with a record of 19-9.
The first quarter went back and forth as both teams were on target.
The score was tied seven times in the period, the last time when Moeller's Will McCracken split two free throws with 1:54 remaining in the quarter to knot the score at 15.
The Crusaders closed the period on an 8-point run and led 20-15 after one.
St. Edward cooled off in the second quarter, but Moeller continued to burn the nets.
Crusader senior forward Alec Pfriem scored on a steal and layup with 0:07 remaining in the half as Moeller took their largest lead, going to the locker room with a 38-25 advantage.
The Crusaders shot a torrid 79% in the first half, going 15 for 19 from the floor.
The teams traded baskets in the third quarter as Moeller stretched their lead to 50-35.
St. Edward made things interesting in the fourth quarter as they steadily cut into the lead.
Junior forward Devontae Blanton buried a 3-pointer with 2:13 to play, cutting the Eagles' deficit to nine at 61-52. But that was as close as it would get.
Moeller finished the game on an 11-0 run, going 8-for-8 at the free throw line in the final two minutes.
The final score of Moeller 72, St. Edward 52 was the largest margin of the night.
St. Edward
Blanton​​ 6-0-15
Huffman​ 6-2-15
Terry​​ 4-3-12
Foster​ ​3-4-10
Archbishop Moeller
Pfriem​ ​8-3-20
McBride​ 5-2-13
Williams​ 4-4-12
Land​ ​3-5-11
Duncomb​ 2-0-4
Colbert​​ 1-0-3
Currin​ ​1-1-3
McCracken​1-1-3
Shipp​ ​1-0-3
Check out some photos by Opique Photos Below: