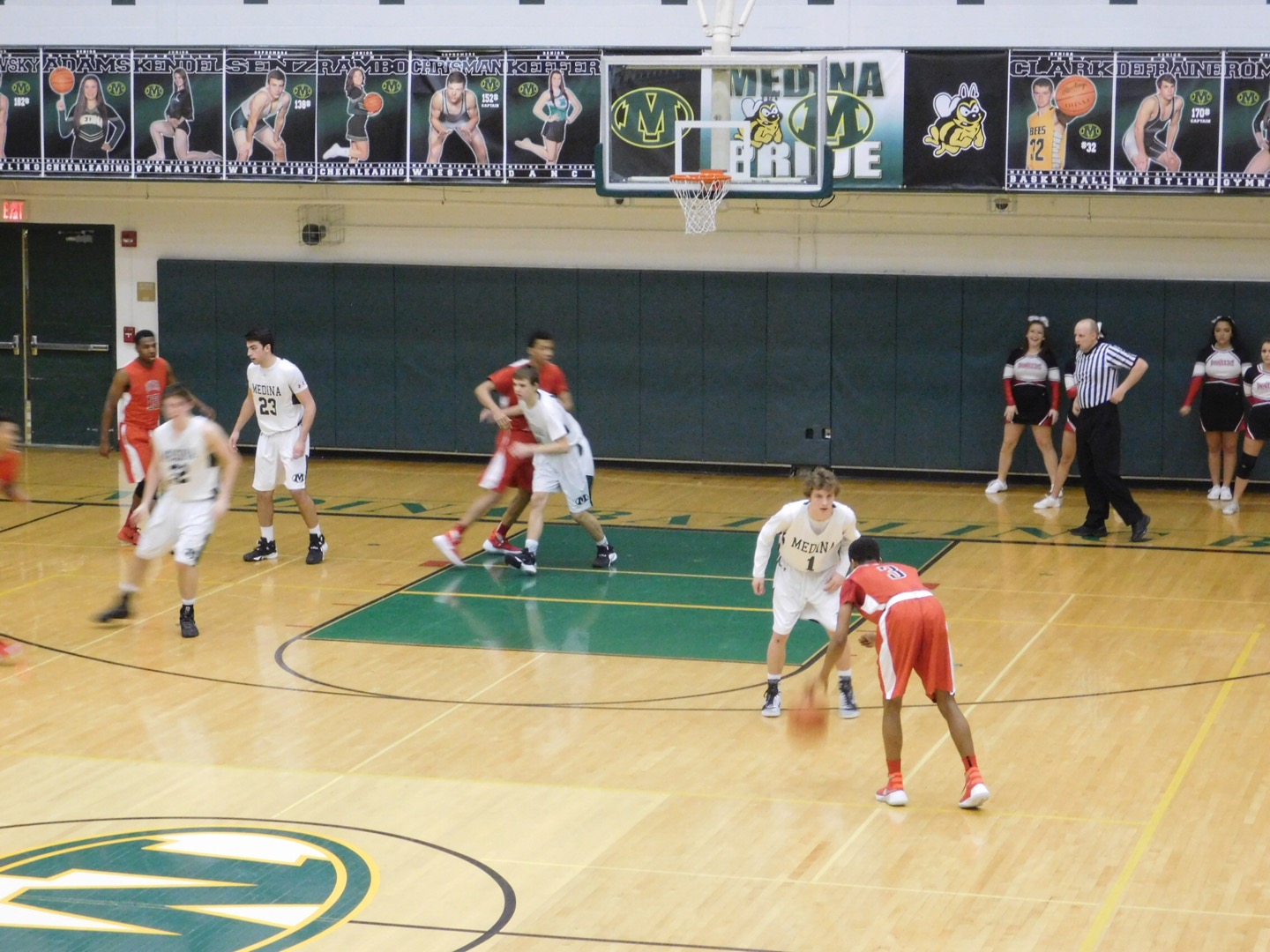 MEDINA, OHIO – The Bees of Medina controlled the pace most of the night, playing inspired basketball without their head coach, topping the Elyria Pioneers 54-37 in Greater Cleveland Conference play.
The Bees improve to 10-3 in the GCC, 15-6 overall. The Pioneers had a tough week, losing two games after a 10-game win streak. With the setback Brett Larrick's team falls to 9-4 in conference play, and 14-6 overall.
The night didn't start so well for the Bees, as in a rather bizarre turn of events, varsity head coach Chris Hassinger earned a pair of technical fouls in the freshman game, which means not only did he miss the varsity game against Elyria, but he also will miss the next two games due to a suspension.
Varsity assistant Carl Walcher filled in, and did an excellent job on senior night, as the Bees overcame a slow start down 6-2, and by halftime were up 25-11 and were able to cruise in the second half.
7-foot-1 senior Jon Teske dominated most of the night for Media, scoring a game high 18 points. Earlier in the first meeting between the two teams, Teske had 20 points and seven rebounds.
Teske was a force, and he showed once again why he's heading to play college basketball at a big time program, as he will take his size and scoring ability to the University of Michigan next year.
He got help from junior Luke Schaefer, who scored 11, and junior Jackson Sartain who put in nine in the 17-point win for Medina.
Elyria fell on Tuesday night to Brunswick 55-51, and after Friday's loss will have one more regular season chance to get on track before the postseason as they host Solon next Friday night at home.
After putting in 32 in a 65-60 win over Medina back on January 12th, Pioneer leading scorer Blake Furcron was held in check most of the night, as he scored 12 points, 10 less than his season average.
The Bees put the game away with a 17-5 second quarter in which Elyria wasn't able to hit from the field. In that second period the Pioneers hit on just 2-for-12 from the field, ending an ugly first half in which they were 5-for-24 shooting.
The second half was even for the most part, with each team scoring 13 in the third quarter, and the Bees outscoring the Pioneers 16-13 to round out the final period.
The Blue Devils of Brunswick remain a game up on Medina in the Greater Cleveland Conference following their 37-35 win over Strongsville on Friday night, but with Teske's size and the style the Bees play at, there's no doubt they will have something to say about the outcome of the GCC.