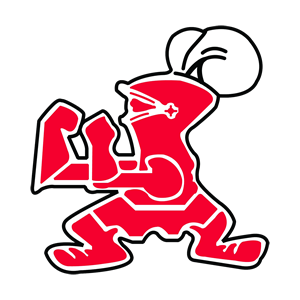 Shaker Heights, Ohio– Senior guard and Fairmont State commit Dale Bonner scored 24 points and had a couple of key steals down the stretch, helping Shaker Heights fend off a fourth-quarter rally to defeat Brunswick, 59-50.
Dale Bonner scored the first four points of the game to get the Red Raiders off and running early on. The Shaker defense was aggressive throughout the first half, pressuring Brunswick into turnovers, and converting them into points.
Senior forward Christian Guess also played a key role in the first half, scoring ten points, and a pair of rim-ratling dunks that left both schools' student sections in awe.
But Brunswick would not go away. They cut an 18 point lead to 13 at the end of third quarter and made things very interesting, cutting the lead inside ten points for the first time since early in the second quarter.
After Dale Bonner made two free throws in the fourth, senior guard Xavier Diaz made a layup, and senior guard Danny Dakdouk added one of his own to cut the deficit to 52-48 with less than two minutes remaining.
Bonner then split another pair of free throws, and Dakdouk's layup attempt to cut the lead to three rattled out. But the Shaker Heights defense closed the game with two steals, free throws from Bonner and Guess, and a block from Najee Hardaway.
Bonner ended the night with 24 points and nine steals, and Christian Guess had 16.
"It's never easy in the GCC (Greater Cleveland Conference). In the second half, I was hoping to push the lead further but we had some breakdowns in the third quarter. It's hard to keep a lead from start-to-finish  against Brunswick. We stuck to intensity and havoc. Brunswick is gonna fight back and not give up." said Shaker Heights head coach Danny Young.
In a losing effort, Brunswick got 19 points from junior guard Kyle Goessler and 13 points off the bench from senior guard Danny Dakdouk.
"I was feeling confident in my shot. We were beating their press and we converted a few buckets and held them to one shot. If we make that layup late, we got a shot to tie the game. That was a huge momentum swing." said Goessler.
"The turnovers in the first half were a huge difference. Shaker Heights is too athletic of a team to turn the ball over to. You're gonna have to play for 32 minutes to beat this team. We just ran out of time. The objective is to win and we didn't do that. But we'll bounce back." said Brunswick head coach Joe Mackey.
Shaker Heights improves to 2-0 (1-0 GCC) and travels to Mentor on December 15.
Brunswick drops to 2-1 (0-1 GCC) and hosts Strongsville on December 15.

NEO Sports Insiders Newsletter
Sign up to receive our NEOSI newsletter, and keep up to date with all the latest Cleveland sports news.