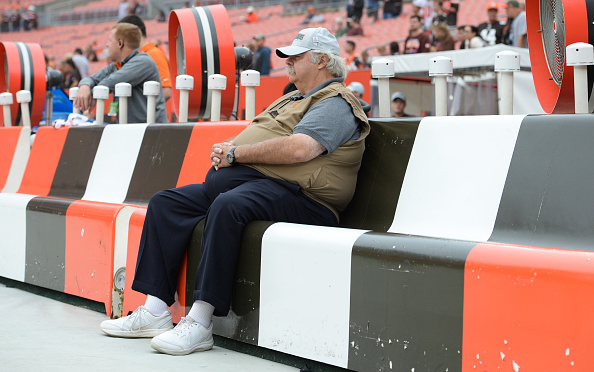 Say what you want about the former coaching staff of the Cleveland Browns, they sure don't have any trouble when it comes to grabbing attention.
Following in the footsteps of Hue Jackson's endless "it's actually not my fault we lost" tour, former offensive line coach Bob Wylie recently shared his thoughts on the current state of the team. More specifically, Wylie seemed to take issue with Freddie Kitchens being named as Cleveland's new head coach.
Setting aside how petty Wylie came off in his recent interview, what's even tougher to ignore is why he even felt the need to say anything at all. While his comments were candid to say the least, they were also blatantly unnecessary.
For those who missed it, Wylie claimed he was surprised Kitchens was eventually tabbed as the next Browns head coach. He felt this way, in part, because Kitchens didn't have any coaching or coordinating experience. However, he also claimed former quarterbacks coach Ken Zampese "did all the coaching there."
There were certainly more revealing comments made in the interview. Among other things, Wylie implied Kitchens' relationship with QB Baker Mayfield played a big role in his getting hired, claimed GM John Dorsey let interim coach Gregg Williams walk because he was afraid of his big personality, and claimed he found out about his firing through his daughter while he was recovering from a broken leg.
There's certainly no way any team is going to avoid distractions. However, that Kitchens had to respond to any of this is particularly needless.
Based on his comments today, it sure seems as though he felt the same way.
While insisting that Wylie is indeed a good person, Kitchens dismissed the idea of any coaches taking credit for what the players did last year. He also noted that Wylie wasn't under contract when the team parted with him, and that he likely made these comments as an attempt to feel relevant.
Again, though, Kitchens shouldn't have had to discuss this in the first place, if only because Wylie's comments were completely unneeded.
Honestly, what was his actual goal when it came to making these statements? Was he trying to influence the players' thinking? Was this some attempt to plant seeds of doubt within the locker room when it comes to how the head coach got his job?
Whatever the intention was, the result was Wylie taking pot-shots at a former coworker who, based on his responses today, was nothing but supportive of him while he was in Cleveland.
As Kitchens noted, he had the opportunity to keep Wylie. He decided against it, and Wylie apparently has an ax to grind about that.
That's the long and short of this whole ordeal. Wylie is grumpy about what went down after the season ended and decided to undercut the team's new coach. Eight months later.
Outside of making himself look petty, Wylie did accomplish one other thing with his comments on Kitchens.
He reminded everyone how much better off the Browns are without the former coaching staff.
Along with Jackson and Williams, Wylie is now another member of that group who prioritized the attention they received over the accomplishments of the team they were coaching. Hammering this home is apparently far more important to him than anything his former coworker is attempting to do in his new role as head coach. In fact, Wylie wants to make sure everyone knows that, while some coaches on the staff deserve credit for what happened last year, Kitchens apparently doesn't.
It's truly a shame recently removed coaches still feel the need to grab the spotlight ahead of such a big season for Cleveland. Wylie's comments, like those made before him from his former coworkers, are just unnecessary distractions the team shouldn't have to deal with.
One would hope Wylie and the rest of the coaches Cleveland let go take the hint Kitchens reminded everyone of today. They don't wear brown and orange anymore, so they don't matter.

NEO Sports Insiders Newsletter
Sign up to receive our NEOSI newsletter, and keep up to date with all the latest Cleveland sports news.