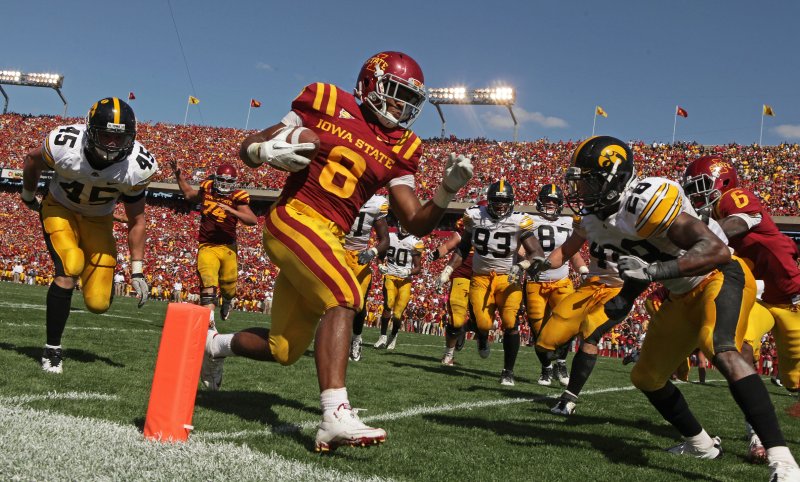 After an exciting opening week of college football, the Big Ten came out with 12 wins and two losses, while the "powerhouse" teams in the SEC went 7-7.
Granted, the SEC played some more marquee matchups and the Big Ten mostly played cupcake opponents, aside from Wisconsin, who stunned fifth-ranked LSU at Lambeau Field.
In Week 2, most schools in every major conference are playing inferior opponents.
For the Big Ten, Maryland, Michigan, Rutgers, Ohio State, Indiana, Minnesota, Northwestern, Wisconsin and Nebraska all face teams who should be relatively easy wins on the schedule. Michigan State has the week off.
Assuming those teams take care of business, all but Rutgers (0-1) and Northwestern (0-1) would start the season 2-0, giving the Big Ten eight undefeated teams.
There are four games of note that could go one way or the other on Saturday, Sept. 8.
Let's take a look at these matchups.
Purdue (1-0) vs. Cincinnati (1-0) 12 pm on Big Ten Network
The Boilermakers won their opening game against Eastern Kentucky 45-24. It was a convincing win, but allowing 24 points to a sub-par team is not a great sign for a team who will have to go up against some tough Big Ten opponents.
Cincy won their opener 28-7 over UT Martin, but playing on the road will be a challenge.
CBS Sports ranks the Bearcats 79th out of 126 teams, while Purdue is listed at 103.
There's not a great disparity between the two programs and home field advantage may play a big factor in this match.
Odds: Cincinnati – 6
Prediction: Cincinnati
Penn State (1-0) @ PITT (1-0) 12 pm ESPN
The Nittany Lions defeated Kent State  in convincing fashion 33-13 in Week 1, but will have a tough battle ahead on the road at Pittsburgh.
The Panthers beat Villanova in their opener and this will be the first test for both teams.
It appears to be a pretty even match on paper, as CBS ranks Pittsburgh 36 and Penn State 43.
As with most evenly matched college football games, the home field could play a deciding role.
Odds: Pitt -5.5
Prediction: Penn State
Illinois (1-0) vs. UNC (0-1) 7:30 pm Big Ten Network regional
The Fighting Illini started the season on a great note, dominating Murray State 52-3.
Saturday's match against the Tar Heels will be a true test, as UNC entered the season ranked 22 by the AP College Poll.
The Tar Heels fell out of the Top 25 with a Week 1 road loss to Georgia, who was ranked 18 coming into the game.
The Bulldogs moved up to ninth in the AP Poll with that win. UNC is ranked 26th by CBS.
CBS lists Illinois 83rd, but their impressive opening week win is worth some consideration.
Although Illinois is the heavy underdog in this match, this could be a statement win for the Illini to put themselves back on the map in college football.
Home field advantage could give Illinois some momentum, but the Tar Heels are going to be even more motivated after a Week 1 loss to avoid starting out 0-2.
Odds: North Carolina -8
Prediction: North Carolina
(16) Iowa (1-0) vs. Iowa State (0-1) 7:30 pm Big Ten Network (regional)
The Hawkeyes are the clear-cut favorite in this one. They dominated Miami (OH) 41-25, and moved up one spot in the AP Poll.
Iowa State lost its opener to another in-state rival, Northern Iowa 25-20.
The Cyclones are ranked 116th by CBS.
All signs point towards an easy win for Iowa, which could move the Hawkeyes up another spot or two in the rankings, but when it comes to rivalry games, strange things tend to happen.
Iowa State won the Battle for the Cy-Hawk trophy in three of the last five years, but Iowa came out on top in 2015, winning 31-17.
In 2014, the Cyclones finished the season with a dismal 2-10 record, but one of their wins came against Iowa, who finished the season 7-6.
The fact that the Hawkeyes have home field advantage gives Iowa fans more reason to feel comfortable, but perhaps the Cyclones have another upset up their sleeve.
Odds: Iowa -15
Prediction: Iowa
We'll check back on Sunday with our Big Ten Roundup, to see how the 14 teams fare.
If my predictions hold true, we'll be looking at ten undefeated teams heading into Week 3.
Two teams to keep an eye on in the Big Ten West picture all season include Iowa and Minnesota.
Iowa has a favorable schedule and does not have to play (4) Ohio State or (12) Michigan State in the regular season. Their three toughest games all come at home against (10) Wisconsin, (5) Michigan, and Nebraska.
If the Hawkeyes can manage to win one or two of those three games and avoid any slip-ups to lower-level opponents, there's a good chance Iowa will reach the Big Ten Championship.
Meanwhile, Minnesota has one of the easiest schedules in the entire conference. The Golden Gophers do not play Ohio State, Michigan, or Michigan State.
Minnesota hosts Iowa, but plays Nebraska and Wisconsin both on the road.
The Big Ten West appears to be a four-team race between Wisconsin, Iowa, Nebraska, and Minnesota, but the Badgers and Cornhuskers have the toughest schedules of the West.
The head-to-head matchups between those teams will play a major role in the standings, but perhaps the strength of schedule will be the undoing for Nebraska and Wisconsin.
Even if those four teams avoid being upset by lower-ranked opponents, it should be a wild finish to the season, as Nebraska heads to Iowa for the regular season finale, and Minnesota travels to Wisconsin.
It's a long way down the road, but Ohio State, Michigan, and Michigan State all will be keeping their eyes on how the West is won.
Follow @MedleyHoops on Twitter for Big Ten news and live updates from inside the Horseshoe on game day.

NEO Sports Insiders Newsletter
Sign up to receive our NEOSI newsletter, and keep up to date with all the latest Cleveland sports news.