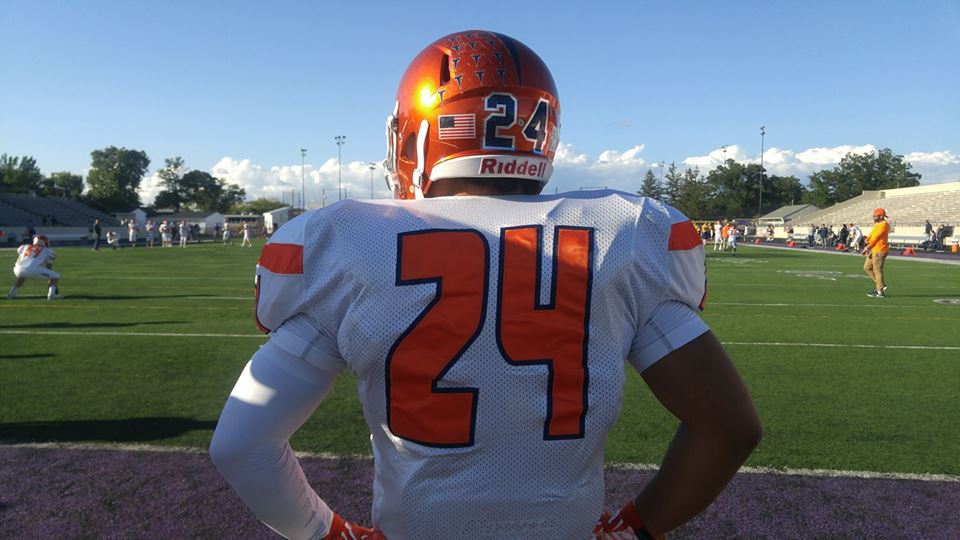 This weekly Lakewood High School Football Recap is brought to you by the toast of Lakewood, the premier place to celebrate all occasions each and every day of the week, YUZU Lakewood!  You can check them out on line right now by clicking here  http://www.yuzulakewood.com/      
Trevor Bycznski led the high-octane offense of the Berea Midpark Titans into battle tonight at First Federal of Lakewood Stadium as they traveled to Lakewood and took down the Rangers 56-14.  The Rangers defense had no answers for the high-flying attack of the Titans all night long at the Madhouse on Madison.
Bycznski finished with another monster night.  His third of the season!  This time going for 246 yards on 14 of 22 passing with 3 touchdown passes.  He settled down after a few errant throws early on to have a great game.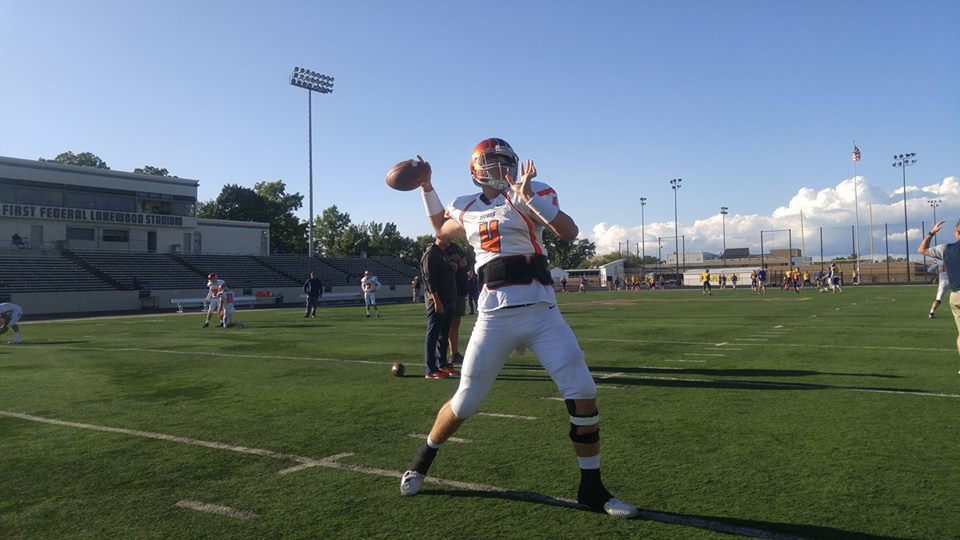 Once again big Trevor had plenty of help from Bryce "The Beast" Agnew.  The Week 2 NEOSI Player of the Week runner up ran all over the Ranger defense.  Agnew, finished with 95 yards on 14 carries and found the end zone 2 times.  Once as a rusher, and once as a receiver out of the backfield.
Not only did he have a big night in his own backfield, but also the one of his defense as well.  Agnew starts at linebacker and had a monster night.  He had a clutch interception late in the second quarter to snuff out one of the few positive drives Lakewood was actually able to put together.
I spoke with Berea Midpark Head coach Jon Hunek about what makes Bryce so special, "The big thing about Bryce is that he puts a lot of work in.  He never misses practice or a workout.  He is very well conditioned and plays on both sides of the ball for us.  He is a linebacker on defense.  He is a really good leader and is a product of the hard work he has put in.  He has a lot of energy and the kids respond to that.  He is just a hard worker and it pays off for him."
The coach continued on, this time speaking about Trevor, "It's the second year in our system which is a huge plus.  He took some strides last year and has a very good feel for what we are trying to accomplish.  It is nice to be on the same page with him and get that one on one time in our second year working together.  He is up with everything we are doing and is like another coach on the field, so that really helps.  The kids really respect him as a leader and that has really carried over in his play.
What also helps is that he has a reliable backup in Angelo Svigelij Smith who has emerged as a solid back up which allows us to be more physical in our play calling with Trevor.  Last week he rushed for 80 plus yards.  Angelo has put a lot more time in which really allows us to expand what we want to do as he has become a safety net."
A much-improved Titan defense forced the Rangers to go 3 and out on their first three possessions of the game.  The Berea Midpark offense wasted no time, punching it right in every single time they took over on the short field.  Before the first quarter was over the score was 21-0.
The damage was done on a beautiful mix of play selection that saw the Titan offense move the ball with both passing and running.  It was a steady attack that saw touchdown runs by Bycznski of 7 yards, and Agnew of 1 yard.  Also, a 7-yard touchdown pass from Bycznski to Luis Vega.
The second half was more of the same on both ends of the ball.  After Lakewood managed to score, it was the Titan offense right back on the attack.  They converted a key fourth down thanks to an interference called on Lakewood.  A few plays later it was Bycznski connecting with Agnew for a 13-yard pitch and catch to make it 28-7.
The first half attack wasn't over with yet however as the Titans just kept rolling.  This time it was the special teams stepping up as Angelo Svigelj-Smith returned a Nagy blocked field goal 80 yards to pay dirt.  The Titans would punch it in one more time following the Agnew interception and went into the locker room up 42-7 at halftime.
Agnew finished the first half with a touchdown rushing, a touchdown receiving and an interception on defense.  He also ran for over 50 yards in the first half alone.  Not a bad 24 minutes for "The Beast".
The win improves the Titan record to 2-1, while the Lakewood Rangers fell to 0-3.  Berea Midpark will look to stay hot next week as Bycznski and the boys travel to North Ridgeville in search of their third straight victory.  The Lakewood Rangers will look to capture their first win of the season as they travel to Olmsted Falls.
Our NEOSI player of the game is Bryce Agnew with 95 rushing yards, 37 receiving yards.  Touchdowns rushing, receiving, and an interception on defense.  
Box Score
Berea MP 21 21 14 0 – 56
Lakewood 0 7 7 0 – 14
Scoring Summary
1Q Bycznski 9 yard TD run. XP good @8:43
1Q Agnew 1 yard TD run. XP good @6:06
1Q Bycznski 7 yard TD pass to Siggers. XP good @2:24
2Q Naida 6 yard TD run. XP good. @11:12
2Q Bycznski 13 yard TD pass to Agnew. XP good. @8:42
2Q Blocked FG of Nagy. 80 yard return by Smith. XP good @2:24
2Q Bycznski 7 yard pass to Vega. XP good. @0:59
3Q Williams 1 yard TD run.  XP good @8:51
3Q Jackson 74 yard TD run.  XP good @8:02
3Q Miller 1 yard TD run. XP good @4:31