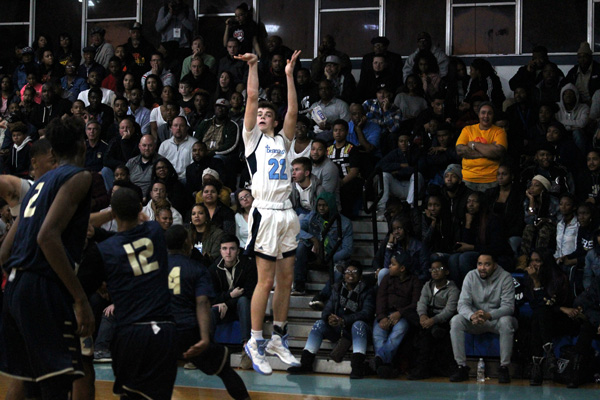 by Don DiFrancesco
@MayorNEOPrep

From game #2 of the Dunk4Diabetes Shootout at John Carroll University:
UNIVERSITY HEIGHTS, OHIO– There were no big scoring runs or droughts in this game. Both teams played well for three quarters, but Benedictine seemed to wear down Revere a bit during the fourth quarter. The Bengals outrebounded the Minutemen 12-6 in the final period, and converted five of six free throws down the stretch to complete a 58-47 victory.
Benedictine senior guard Chris Jefferson scored 15 points for the Bengals, including a half-court buzzer beater at the end of the first quarter. Sophomore forward Andy Barba also had a solid game: 14 points plus seven rebounds.
Revere's 6-foot-10 senior Pete Nance was the game's high scorer with 16 points. He also gathered seven rebounds and blocked or altered several Benedictine shots. Daniel Miller, another senior for the Minutemen, sank four 3-point shots for his 12 points.
An interesting aspect of this game was that both teams received a strong performance from one of their bench players. For Benedictine, sophomore guard Jashun Cobb scored two quick baskets upon entering the game in the first quarter. He played significant minutes in all four periods and finished with 14 points. Revere junior forward Chris Richardson also scored 14 points off the bench, including two 3-point buckets in the second half, and was a smooth 4-for-4 on free throws.
Revere                                      14            12            14            7   =     47
Benedictine                          14            17            14            13   =     58
Revere
Nance                     7-2-16
Richardson          4-4-14
Miller                      4-0-12
Drenth                    1-0-3
Albert                      1-0-2
Benedictine
Jefferson               6-2-15
Barba                      4-4-14
Cobb                        6-2-14
Buckner                 3-1-7
Thomas                                    3-0-6
Caywood               1-0-2

NEO Sports Insiders Newsletter
Sign up to receive our NEOSI newsletter, and keep up to date with all the latest Cleveland sports news.