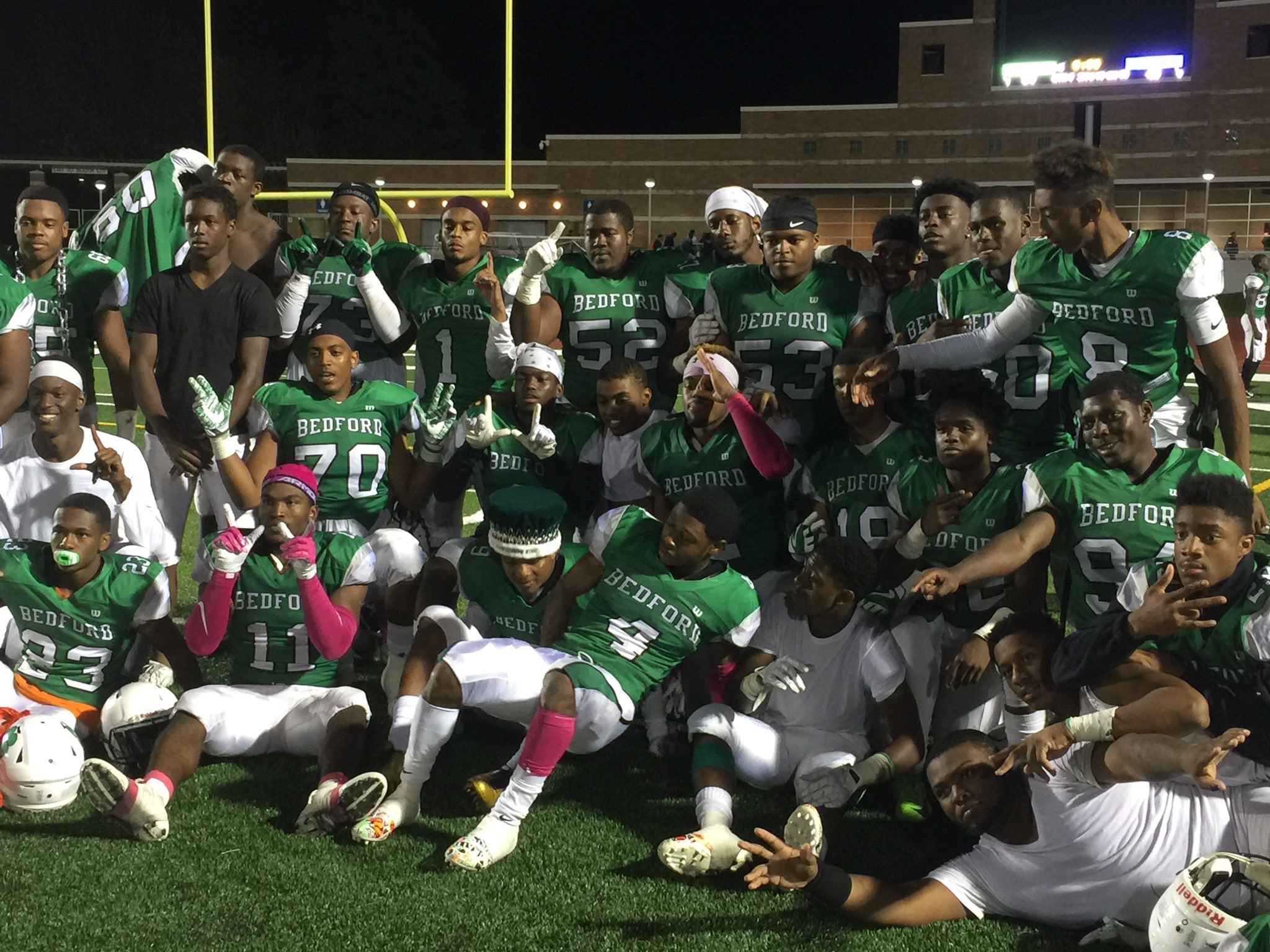 BEDFORD, OHIO–  Simply amazing. Extraordinary. Bodacious. Undeniably incredible. There are many words to describe what transpired tonight at Bedford Bearcat Stadium.
The Lake Erie League Conference title was at stake between the Bearcats of Bedford and the Titans of Lorain High.
We all knew the game would be one for the ages, one that hasn't been seen in LEL play for years. What we saw this night was an unforgettable, record breaking performance that superseded anyone's expectations.
Led by the remarkable performance by senior running back Kenneth Wilkins, who had 26 carries, 249 yards, and six touchdowns, the Bedford Bearcats wrestled the LEL championship from the Lorain Titans and sent a clear message that they are a team with a state title in their sights.
This game was destined to be a classic from the very start. Two teams so similar in style especially on the offensive side of the ball. It was a recipe for brilliance, and no one left disappointed.
Lorain came out like they were shot out of a cannon. After receiving the opening kickoff, they marched quickly down the field behind the running of sophomore running back Daylin Dower and a precise short passing game from senior quarterback Justin Sturgill, the drive stalled at the Bearcat 15 yard line on downs.
On the very first Bedford play from scrimmage, quarterback Emmanuel Jenkins fumbled the snap, and  Lorain recovered the ball. One play later Dower took it in from 15 yards and the Titans held an early 7-0 lead.
Bedford regained possession and on third down from their own 27 after Jenkins was picked off by senior DB Dakota Mincy who ran it back 34 yards to put Lorain quickly ahead 14-0 with barely three minutes gone.
The Bearcats regrouped however, and drove 50 yards in five plays capped off by a 25-yard run by Wilkins, his first of six scores. The two-point conversion made it 14-8 Lorain.
The Dower Outage, however, was in full force for the Titans. Two more scores of four and 22 yards all in the first quarter gave him three in the first 12 minutes and a 28-8 lead for the Titans after one quarter.
Then the fun began.
A quick 55-yard drive and a Wilkins one-yard run cut the lead to 28 -14. After an interception by LB Kevin Brewer at the Titan 29, Jenkins found WR Davion Johnson from eight yards to trim the lead to 28-20.
After a Lorain punt, Bedford marched 90 yards on four plays and Jenkins connected with RB Decarleen Townsend on a 60-yard pass play for six and the Titan lead was at 28-26.
Mincy closed out the first half scoring, finishing off an eight-play 65-yard drive just before the half and Lorain took a 34-26 lead into the locker room. That drive seemed like a momentum changer for the Titans, but it wasn't to be. Not tonight.
The second half belonged to that man-child named Wilkins. Running off the right side of the Bearcat offensive line all night, he scored on the first second half drive from four yards out and tied the score after another two-point conversion at 34.
After a three and out by Lorain, Wilkins capped a 64-yard drive with a 17-yard run and gave Bedford a 4o-34 lead. But Dower was not done yet either, he rushed 29 times, 229 yards and four scores of his own, the last one a 21-yard TD to give the Titans back the lead 41-40.
Wilkins was at it again, three plays, all Wilkins runs, including another 15-yard touchdown run, giving the Bearcats a 48-41 lead. Sturgill, however, came right back and methodically drove the Titans 75 yards and scored on a one-yard run to tie the score at 48 leading into the fourth.
By now these teams gave it all they had, hands on knees, cramping, knowing what was at stake. They both wanted the prize, and they knew that whoever played the better defense in the fourth quarter would come out on top.
Wilkins scored again, his sixth TD of the night, early in the fourth quarter from five yards out and Bedford went ahead 54-48. This was about that time when you knew that whoever had the ball last would win.
But the biggest play happened, a conference championship play, when Lorain, faced with a fourth and goal inside the Bearcat one-yard line handed the ball to Dower who went off tackle and was met by Wilkins who was playing LB. He was stuffed before he could reach the ball in the end zone. Game over, only fitting that who else but Wilkins would make the game saving play.
One for the ages, an unforgettable game, one that will be a hard act to follow.
Lorain drops to 7-2 and faces Shaw next week, while the newly crowned LEL champion Bedford Bearcats, now 8-1, will host Warrensville Heights in the regular season finale.

NEO Sports Insiders Newsletter
Sign up to receive our NEOSI newsletter, and keep up to date with all the latest Cleveland sports news.