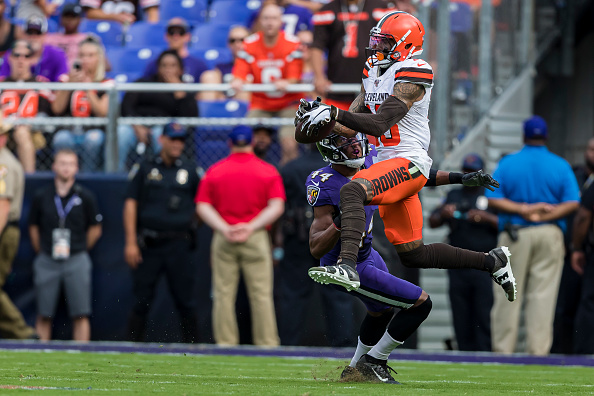 I have to admit, I assumed the Baltimore Ravens would be quick to move on from their loss to the Cleveland Browns this past Sunday. After all, a 40-25 beat-down at the hands of a team Baltimore claimed it was extremely motivated to defeat seems like something you'd be more than ready to put behind you.
Apparently, that wasn't enough. We learned today the Ravens were eager to take another loss from Sunday, this time by their own doing.
If you'll recall, a major talking point from Cleveland's win over the Ravens was a scuffle between Browns receiver Odell Beckham Jr. and Ravens' cornerback Marlon Humphrey. During said scrum, Humphrey shoved Beckham to the ground, and sure appeared to start choking him.
Marlon Humphrey and Odell were going at it like Norman and Odell did back in 2015! LMAO! pic.twitter.com/yeZtwfEAVv

— #BusinessAintBoomin (@ftbeard_17) September 30, 2019
That said, it seemed like this issue was buried after the game. Humphrey claimed he apologized to Beckham, while Beckham insisted it was just an issue of both competition and the hot conditions during the game.
One would think that'd be enough to call this case closed. Baltimore felt otherwise.
Today, the team went out of its way to post both a well-produced video and an almost 700-word column attempting to prove Humphrey was completely innocent in the entire ordeal. Per the piece, the Ravens cornerback was just defending himself, and there wasn't a single shred of evidence proving otherwise in the accompanying video.
There's been a lot of talk about the play between Marlon Humphrey and Odell Beckham Jr.

Close-up video shows exactly what happened, and that Humphrey didn't choke him.

📰: https://t.co/mdpmljNMxl pic.twitter.com/AO9KAfCW6a

— Baltimore Ravens (@Ravens) October 1, 2019
The Ravens team site was right about one thing. The video doesn't show Humphrey straight up grabbing the Browns wideout by the throat.
What it does show is him shoving his hands right into the Beckham's windpipe.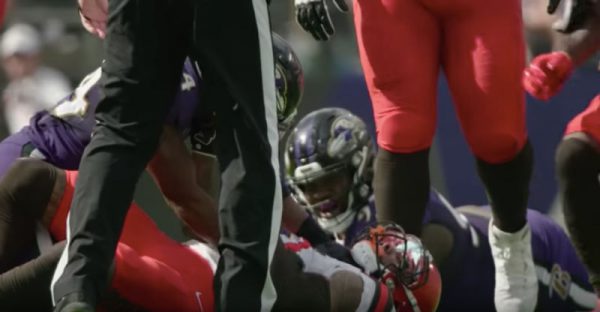 But, hey, that's just what my eyes tell me. If we go by the words of staff writer Ryan Mink, who penned the lengthy defense, this was just Humphrey doing "what he's coached to do: protect himself, all while holding on to Beckham's jersey the entire time."
This is embarrassing.
For one, as mentioned, everyone seemed to have moved on from the matter. Why anyone felt the need to turn this into a CSI-style investigation is beyond me.
However, that this is coming from the Ravens themselves, and that it bends over backwards in attempt to prove that what we're seeing in the video they included isn't actually what happened is worthy of a face-palm.
If you don't believe me, just listen to Browns coach Freddie Kitchens' response to Baltimore's attempt to show us the facts.
"Did you see the video? OK. That is my response," Kitchens said. "Everybody saw the video. That answers your question, right?"
What makes this even more awkward for the Ravens is their "defense" of the entire situation leans on the fact Beckham threw punches during the scuffle. They're not wrong, you can see as much in the video.
At the same time, who claimed Beckham was innocent?
Nobody has been saying Cleveland's receiver simply put his hands up the entire time. Beckham hasn't insisted he was just minding his own business and then all the sudden Humphrey came after him.
In the end, Baltimore's attempt to exonerate its player falls flat on its face. The team provided video evidence of Humphrey shoving his fists into Beckham's throat, and also tries to defend this by pointing out Beckham's actions as if everyone was pretending they never happened.
Again, the loss itself should've been enough for the Ravens. They hosted a division rival, insisting they were motivated to take them down, and got waxed. You'd think moving forward was the most logical next step.
Instead, Baltimore made a bizarre and extensive attempt to recreate an incident which occurred during said defeat. While it was meant to set the record straight, all it really did was give the Browns two wins from one game.

NEO Sports Insiders Newsletter
Sign up to receive our NEOSI newsletter, and keep up to date with all the latest Cleveland sports news.