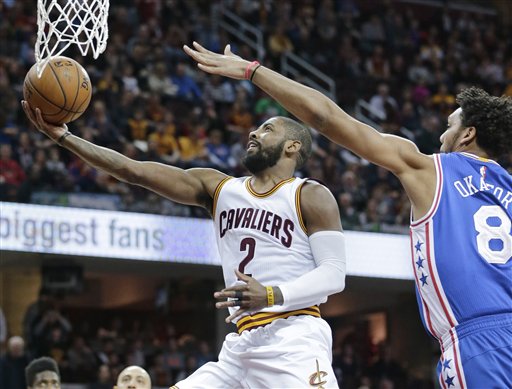 As each day passes without a Kyrie Irving trade, it looks more and more likely that he will start the season in wine and gold.
According to a report from Sam Amico, the Cavaliers continue to believe that they have the upper hand when it comes to any Irving deal.
Since Irving remains under contract for the next two years, he would be expected to be at training camp if the Cavs cannot find an adequate deal. As Amico notes, however, they still have every intention of pursuing a trade:
"But they won't do it for a bunch of nameless, faceless pieces and parts. That would be silly. If anything, the Cavs plan to use Irving to upgrade the roster. If that doesn't happen, they'll just go back to looking for trades centered on other players."
In requesting a trade, Irving gave owner Dan Gilbert a wish list of sorts, saying he would like to go to either Minnesota, New York, Miami or San Antonio. But the bottom line remains this:  The club is less concerned with his wish list, (after all, Irving does not have a no-trade clause) and more concerned in getting the best deal possible.
Per Amico, three of those teams are already off the table.
"The Cavs have already shot down the Heat, and the Knicks and Spurs aren't about to surrender anything the Cavs would want in return. So trades with any of those three seem like the longest of long shots."
As the start of training camp looms closer, it will no doubt be interesting to see what teams are willing to give up for a shot at Irving.

NEO Sports Insiders Newsletter
Sign up to receive our NEOSI newsletter, and keep up to date with all the latest Cleveland sports news.