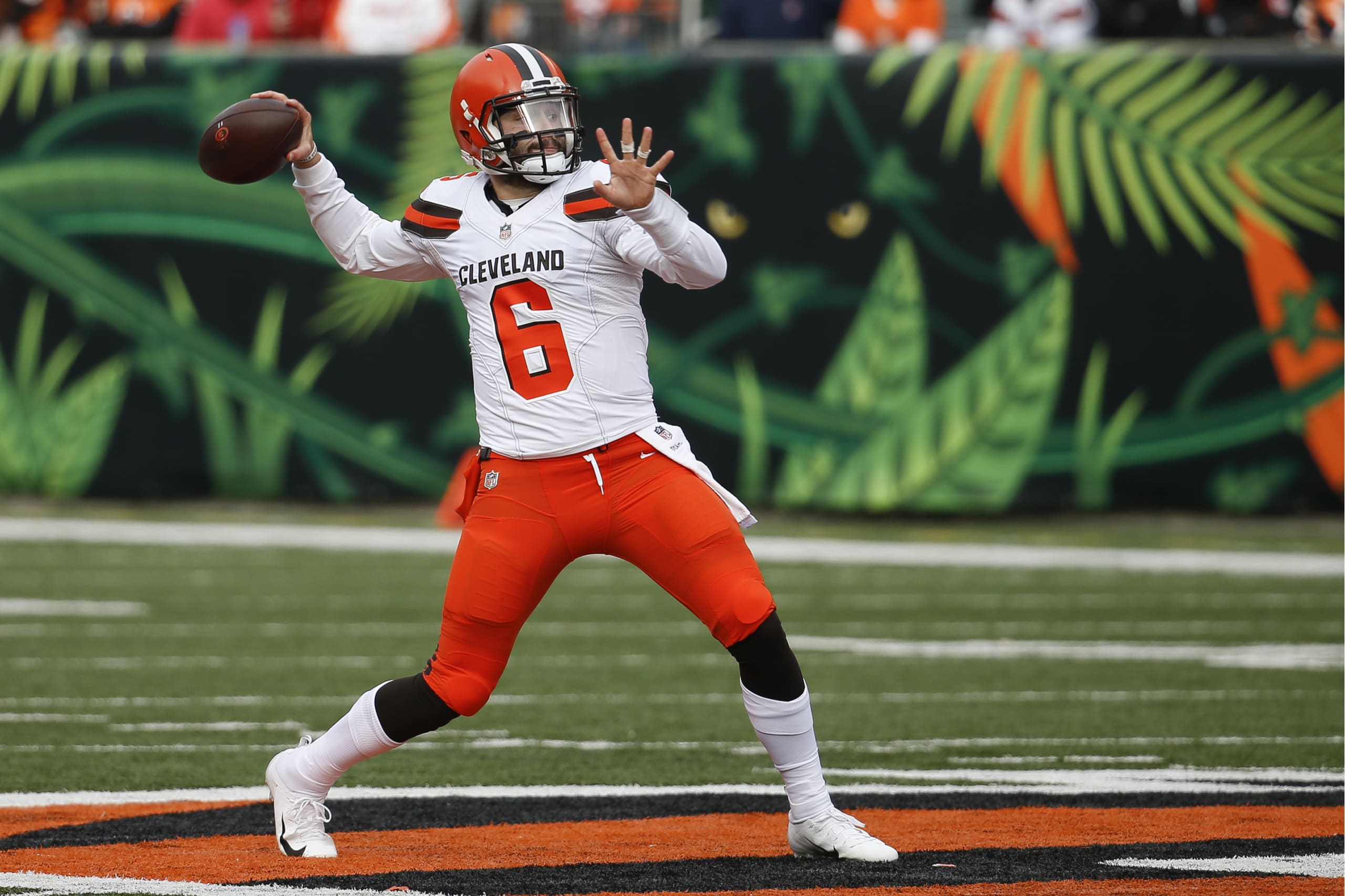 This time last year, sports talk in Cleveland was dominated by debates over whether or not Baker Mayfield had any shot at winning the Browns starting quarterback job. As it turned out, ex-head coach Hue Jackson wasn't even willing to give him an opportunity to compete for the job; it soundly belonged to Tyrod Taylor.
But once Mayfield took over for a concussed Taylor in Week Three and led the Browns to it's first win in 635 days over the Jets, the decision to start the No. 1 overall pick on the bench proved to be a misguided one. Naturally, Jackson was blamed for holding back the rookie QB, however in this instance that may have been unwarranted.
In a new feature with ESPN's Mina Kimes, Mayfield himself spoke about being designated to backup quarterback last season and admits that the decision wasn't made by one singular individual but by the entire Browns organization.
"I wasn't happy about it, but I understood it," Mayfield says. He appreciated that the team was upfront about the plan — honesty means a great deal to him — and he saw the value in learning on the sidelines, especially after sitting out a year at Oklahoma."
The mention that "the team" was upfront with Mayfield regarding his role would suggest it was a group decision and not just Hue Jackson being stubborn Hue Jackson. On top of appreciating the upfront approach the team used, Mayfield went on to explain that he respected the opportunity learn behind Taylor, whom he describes as thoughtful and kind.
Still, the 24-year-old admitted that being named the backup didn't sit well with him.
"Me being me, I wanna be that guy in the locker room, I wanna be myself. But at the same time, I had heard so many different things from different guys and read things … " Mayfield sighs. "I wanted to go through the process and learn as much as I could so when the moment arose — then it would be my time. Then I could be that person and let it all go."
Beyond talking about his rise to the top of the depth chart, Mayfield opened up about Odell Beckham Jr., his relationship with Hue Jackson, how he'll handle not being an underdog anymore and more in the piece. Read it in full here.
There's also a video interview that goes along with the article, which you can check out below.

NEO Sports Insiders Newsletter
Sign up to receive our NEOSI newsletter, and keep up to date with all the latest Cleveland sports news.