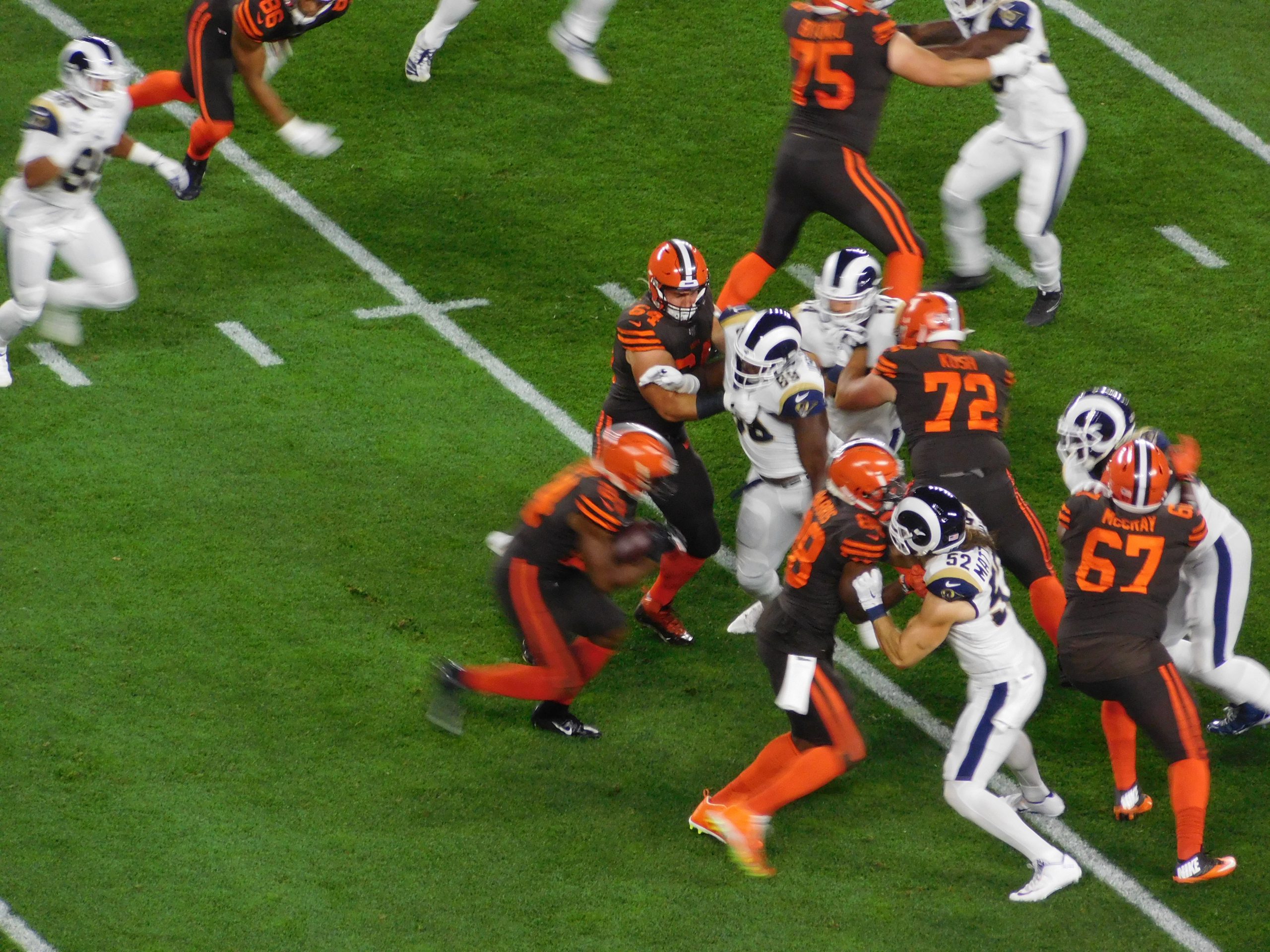 Browns fans waited more than a decade to see their beloved football team on Sunday Night Football only to go to bed with a familiar but bitter taste in their mouths after a 20-13 loss to the Rams. Normally, a seven point loss at the hands of the defending NFC champions wouldn't seem so bad, but it's the way it all unfolded – with costly coaching mistakes and missed opportunities – that will leave Cleveland in some agony for the work week ahead.
Ravaged by injuries this week, particularly on defense, the Browns were somehow driving to tie the game in the final minute if play. And while Baker Mayfield looked better, along with the offense in spurts, some of the same issues and blunders that haunted the Browns in the first two weeks of the season reared their ugly head in the biggest prime time game since 2008.
Here are five takeaways from the crushing loss to LA
1) WTF!? 
That's the collective reaction from Browns fans had when Freddie Kitchens dug deep into the playbook for a running back draw play on fourth-and-nine from the Rams 40 with just over nine minutes to play. It was such an unheard of play call in that situation that, as ESPN's Jake Trotter shared, since his employer started tracking the NFL in 2007 there has NEVER been a draw play run on fourth-and-nine or more. Just a brutal play call. It's hard to be mad at the aggressiveness in that situation. Your team is on the biggest stage of football, in a tight game with the defending NFC champions. Be aggressive. Make a statement. But if you're gonna go down swinging it can't be on a play call like that. And if you thought the terrible decisions stopped there, he mismanaged the clock and his timeouts on the potential game-tying drive at the end of the fourth quarter and lacked creativity with his play-calling once the Browns were on the doorstep of scoring. On the biggest stage of football Kitchens looked in over his head and now he'll have to answer for his blunders.
2) Sophomore Slump?
No one was ready to call Baker Mayfield's slow start a sophomore slump just two games into the season. However, as we approach the quarter pole of the season and he continues to look inconsistent those sophomore slump undertones may start to settle in. For what it's worth, Mayfield looked better in stretches against the Rams; particularly when Kitchens was running that quick hitting offense from last season that earned him the head coaching job in the first place. At one point the Sunday Night Football broadcast flashed some replays with a timer to show Mayfield getting rid of the ball in under two seconds. When he was doing that with the RPO style plays that worked last year the offense looked great. For example, on the Browns one touchdown drive, Mayfield completed four short, quick-hitting passes of six yards or less, including the two-yard TD pass to Demetrius Harris. The one pass he completed of more than six yards was a 30-yard screen to Nick Chubb. On that drive specifically Mayfield went away from looking for the big play downfield and took what the defense gave him. It was promising to see the offense get back to that, however a quick glance at his 18-of-36 for a underwhelming 195 yards, one touchdown and his fifth interception of the season paints a much bleaker picture of how Mayfield has performed as a whole so far this season. He also missed Jarvis Landry on a slant route for six on the final drive; a play Mayfield said he'll have nightmares about.
3) Let's hear it for the defense
If you had said before the game that the Browns would be down seven, driving to tie the game in the final minutes of the fourth quarter, I would have called you a liar. Cleveland entered the night incredibly wounded on defense, down their entire starting defensive secondary and linebacker Christian Kirksey. It was crazy to think they could hang in against Sean McVay and the Rams explosive offense. And yet, somehow, someway the defense was the Browns strength tonight, with a special tip of the cap to linebacker Joe Schobert, who without his right hand man Christian Kirksey played as if he was two linebackers at once. Schobert was cleaning up everything forced back inside, finished with six total tackles, a fumble recovery and tipped a pass that was intercepted by Juston Burris. He was incredible. Myles Garrett registered another sack, his sixth of the season. Oh and that makeshift secondary came away with two interceptions. The defense did everything it could to give the Browns offense a chance.
4) Chubb-a-dub-dub
Finally, Freddie Kitchens got Nick Chubb more involved and the results were beautiful. Chubb carried the ball 23 times for 96 yards and at one point had a touchdown that got wiped out by an untimely illegal shift penalty. The Georgia product also caught four passes for 35 yards, the highlight of which was a 30-yard screen pass on third-and-13 that set up the Browns lone touchdown. 27 touches are a season high for Chubb and the offense is clealry better when Chubb is touching the football more regularly. If you thought Kitchens was finally understanding that though he completely neglected Chubb in the most important moment of the game, with four downs to score from the Rams four with under a minute to play and all three timeouts remaining. To not run the ball once in that situation is a travesty. Another costly Kitchens blunder.
5) Sunday Night was Laundry Night
If you've regularly watch Sunday Night Football this year, you haven't missed the Tide Sunday Night is Laundry Night commercials. The Browns took them a little bit too seriously because their penalty woes continued. Eight more penalties were accepted against Cleveland against the Rams. They entered Week Three as the league leaders in penalties against and they'll stay atop that list, tied with Atlanta heading into Week Four. The Browns have been flagged 46 times so far this season with 35 accepted against them. That's a lot of dirty laundry.

NEO Sports Insiders Newsletter
Sign up to receive our NEOSI newsletter, and keep up to date with all the latest Cleveland sports news.