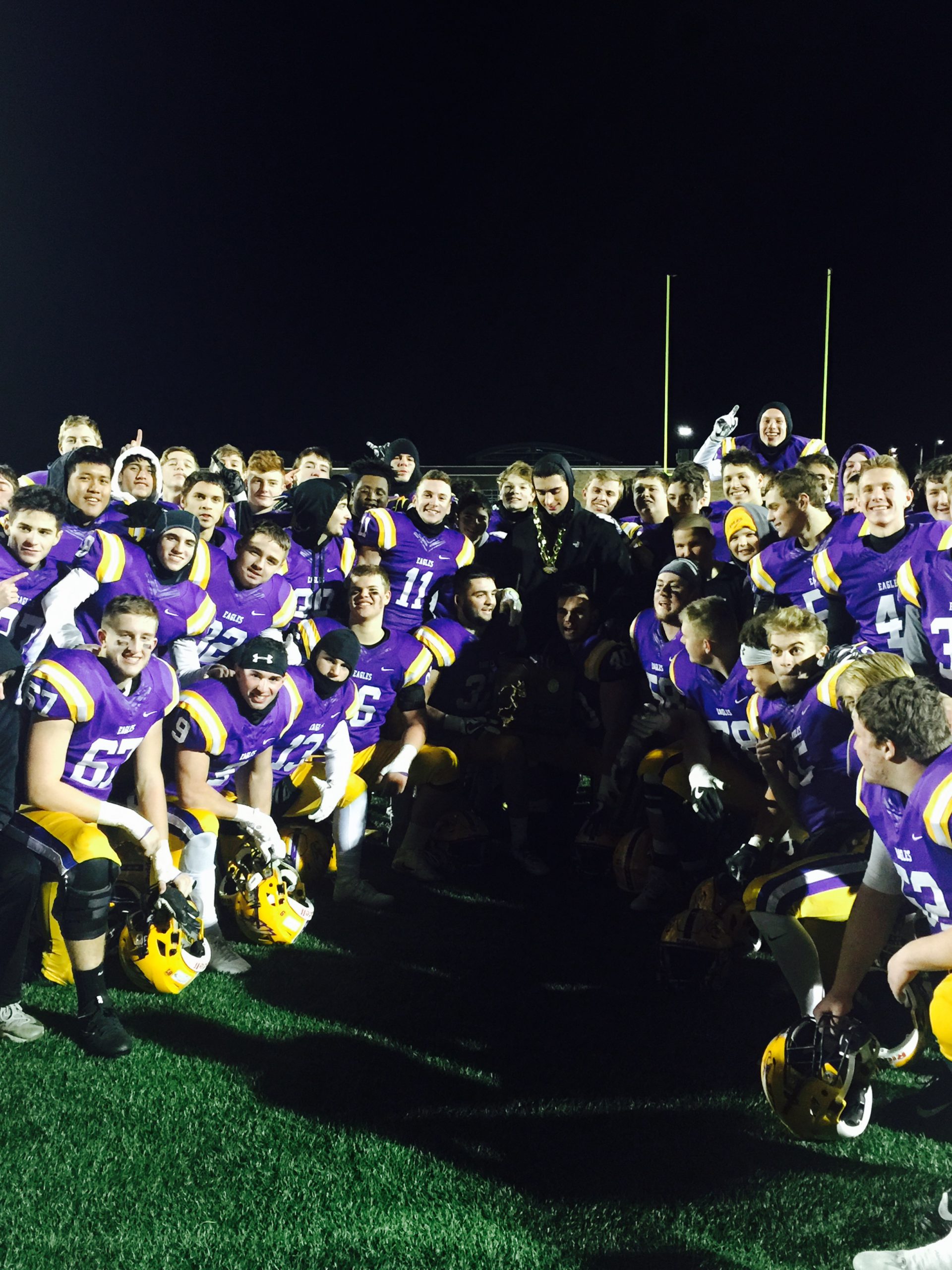 This game recap is brought to you by Crystalina's Pizzeria. Visit them at 36962 Detroit Rd, Avon, Ohio, 440-934-1011 or online at www.crystalinaspizzeria.com, and remember, #thechoiceisCrystalclear
North Ridgeville, Ohio-   The stage was set, two division foes set to battle for a trip to the State Semifinals, two division foes who knew each other well, a back and forth, leave it all on the field kind of a game, just a normal SWC matchup.
It wasn't to be.
The Avon Eagles thundered into Ranger Stadium at North Ridgeville High School this evening and totally dismantled a very game but very overwhelmed Olmsted Falls team with a resounding 55-14 victory and secured their spot in the OHSAA Division II Semifinals.
It was no contest, Avon showed why they are the class of the SWC as they ran early and often and left no doubt to the capacity crowd and all of the North East Ohio area that they are primed to win it all.
Led by Matt Wilhelm Award winner QB Ryan Maloy, Avon set out to establish momentum  early and that they did on the very first possession.
Using a combination of short passes and perimeter run plays, mostly to WR/Mr Everything, David Orlando, Maloy led an 8 play 54 yard drive, 41 of them by Orlando, to open the scoring 7-0, with 7:52 left in the first.
Olmsted Falls however, came right back with a 54 yard drive of their own, capped off by a 13 yard TD pass from QB Teddy Grendzynski to Josh Jaeckin to tie the score at 7. The shoot out everyone expected was on.
Not so fast.
A Maloy 85 yard run and a 10 yard run for Nick Perusek stretched the lead to 20-7 after one quarter, but it was the Avon defense that put the stamp on this game.
With LB Kyle Kudla leading the way with 7 solo tackles, the Eagle defense rose to the occasion and any hope the Bulldogs had of making this a game went by the wayside.
Kudla and Mark Steinmetz led an all out blitz on Grendzynski and stymied the vaunted three  headed Falls running game and ground it to a halt.
A Maloy 39 pass to Orlando and another Persusek TD, from 14 yards gave the Eagles a 34-7 halftime advantage. For all intents and purposes this one was done.
Maloy was at it again in the second half and before fans could settle into their seats, he scampered 80 yards for his third rushing score of the night, gave the Eagles an insurmountable 41-7 lead.
Superb Bulldogs RB Jack Spellacy scored a token 19 TD in the early fourth quarter, but Avon countered with a 79 run by Mark Steinmetz and a 2 yard TD run by Sr. RB Joe Sobolewski, set up by Sobolewski's 44 yard run one play earlier, to end the scoring.
But this night belonged to Maloy, playing dominant football all evening long, taking what the Falls defense gave him, reading and reacting at the line of scrimmage was indeed a joy to watch.
Maloy finished 10/16, 161, TD and also rushed for 227 yards and 3 scores. Persusek on the night had 9 carries for 53 yards and 2 TD. Orlando caught 7 passes for 89 yards and a score.
Olmsted Falls QB Grendzynski was held to a mere 31 yards passing on the night with the one TD and the vaunted running game held to 162 yards on the night.
Avon now 13-0 waits for it's semifinal opponent next week in a venue yet be determined, the Bulldogs end a remarkable season at 11-2 and with a bright future they will be a force to be reckoned with for seasons to come.
Scoring Summary 
A- Maloy 8 run, kick good
OF- Jaeckin 13 pass from Grendzynski, kick good
A- Maloy 85 run, kick good
A- Perusek 10 run, kick failed
A- Orlando 39 pass from Maloy, kick good
A- Perusek 14 run, kick good
A- Maloy 80 run, kick good
OF- Spellacy 19 run, kick good
A- Steinmetz 79 run, kick good
A- Sobolewski 2 run, kick good

NEO Sports Insiders Newsletter
Sign up to receive our NEOSI newsletter, and keep up to date with all the latest Cleveland sports news.