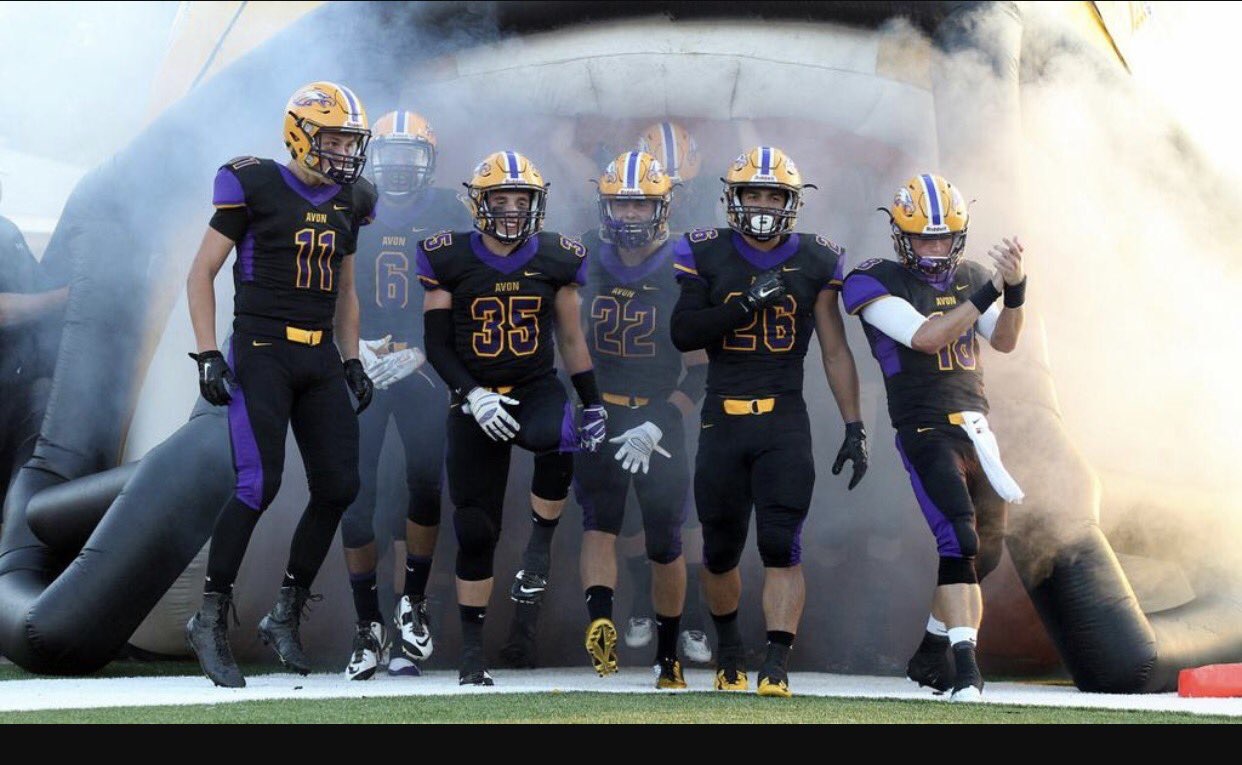 Tonight's recap is brought to you by Crystalina's Pizzeria, #thechoiceisCrystalclear. Visit for Playoff specials at 36962 Detroit Rd, Avon, Ohio, or call them at 440-934-1011.

AVON, OHIO– The evening was made for football, a cool crisp November night at Joe Firment Stadium. There was also a worthy opponent in Toledo St. John's Jesuit, a déjà vu moment the Avon Eagles know too well.
One year removed from a stunning first round defeat at the hands of the Avon Lake Shoremen in last season's OHSAA Division II playoffs, the Eagles had the chance to rid themselves of those demons once and for all.
Mission accomplished.
Led by senior runningback Tony Eberhardt inn front of a packed home crowd, Avon exorcised their demons from last year and rolled to a decisive 28-12 victory over a very good St. John's squad.
Things didn't start quite like Avon had hoped, however, after losing the coin toss and St. John's deferring, they pooch kicked the opening kickoff to Avon and recovered it at the Eagle 31. The Titans were in business right from the start.
It took the visitors eight plays to get a fourth-and-goal inside the Avon one-yard line, but the defense led by Kyle Kudla and Mark Steinmetz thwarted the Titan run game. The goal-line stand gave Avon their first possession at their one.
Two plays later, however, quarterback Ryan Maloy looking to find David Orlando over the middle of the field was picked off and once again. St. John's was in prime territory at the Avon 30.
This time it paid off, as five plays later, Ohio State recruit running back Dallas Gant scampered 15 yards to give the Titans a 6-0 lead.
Avon knew this one would not be easy, as a very big and physical St. John's defense came to play. Avon regrouped, and drove 69 yards in nine plays, scoring on a one-yard run by Steinmetz. He fumbled just as he simultaneously crossed the goal line and the Titans recovered, but the officials conferred and said he crossed the plain, giving Avon a 7-6 lead.
The second quarter was a defensive tussle for both teams. The half ended with that same score, but the Titans went into the locker room feeling very good about themselves.
Then the second half came.
Avon's second half adjustments were clear, run and run often. Eberhardt was the primary beneficiary. He rushed for 93 of his yards in the second half and all three of his touchdowns. In the process, it became clear that the Avon offensive line was wearing the Titans down.
Scoring on runs of 17, 9 and 3 yards in the third and a fourth quarter, Eberhardt was a man amongst boys. The Eagle line pushed back the St. John's defense at will, and after Eberhardt last score early in the fourth, the game was no longer in doubt.
Maloy was a pedestrian 10-of-16 passing, 133 yards, and an interception, but he also added 69 yards rushing, including a dynamic 54-yard run in the fourth that set up Eberhardt's final touchdown.
Eberhardt finished the night with 19 carries for 125 yards and the three scores.
For the visitors from Toledo, Gant carried the ball 12 times for 59 yards and a score. Freshman quarterback Brady Litchenberg finished his very first postseason game completing 12-of-17 passes, 71 yards, a touchdown and an interception.
Avon, 11-0, advances to take on Medina Highland next Friday in round two, while Toledo St. John's Jesuit finishes their season at 6-5.
Scoring Summary:
SJJ- Gant 15 run, kick failed
A- Steinmetz 1 run, kick good
A- Eberhardt 17 run, kick good
A- Eberhardt 9 run, kick good
A- Eberhardt, 3 run, kick good
SJJ- McKinstrey, 5 pass from Lichtenberg, conversion failed.

NEO Sports Insiders Newsletter
Sign up to receive our NEOSI newsletter, and keep up to date with all the latest Cleveland sports news.