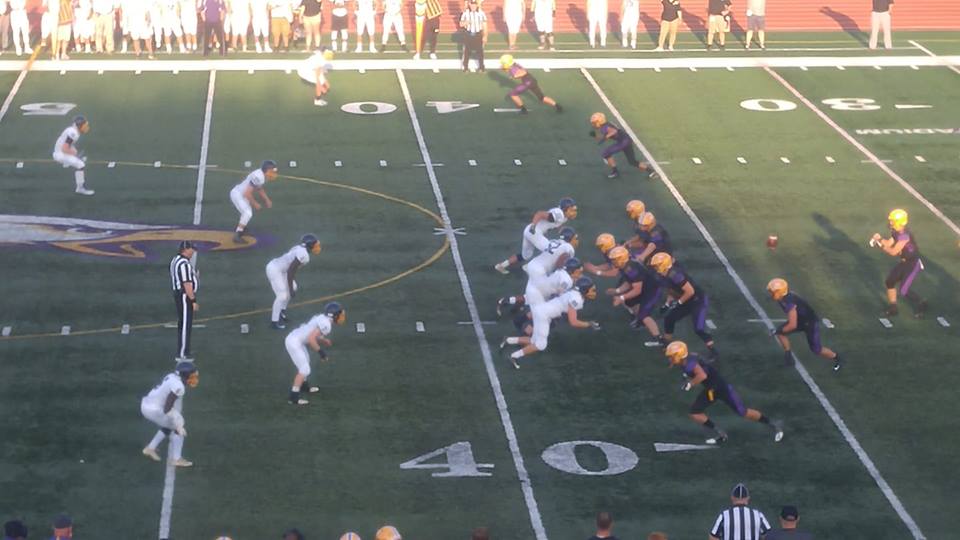 Tonight's game recap is brought to you by Westlake Interior Painting.
AVON, OHIO– Olmsted Falls traveled to Avon in one of the most anticipated games in SWC regular season play.
The two teams met twice last year, in both the regular season and playoffs. As Avon handled them both times with ease, the Bulldogs were out for revenge heading into Friday night. They wouldn't get it as a huge night by Nick Perusek led Avon to a 52-14 victory.
"We had to play with relentless effort, we talked about it all week," Avon coach Mike Elder said. "Last game we didn't have that the whole time, and an Avon football team has to play to the whistle.  We worked on it all week and when they do that and play good enough, they can win."
Avon needed a big night out of their quarterback Ryan Maloy. He had a slow Week 1 against Akron Buchtel, despite throwing two touchdown passes, he was held under 100 yards passing.
He bounced back Friday by going 12 of 16 for 187 yards and a touchdown.
His main threat tonight was once again speedy running back Nick Perusek who is starting to come into his own with back-to-back big weeks.
Perusek had another incredible game, this time rushing for 240 yards and two touchdowns on 19 carries for an amazing 12.6 yards per carry. After forcing a 3 and out on defense, the Avon offense ran a hurry up attack to start the game.  They drove deep into Bulldogs territory until having to settle for a 30-yard field goal from freshman placekicker Nathan Vakos.
On the ensuing possession the Bulldogs decided to go for it on fourth and 1 at their 45-yard line midway through the first quarter and converted on a Teddy Grendzynski sneak. Coach Tom DeLuca showed no fear making that call and it paid off.  A few plays later the speedy Michael Howard took it to pay dirt and put the Bulldogs ahead 7-3.
The Bulldogs wouldn't be in the lead long, as only moments later it was Perusek taking it 77 yards on a bolt from the Eagles backfield to give the Eagles a 10-7 lead after one quarter of play. After another Bulldogs 3 and out, the Eagles struck again on a 55-yard pitch and catch from Maloy to Ryan Jones to put them ahead 17-7.
The monster first half of Perusek would continue as the Eagles used another quick attack to march the ball down the field following a goal line stop of the Bulldogs.
This time it was Perusek dragging would be tacklers with him as he pounded it in from 30 yards out.  It was an incredible run by Perusek to put his team up 24-7.
Seconds later, the Bulldogs Michael Howard took the kickoff all the way to the house from 88 yards out.  An extra point later and it was back to a 10-point game at 24-14.
Howard had a few previous big returns called back for holding, this time there was no laundry on the field.  The Bulldogs badly needed that emotional lift. It wouldn't last long however, as Perusek and the Eagles had no problem running the ball at will again.  This time it would be Mark Steinmetz capping off the drive with a 2-yard touchdown run.
This gave the Eagles a 31-14 halftime lead after a wild first half.  Perusek finished the first half with 192 rushing yards.
The second half was more of the same, and the running clock would begin at the tail end of the third quarter. By the time it was all done, the Eagles capped off a big night on both sides of the ball with a 52-14 victory.
Avon travels to crosstown rival Avon Lake next weekend in their annual battle for the Silver Rail trophy. Olmsted Falls will return home to host Westlake.
PLAYER OF THE GAME:
Tonight's player of the game was Nick Perusek with 240 rushing yards and two scores.

NEO Sports Insiders Newsletter
Sign up to receive our NEOSI newsletter, and keep up to date with all the latest Cleveland sports news.