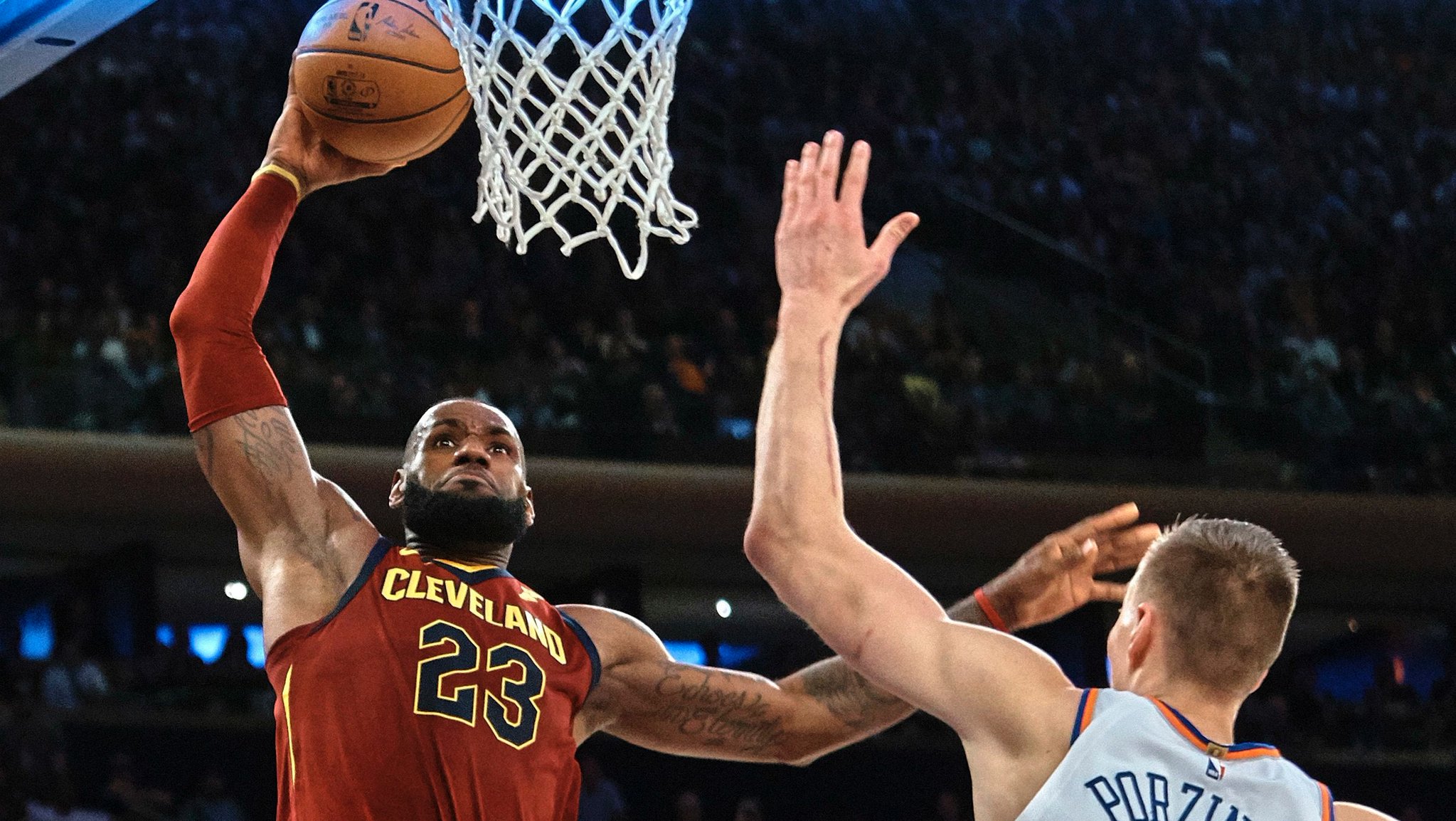 CLEVELAND – LeBron James has a method of consistency that leads to premier production, even throughout his 15th season in the NBA.
The 32-year-old is a one-of-a-kind contributor in all statistical categories at five positions, making him a triple-double threat on any given night.
Friday evening was the 57th chapter in his ever-growing book of versatile, dominant performances.
—
James posted his second triple-double of the campaign and 57th triple-double of his career, spearheading the Cavaliers to a 100-99 victory over the Hornets on Friday night at Quicken Loans Arena.
While the four-time MVP's defense against Kemba Walker kept the one-point margin intact throughout the closing minutes of the fourth quarter, his gradual progression from a tactical distributor in the first quarter to an all-out menace in the third proved to hold just as much weight in the winning effort.
Here is the breakdown…
LeBron James in the 1st quarter: 12:00 minutes, 4 points, 2-for-7 shooting (0-for-1 from the perimeter), 4 rebounds, 8 assists, 0 turnovers, -1 value.
With Jae Crowder knocking down four field goals and Kevin Love filling the stat sheet for seven points and two rebounds, James decided to take a back seat to the secondary scorers in the early stages of the contest. His keen ability to recognize the sharpshooters in his vicinity propelled him to eight assists, the most he has had in a quarter this season. He had the best +/- rating among the five starters, and grabbed four rebounds to pull his team within one point of a balanced Charlotte lineup. James limited Michael Kidd-Gilchrist to four points, all of which came in the first 1:24 of the period.
Hornets: 28 Cavaliers: 27
LeBron James in the 2nd quarter: 6:52 minutes, 2 points, 1-for-1 shooting, 0 rebounds, 1 assist, 1 blocked shot, 0 turnovers, -7 value.
An unusually heavy workload in the first quarter led to restricted minutes prior to the intermission, as the second-unit trio comprised of Dwyane Wade, Kyle Korver and Jeff Green combined for 20 points, four rebounds, and five assists throughout 30 minutes of action.
"Our bench has been great throughout this whole streak," said James. "They've given us a lot of energy, a lot of effort, they put the ball in the hole, they're consistent and they're defending. That's part of the reason why we've been able to win some games."
Even at the culmination of a quiet first half, James was still on track for the highly coveted triple-double. By sitting out in favor of Green at small forward and Channing Frye at power forward, he gave the bench another opportunity to mold together and form the 10-man rotation that has evaded the defending Eastern Conference champions over the last two years.
"We're just sticking with our game plan," James said. "We're more consistent. We know what we're going to do every possession and we're not switching things up. We have a game plan every game, and they've been kind of similar throughout the streak."
Hornets: 57 Cavaliers: 54
LeBron James in the 3rd quarter: 11:51 minutes, 13 points, 4-for-5 shooting (3-for-4 from the perimeter), 7 rebounds, 2 assists, 1 blocked shot, 1 turnover, -1 value.
James produced an offensive outburst before most fans made it back to their seats, as he splashed his first three shots, including two three-pointers from the top of the key and a driving layup on a pass from Crowder. He furthered the momentum with an assist to J.R. Smith, cutting the deficit to five points and giving him a double-double with 7:04 remaining in the third quarter.
Unlike the first quarter, James displayed more assertiveness and efficiency when given the ball, shooting with full confidence – as evidenced by his career-high 42.7% three-point percentage in 2017-18 – from beyond the arc, while crashing the boards for seven rebounds. Few players can notch eight assists in the first quarter and seven rebounds in the third quarter, a testament to the diverse skillset that James brings to the table.
Cavaliers: 83 Hornets: 82
LeBron James in the 4th quarter: 8:50 minutes, 8 points, 3-for-10 shooting (0-for-3 from the perimeter), 5 rebounds, 2 assists, 1 blocked shot, 2 turnovers, +7 value.
This is where James does everything, excelling in all facets of the game to give the Wine and Gold the best chance to extend its season-long winning streak to seven games. His three-point play under the basket put the Cavaliers in striking distance, a 98-97 tally with 2:28 left in regulation. The offensive spark provided the home crowd with the vision of picking up a victory in a sloppy fourth quarter that entailed just 34 points between the two teams.
Then LeBron put the cherry on top of a well-rounded evening in downtown Cleveland.
Walker received a useful, high pick-and-roll, Howard found a crease toward the hoop, and James shifted his attention to the open Jeremy Lamb, who missed a three-ball with 3.7 seconds remaining. Marvin Williams corralled the offensive rebound and dished it back out to Walker – one of the two former UCONN standouts in the Hornets' backcourt.
"We come down and they run a 1-5 pick-and-roll with Dwight and Kemba, and my job is to get over the pick-and-roll and get back in front of them," said James. "(Kemba) changed directions and went to the left side. I was able to cut him off and once he gave it to Lamb, I wanted to just try to deny him and not let him get the ball back."
"High pick-and-roll, Kemba and Dwight spread," head coach Steve Clifford said of the final play. "Three good three-point shooters in Marvin, Frank (Kaminsky) and Jeremy Lamb. Kemba got good separation there, the ball moved, and then Marvin did a good job on the miss keeping the ball alive. We just didn't have enough time to get another shot off."
One more blocked shot from James sealed the 57th triple-double of his career, a stat line that featured four drastically different quarters, showcasing his tools as arguably the greatest basketball player of all-time.
"Lamb threw up a three and Marvin Williams got his hand on it and kind of tipped it out to half court," said James. "I looked up at the time and there was still one second left, so I just tried to get another contest and was able to get the stop that we needed."
"LeBron was great and they came up with a win," Michael Carter-Williams said. "We probably have to go back and fix some things but we fought hard."
Cavaliers: 100 Hornets: 99
LeBron James in his 57th career triple-double: 39:33 minutes, 27 points, 10-for-20 shooting, 16 rebounds, 13 assists, 3 turnovers, -2 value.
John Alfes has covered Cleveland sports since August of 2016. Follow him on Twitter @JohnAlfes for breaking news and in-depth coverage all season long.

NEO Sports Insiders Newsletter
Sign up to receive our NEOSI newsletter, and keep up to date with all the latest Cleveland sports news.