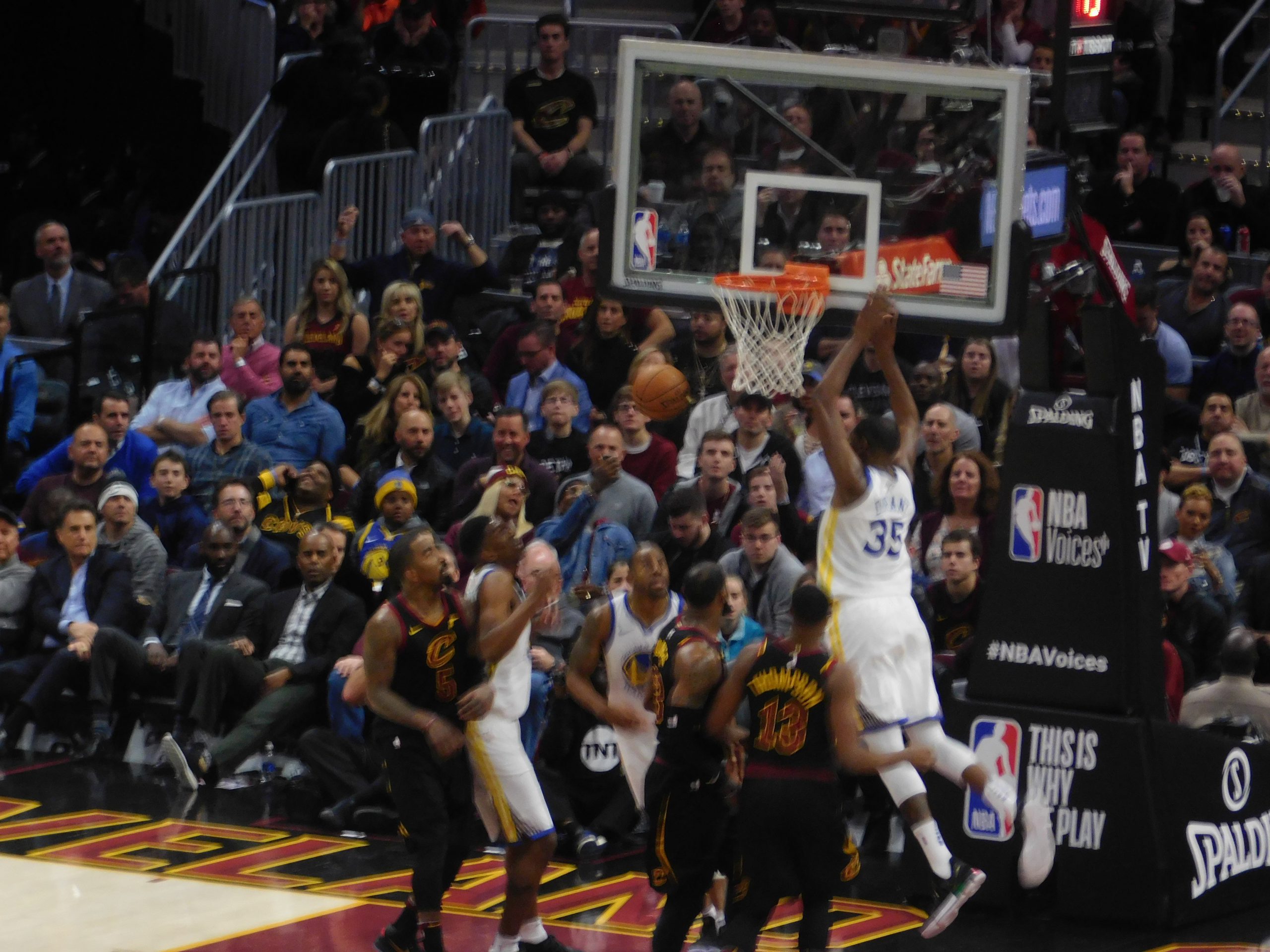 INDEPENDENCE, OHIO– The mid-season slump. It's been an annual tradition over the last few years in Cleveland for the Cavaliers.
The latest rough patch is the veteran squad's second this season. After starting off winning just five of their first 12 games, the Cavs rattled of 18 wins in 19 games, including a 13-game win streak. Now, the Cavs are just 2-8 since Christmas and rank in the bottom of the league in overall offense and defense.
The latest loss came on Monday to the Golden State Warriors, and while the Cavs played well for three quarters, they ran out of gas in the fourth to take the 10-point loss. Immediately following the game, LeBron James said he liked the team's effort. But when asked at practice on Wednesday if any good came out of the loss, James shook his head.
"When you win championships, losing a game is not encouraging at all," James said. "I liked the way we played in the first half, I liked the way we competed, but you get encouraged when you come out here and work when there ain't nobody watching. I'm more encouraged on what we did today than I am in the game the other day."
Now, as losses pile up, so do tensions, rumors, and innuendo. Following the Warriors game, there were reports from ESPN, cleveland.com and The Athletic that certain players on the Cavs feel that the problems that the team currently faces are unsolvable, and that they will be unable to overtake the Warriors for an NBA Title come June.
"I've seen people say 'sources say' and look down the roster and I don't see no guy named sources, so we gotta talk to Koby (Altman) about getting another position or something," head coach Tyronn Lue said, seemingly taking a jab at the reports. "I don't know, but we're going to be fine. The guys are putting in the work. The last couple of games have been very positive even though we lost, so things are going to be fine."
James was asked if the team has enough to get back to the sport's biggest stage saying, "that's our goal and that's what we got to work towards. That's what we're here for."
What is clear is the Cavs have hardly had a run of the mill year. Guys have been in and out with injuries (Derrick Rose, Iman Shumpert, Tristan Thompson) and Isaiah Thomas still continues to work himself back into top shape after not even appearing in a game until January 2. All of that has made getting into a consistent flow for this team (one that has eight new faces compared to last year's squad) even more difficult.
"It's been very challenging," James said. "Just from the simple fact of how many guys have been in and out. This is a difficult year for our team. Seems like I say that every year, but this one has been even more challenging. But with everybody who has been out and coming back in, and the rotations and things of that nature, it's been very challenging on our team. But we have to figure it out. Listen, at the end of the day, we have a game every other day or every two days just like everybody else in the NBA, and we have to go out and play."
And even though there have been plenty of guys in and out of the lineup, there are still questions about whether or not the Cavs will try to bring in a new piece prior to the Feb. 8 trade deadline. There's of course the first-round pick the team has in this year's draft that they could use to entice potential trade partners; however, without a guarantee from James that he will in fact return to the team next season, it's unlikely that the Cavs would be willing to part with that pick.
But regardless of if a major move is made, Lue says that he is confident that the team can be successful.
"I believe," he said. "I think a lot of the guys believe that we can win. We've been playing well as of late, the last couple games and we've gotta continue to build off of that. So yeah, I feel confident."

NEO Sports Insiders Newsletter
Sign up to receive our NEOSI newsletter, and keep up to date with all the latest Cleveland sports news.