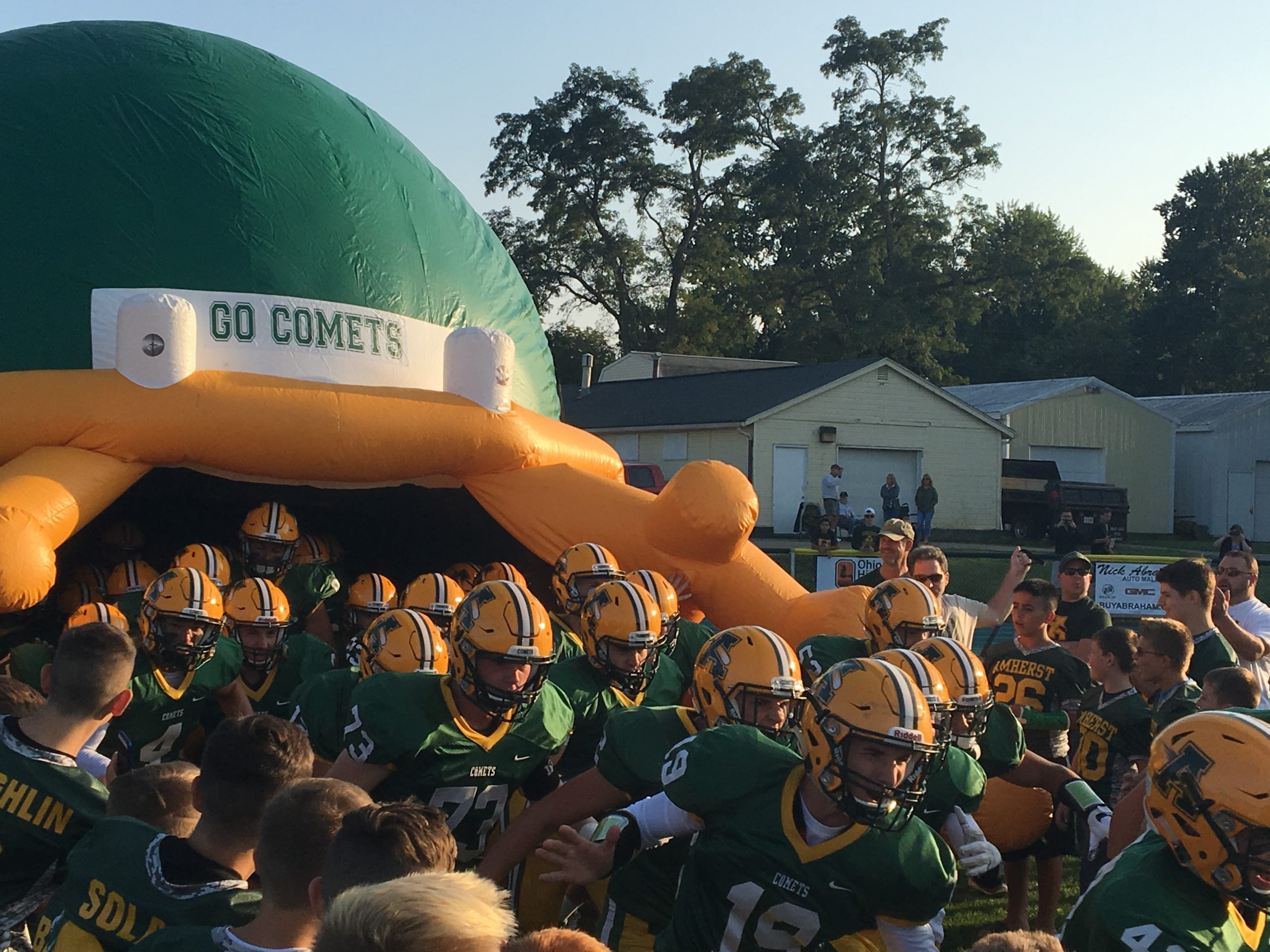 AMHERST, OHIO– If you look at the score of the Amherst Comets and Clearview Clippers Week 1 match-up, you wouldn't know just how close the contest was for nearly the entire first half.
In fact, if the Comets hadn't turned on the offensive motor with around five minutes to go in the second quarter, Friday night's result may have been very different.
The Comets topped the Clippers, 41-6, thanks to a high-powered offensive run game.
Junior running back Khennedy Scagliozzo led the way for Amherst with four touchdowns on 22 carries and 183 yards. He also had a crucial 33-yard punt return in the fourth quarter.
Both Amherst and Clearview struggled to get any offense going in the first quarter, and the game was scoreless heading into the second due to missed offensive assignments on both sides.
Just over halfway through the second quarter, however, Amherst's offensive line started to click, and Scagliozzo showed just how lethal he can be.
Amherst got their offense going with a 90-yard drive that ended in a 31-yard touchdown run by Scagliozzo.
"Once we were able to establish some things up front with our offensive line, we were able to see what Khennedy is capable of, and he's a special football player," Amherst head coach Mike Passerrello said. "We just had to keep feeding him the ball until we settled in."
"Just doing what we needed to do, pick up blocks, usually one man needed to find their block and we had it," Scagliozzo said when asked about what changed to make that run possible.
In the next Amherst drive, they kept their momentum going, as junior quarterback Matt Fairchild completed his lone touchdown pass of the night, a 39-yard bullet to senior Evan Shawver. As a result, Amherst ended the half with a 14-0 advantage.
Fairchild ended the night going three-for-eight with 68 yards, but Scagliozzo would continue to dominate Clearview offensively, running for 85 more yards and three more touchdowns in the second half.
With under seven minutes to go in the third quarter, Scagliozzo punched the ball in again for a one-yard touchdown run. A four-yard run up the middle got him his second touchdown of the quarter with under two minutes to go, giving the Comets a 27-0 advantage heading into the final 12 minutes.
Scagliozzo's final run of the game came in the same drive as his 33-yard punt return, on another one-yard run up the middle to extend Amherst's lead to 34-0.
As both teams began to pull their starters, Clearview would score their only touchdown of the game on a 71-yard run from Nomar Salas inside the three-minute mark. Veteran quarterback Anthony Terry was unable to connect for any TD passes, and finished the night completing just 2-of-12 passes, as the Clippers looked to running back Drew Engle for most of the night. He ended the evening with 58 yards on 15 carries.
Amherst's final touchdown came on a 40-yard run from Ronald Johnson to make the final score 41-6. After Amherst's initial offensive struggles, it seemed as though the family culture that Passerrello has worked hard to establish in his first season as head coach eventually led to his team's offensive success.
"I was just happy that with that adversity at the beginning, you definitely know that they stuck together as a team and family, because if they didn't then we would have split, and who knows what the result would've been at the end," Passerrello said.
That attitude was evident in speaking with Scagliozzo after the game, who said that the Comets were happy to get Passerrello his first win as head coach of the Comets.
"It means everything, he gives it his all everyday. He comes here in the morning, he's here late at night," Scagliozzo said. "He's a hard worker and I can tell he wants to win."
PLAYER OF THE GAME:
After Khennedy Scagliozzo's four-touchdown, 183-yard performance there's no one else this honor could go to. Watch video of his final touchdown below, and see the kind of grunt work the Comets are going to rely on Scagliozzo for all season long.
Scagliozzo showing no signs of slowing down with his 4th TD run of the night. @SteeleComets 34 @chsclippers 0 9:22 4Q pic.twitter.com/14I0fl1AUG

— Ashley Bastock (@AshleyBastock42) August 26, 2017

NEO Sports Insiders Newsletter
Sign up to receive our NEOSI newsletter, and keep up to date with all the latest Cleveland sports news.