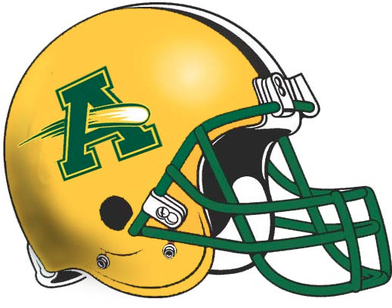 This NEO Sports Insiders recap is brought to you by Rain Barrells N More.

By Kyle Cornell

A late rally falls short as the North Olmsted Eagles fall to the Amherst Comets, 30-20, at Ranger Stadium in North Ridgeville.The Eagles have had a rough go about this year, essentially playing ten road games with renovations occurring at their current stadium, which is set to open in 2018. However, the stands were packed nearly on both sides to witness this Southwestern Conference showdown between two under achieving teams this season.

North Olmsted was able to strike first, however, with a five yard touchdown run from senior transfer running back Chris Jones. The Comets wasted no time responding however as the next possession led to a five yard touchdown run by Jeremy Smith, which would be the first of his three touchdowns on the night.

A late first half field goal by Comets' kicker Allen Matakovich took the game to halftime with Amherst leading 10-7.

No one could have predicted the fire power that was unleashed to start the second half as both teams traded huge blows early in the third quarter. in the form of a fourth down conversion attempt turned 28-yard touchdown pass from North Olmsted quarterback Brandon Maximovich. Amherst followed suit with their first play of the second half on offense being a 69-yard touchdown pass from quarterback Johnny Matakovich to Smith, who continued to wreck the Eagles defense. The Eagles kept the fight going however with Jones, who capped off a solid, near 100-yard rushing day, with his second touchdown run late in the third quarter to put his home squad back up 20-16.

From there on out, the Comets had their way with the Eagles as two rushing touchdowns in the fourth quarter from Smith, and leading rusher Khennedy Scagliozzo, who yallied 162 yards on 26 carries, and led the visitors to a 30-20 lead they would not relinquish.

A late drive for an attempted comeback was snuffed out when Maximovich scrambled out left and threw a lob into the front of the endzone that was intercepted by Amherst, officially ending the Eagles chances at a third win this season.

Leading the way for North Olmsted was receiver (do-it-all senior captain) Josh Hufstetler, who accumulated eleven catches for over two hundred yards, as well as six tackles on defense and two huge kickoff returns of thirty plus yards. Though Jeremy Smith and Khennedy Scagliozzo both impressed today for Amherst, senior quarterback Johnny Matakovich may have been nearly the most impressive, tallying one hundred seventy yards passing as well as ninety yards rushing.

North Olmsted (2-5) will look to bounce back once again next week as they travel to Berea, Ohio to face the Berea-Midpark Titans (2-4). As for the Amherst Steele Comets (2-5), they will look to build off this performance in a highly anticipated home matchup with currently undefeated Avon (6-0). Both games with take place 

Oct. 14

, with kickoffs set for

7 p.m.

NEO Sports Insiders Newsletter
Sign up to receive our NEOSI newsletter, and keep up to date with all the latest Cleveland sports news.