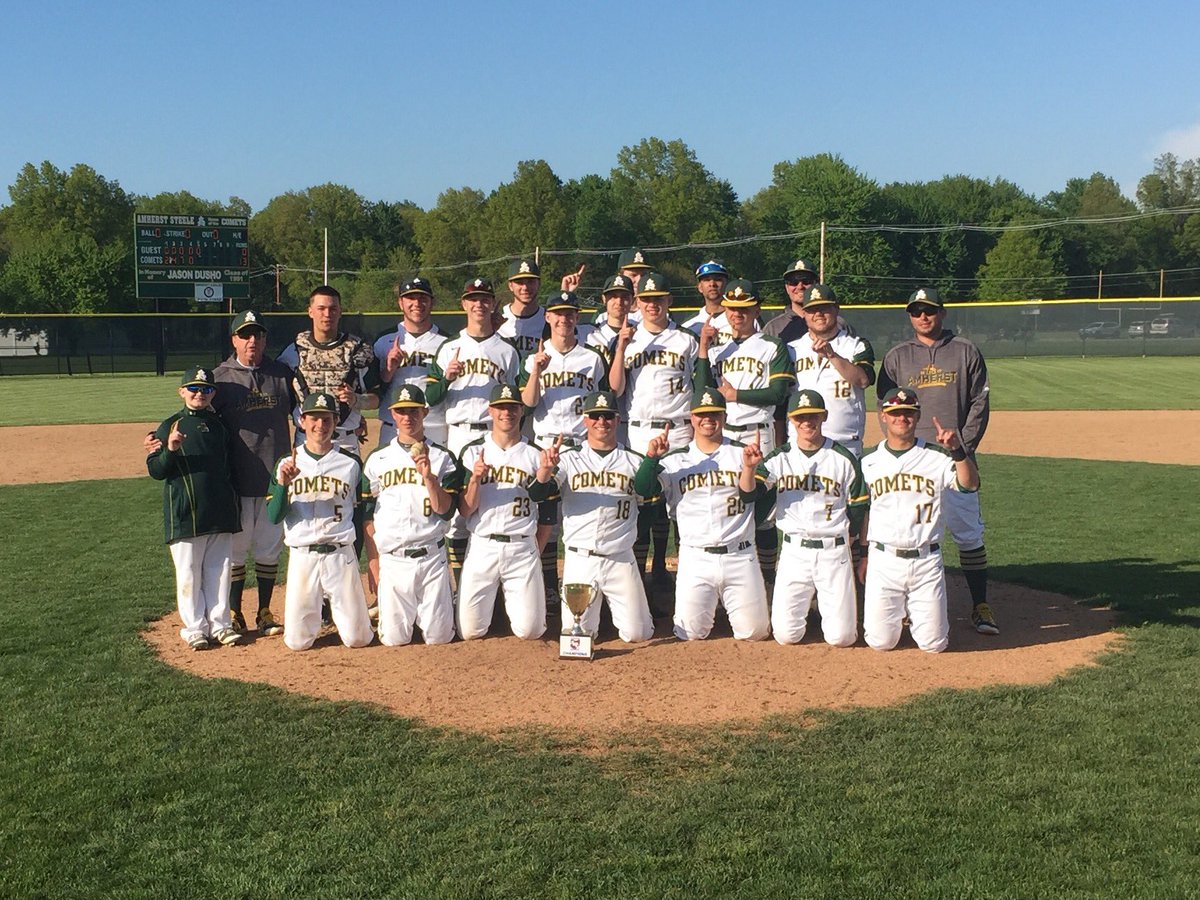 NORTH OLMSTED– For the second straight year, the Amherst Comets are Southwestern Conference champions.
It's the first time the Comets have won the SWC outright since 2004. It's also the first time since 2003-2004 that the Comets have won consecutive conference titles.
Amherst clinched with their 12-5 win over the North Olmsted Eagles on Wednesday evening.
Jack Faight (5-1) got the win on the mound going four innings and giving up four earned runs and six hits with four strikeouts. Justin Hritsko got the save after three innings, where he gave up one earned run on one hit and struck out one.
Jacob Lezon led the Comets offensively, going 3-of-5 at the plate with a triple, a home run and three RBI. Gabe Solak also had a three-hit game, going 3-for-4. Catcher Hunter Cassidy went 2-for-4 with four RBI, While Ryan Glowacki went 2-for-4 with an RBI as well. TJ Staton rounded out Comets with multi-hit games, going 2-for-5 with an RBI.
The Comets took a 5-1 lead into the bottom of the fifth inning, but North Olmsted put three runs up on the board during the frame to make it a one-run game. Lezon answered in the top of the sixth, recording a two-run shot that plated Kyle Mantin and gave the Comets some cushioning with a 7-4 lead. Glowacki scored on a wild pitch in the same inning to give Amherst an 8-4 lead heading into the final inning.
The Comets' scoring in the seventh inning came on three doubles from Staton, Connor Emch (two runs) and Cassidy.
The Comets improve to 19-4 overall and 15-2 in the SWC.
Check out a box score courtesy of Amherst below.
Amherst:
Jacob Lezon 3-5, 3 R, 3B, HR (3), 3 RBI
Hunter Cassidy 2-4, BB, 2B, 4 RBI
Gabe Solak 3-4, 2 R, 2 SB
Ryan Glowacki 2-4, 2 R, 2 2B, RBI, SB
TJ Staton 2-5, 2 R, 2B, RBI
North Olmsted:
Wagner 2-4, 2B
Elbin 2-3, 2 R, BB, 3B
Novak 2-4, 2B
WP – Jack Faight (5-1) 4 IP, 4 ER, 6 H, 3 BB, 4 K
Save – Justin Hritsko (1) 3 IP, 1 ER, 1 H, 1 BB, 1 K
LP – Guercio

NEO Sports Insiders Newsletter
Sign up to receive our NEOSI newsletter, and keep up to date with all the latest Cleveland sports news.