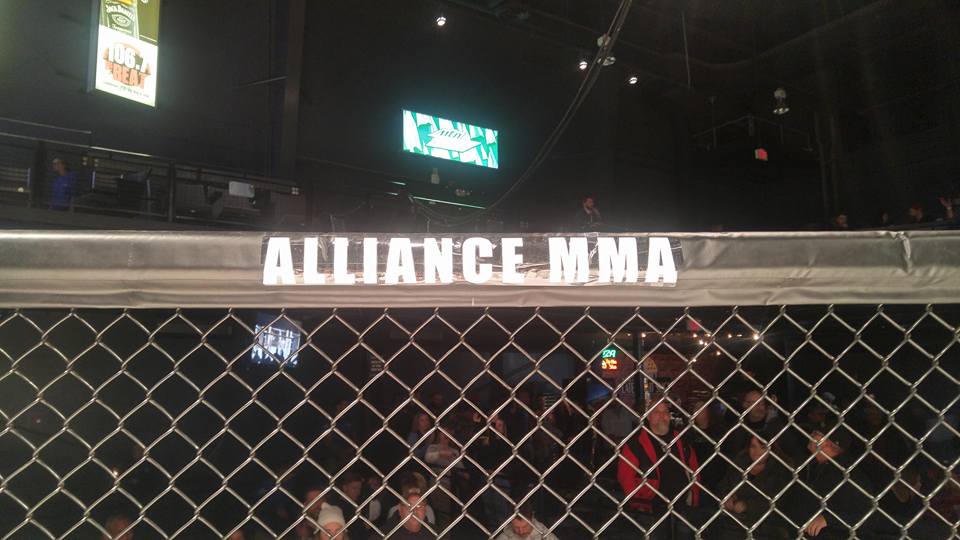 Last month Alliance MMA and Iron Tiger Fight Series brought Ohio two of the best MMA shows this state has ever seen.  Iron Tiger Fight Series truly is the top independent MMA promotion not only in Ohio, but in the country.  It's parent company Alliance MMA, made major news today around the Fight Game World!  Scroll below for the full press release.
NEW YORK, January 8, 2018 — Alliance MMA, Inc. (Nasdaq: AMMA), the only publicly-traded mixed martial arts (MMA) company, which is engaged in unifying elite regional promotions and cultivating the next generation of aspiring MMA champions, announced today that it intends to offer for sale a combination of shares of its common stock and warrants to purchase shares of its common stock in a firm-commitment underwritten public offering. The company intends to use the net proceeds from this offering for general corporate purposes, including the funding of possible future acquisitions, capital expenditures, investments and general working capital, and to satisfy a short-term bridge loan. The offering is subject to market conditions, and there can be no assurance as to whether or when the offering may be completed, or as to the actual size or terms of the offering.
Maxim Group LLC is acting as the sole book-running manager for the offering.
This offering is being made pursuant to a shelf registration statement (File No. 333-221295), which was previously filed with the Securities and Exchange Commission (the "SEC") and became effective on December 1, 2017.  A preliminary prospectus supplement and accompanying base prospectus relating to the offering have been filed with the SEC and a final prospectus supplement and accompanying base prospectus will be filed with the SEC.  Electronic copies of the preliminary prospectus supplement and, when available, electronic copies of the final prospectus supplement and accompanying base prospectus relating to this offering may be obtained from the SEC's website at www.sec.gov or from Maxim Group LLC, 405 Lexington Avenue, New York, NY 10174 or via telephone at 212-895-3500 or email: syndicate@maximgroup.com.
This press release shall not constitute an offer to sell or the solicitation of an offer to buy nor shall there be any sale of these securities in any state or jurisdiction in which such offer, solicitation or sale would be unlawful prior to registration or qualification under the securities laws of any such state or jurisdiction.
About Alliance MMA, Inc.
Alliance MMA, Inc. (AMMA) was formed in February 2015 to acquire companies in the MMA industry andthrough its regional promotions, develop and promote fighters to the sport's highest level of professional competition, including the Ultimate Fighting Championship and other top-tier MMA promotions.
Safe Harbor Statement
 This press release contains forward-looking statements within the meaning of the federal securities laws. These statements are subject to a number of risks and uncertainties and are based on assumptions with respect to future economic, competitive and market conditions and future business decisions, all of which are difficult or impossible to predict accurately and many of which are beyond Alliance MMA's control. Some of the important factors that could cause actual results to differ materially from those indicated by the forward-looking statements are: the business model Alliance MMA employs is new to the MMA industry and may not be successful, Alliance MMA may not be able to attract or retain key professional MMA fighters or promotional and advertising sponsorships, a decline in the value of Alliance MMA's goodwill and other intangible assets, pending securities litigation against Alliance MMA and certain of its officers and directors, the possibility that Alliance MMA may fail to establish or maintain effective internal control over financial reporting, general economic conditions, failure to achieve expected revenue growth, changes in operating expenses, competitive pressures, or an unexpected decline in the popularity of MMA, and the risk factors detailed from time to time in Alliance MMA's periodic filings with the Securities and Exchange Commission, including without limitation, Alliance MMA's Annual Report on Form 10-K for the year ended December 31, 2016. The forward-looking statements in this press release are based upon management's reasonable belief as of the date hereof. Alliance MMA undertakes no obligation to revise or update publicly any forward-looking statements for any reason.

NEO Sports Insiders Newsletter
Sign up to receive our NEOSI newsletter, and keep up to date with all the latest Cleveland sports news.