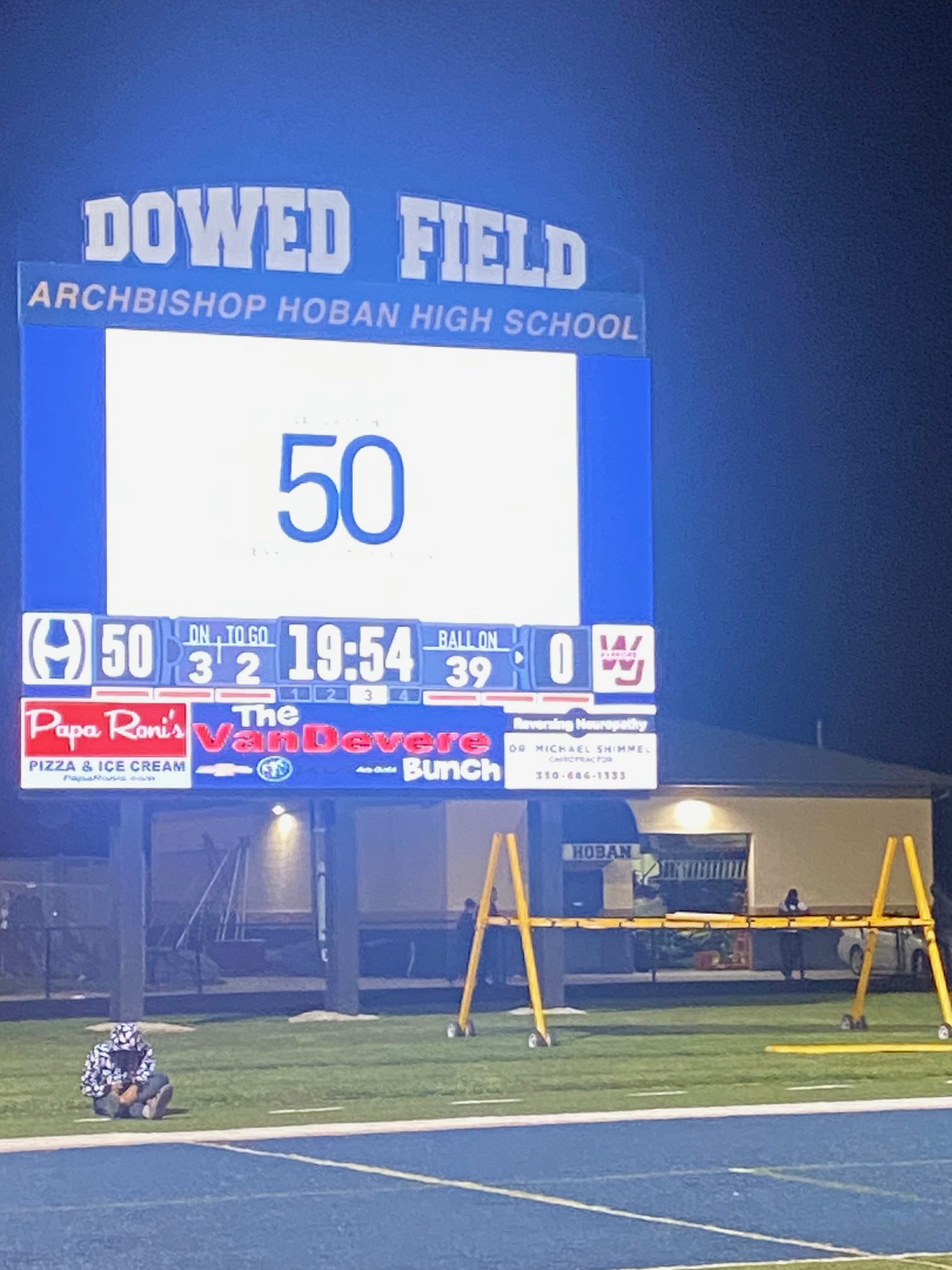 The neighborhood and streets around Archbishop Hoban High school were rockin' last night as the Hoban Knights were hosting the hard charging Walsh Jesuit Warriors…the new big parochial school rivalry on the gridiron in Summit County. Cars were parked in yards; people were all over and the stands on both sides were jam packed. It was what a Friday night is supposed to be in NE Ohio! I hope the folks made some $$ parking vehicles in their front yards and driveways! No doubt $20 seems fair!
Walsh came in at 6-0 and was ranked #2 in D2 and Hoban was 5-0 ranked #3. The Cleveland Plain Dealer had Hoban #2 and Walsh #7.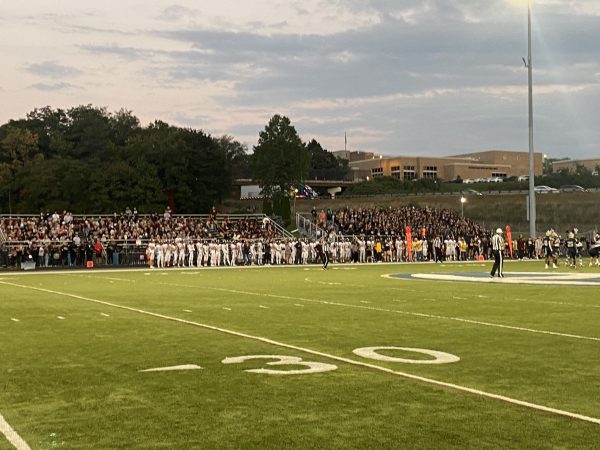 The Warriors received the opening kickoff and had to punt and that is when the carnage ensued…just 1 minute and 43 seconds into the game Hoban ran a jet sweep, or was it as Payton Cook, after getting the hand off pulled up and hit Jalen Hightower for a 56 yards TD pass. Kicker Ryan Burns hit the PAT and it was 7-0. The scoring did not stop there! At the 6:35p mark of the first quarter QB Tylan Boykin who truly came of age last night hit Joey Hardman on a 65yard TD pass. Again, the PAT was good, and it was 14-0 Hoban.
Now it is still the FIRST QUARTER and a 1:06 later Tysen Campbell leaped, made a one-handed grab, and took off finding pay dirt with a 42-yard pick 6. Yes, Burns was true again and it was 21-0 Knights. Well :38 later LB Eli Lee sacked the Warriors QB for a safety, and it was 23-0 Knights!
There was still 4:53 left in the first quarter. At 1:20 of the first Caleb Jones, the latest in a long line of great RB's scored on a 2-yard run, PAT was good, and it was 30-0!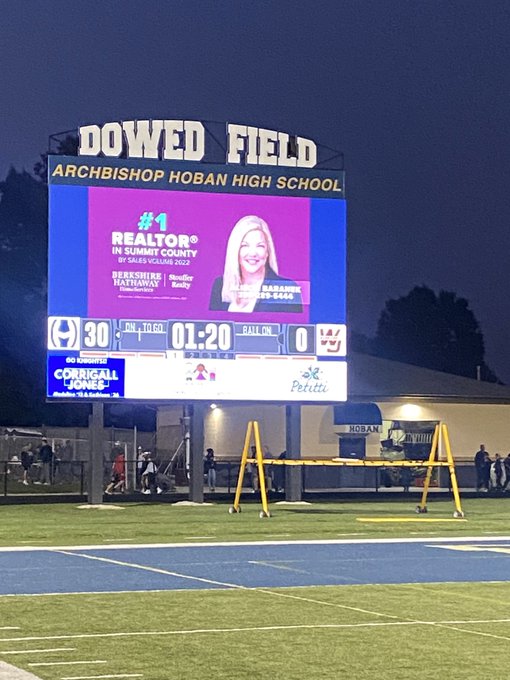 OH MY, the KNIGHTS were not done as with 24 seconds left in the FIRST (and :56 seconds after the last score) Elbert Hill IV tallied on a 42-yard run. PAT was good again and the score after 1 quarter was 37 – 0 in favor of the Knights. Please note that all the TD's were scored by different players! WEAPONS? An arsenal!!
At 9:08 of the second quarter Jones scored again and due to a high snap, the PAT was no good and the score was Hoban 43 – Walsh 0.
43-0 Hoban over Walsh Jesuit! 9:08 in half! Jones 11 yard run. PAT no good! @NEOSportsInside pic.twitter.com/EGUBBcfHSW

— Mark Munch Bishop (@MunchCleveland) September 29, 2023
With 2:21 left in the half Boykin had a 45-yard run and as caught at the 1 where Caleb Jones punched it in. Another good PAT by Burns and at the half it was 50-0 the KNIGHTS!
Both teams added a tally in the 2nd half for a 57-7 final, but it was over at 5:33 of the first quarter when it was 21-0. This is not to disparage Walsh as HC Nick Alexander is as good as they get but Hoban under HC Tim Tyrrell was possessed and on a mission to "kill the proverbial mosquito with dynamite." I do not make excuses and do not like those who always blame refs (yes YOU Browns fans!) for losses, however Walsh was missing their leading tackler and rusher Brock Sherman. Does he move the chains a bit more, probably, and affirmative odds are giving the Knights worse field position, but it still would not have made a difference on which team won the game. Walsh faithful noted that the team looked lost without Sherman as he is the leader, and they were shocked at the speed difference! Other thoughts from the Warriors faithful were that Hoban is THE BEST TEAM IN THE STATE regardless of Division!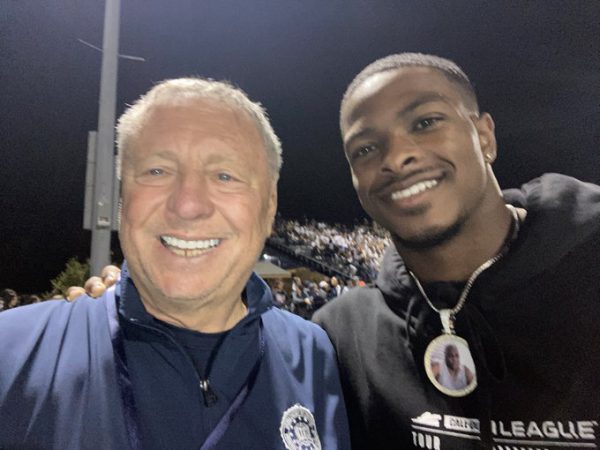 A special moment for me was catching up with former Hoban great and current OSU running back DeaMonte "CHIP" Trayanum. I was honored to have covered his games for 2 years at Hoban as the PxP voice and THANKED HIM for the game winning TD vs Notre Dame. He promised me there were more to come. We also talked about life as he lost his Grandmother and proudly wears her photo in a pendant! We departed and I told him 'he gets it…God, Family and Roots" are what matters the most and I got a big hug.
After last night we really do not know WHO ARE THE WARRIORS, but we DO know "THE KNIGHT TIME IS THE RIGHT TIME!"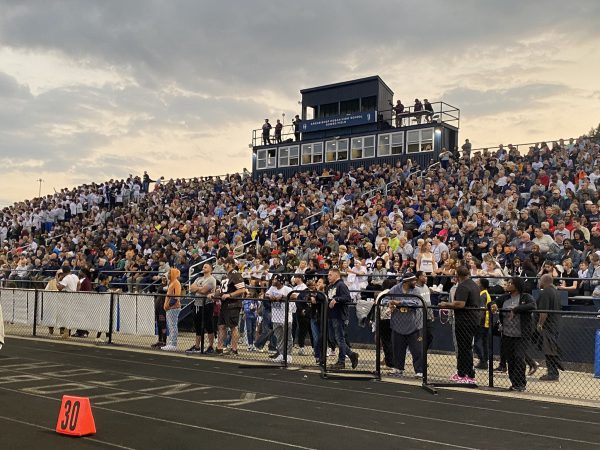 NEO Sports Insiders Newsletter
Sign up to receive our NEOSI newsletter, and keep up to date with all the latest Cleveland sports news.