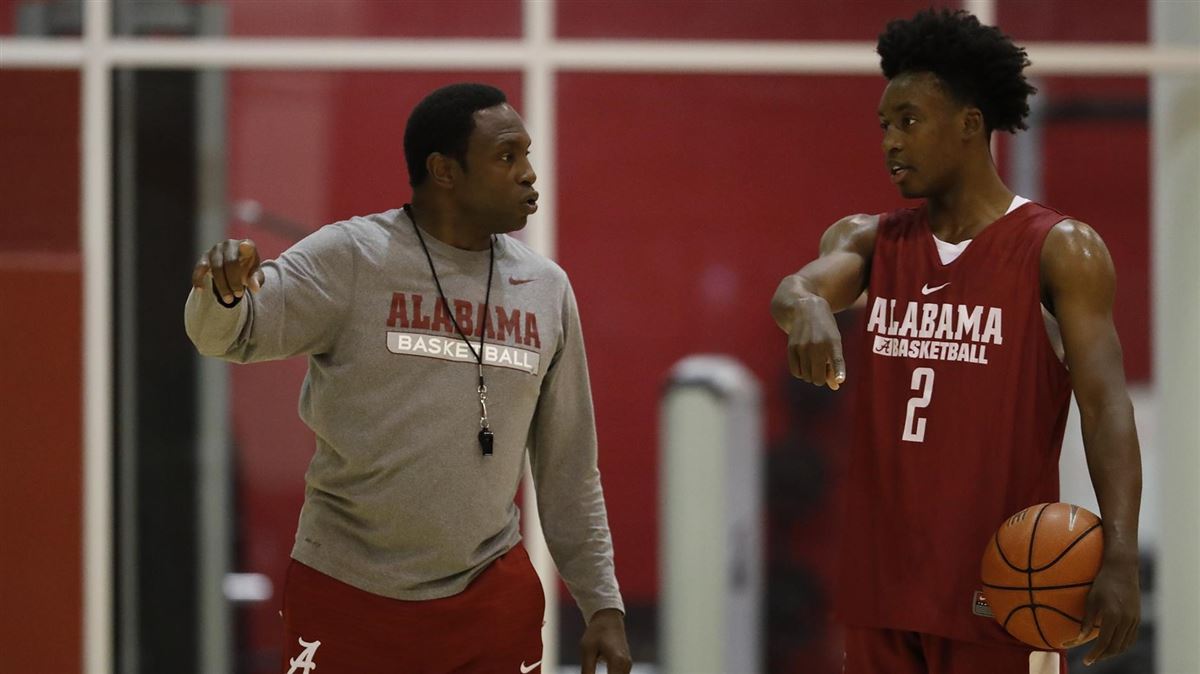 For about the last week, the buzz around the Cleveland Cavaliers has revolved around two things. The first being the future of LeBron James, the latter being the first-round draft selection of Alabama point guard Collin Sexton. Cleveland took Sexton with the eighth overall pick last Thursday in the 2018 NBA Draft after months of pondering whether to make the pick or trade it for other assets.
Alabama head coach Avery Johnson joined ESPN's "First Take" program to talk about his former point guard. First off, Johnson was asked what he would tell LeBron about Sexton to convince him to stay.
"Collin is a player that can take a lot of pressure off of LeBron," Johnson said. "I thought that the Cavs would make it back to the Finals without Kyrie Irving but I knew it would be tough for them to win the championship without Kyrie. As great as LeBron is on the floor and all of his different exploits- playing in every game this year, 51-point games, triple-doubles, he's a great teammate- but he needs somebody else that can create their own shot, he needs somebody else that can take some pressure off of him and Collin is an unbelievable offensive player. But at the same time, he plays both sides of the ball. he's really good defensively.
I would say 'Hey, give this young man a chance. At least stay one more year, LeBron. We'd love to see y'all play together.'"
Johnson was then polled on what fans should expect to see if LeBron does indeed decide to pair up with Sexton next year.
"Well, the main thing is here's a kid that almost won a game for us at the Barclays Center when we were playing three against five. I mean, this kid can really get his shot off against anybody," Johnson raved about his former player. "You know, if you had a player like LeBron, he could take four, five offensive possessions off and this kid can score the basketball. He's a three-level player, he can get three-point plays at the basket. He's kinda got that old Isiah Thomas from the Detroit Pistons mid-range game he;'s a much-improved three-point shooter, he's a much-improved passer and playmaker. So when you have somebody that can take a lot of pressure off of you, I know he's only 19, but this kid is an unbelievable high-level offensive player."
Sexton is an intriguing prospect, one that instantly provides quickness, playmaking, and athleticism from the jump. But the discussion that worries most is Sexton's ability to hit shots from testier range. The 19-year old didn't exactly shoot the lights out for the Crimson Tide but did give them scoring in bunches, nonetheless. But could he be a sufficient shooter at the professional level?
"Absolutely," Johnson answered, zero doubt in his voice. "Off the dribble, Collin was really a good three-point shooter. One of the things we really needed him to improve on was just his spot-up three's when somebody else creates a three-point shot for him. But again,  the kid just turned 19 in January, he's gonna be great. I know the focus is on the three-point line, he'll be able to make the NBA three. He'll be able to shoot 90% from the free-throw line also. But again, getting three-point plays at the basket. This kid is the fastest player that I've coached or seen go end-to-end with the basketball. This kid is fast with and without the ball and he has a high-level competitive spirit where he's not going to be afraid of the big stage at the biggest moments of the game."
It could be a lot of fun to watch LeBron and Sexton next season, should they team up. But before any of that can even become a reality for the rookie, Sexton must first turn his attention to the NBA Summer League. Meanwhile, The King continues to weigh his options as to where he should play next year.

NEO Sports Insiders Newsletter
Sign up to receive our NEOSI newsletter, and keep up to date with all the latest Cleveland sports news.