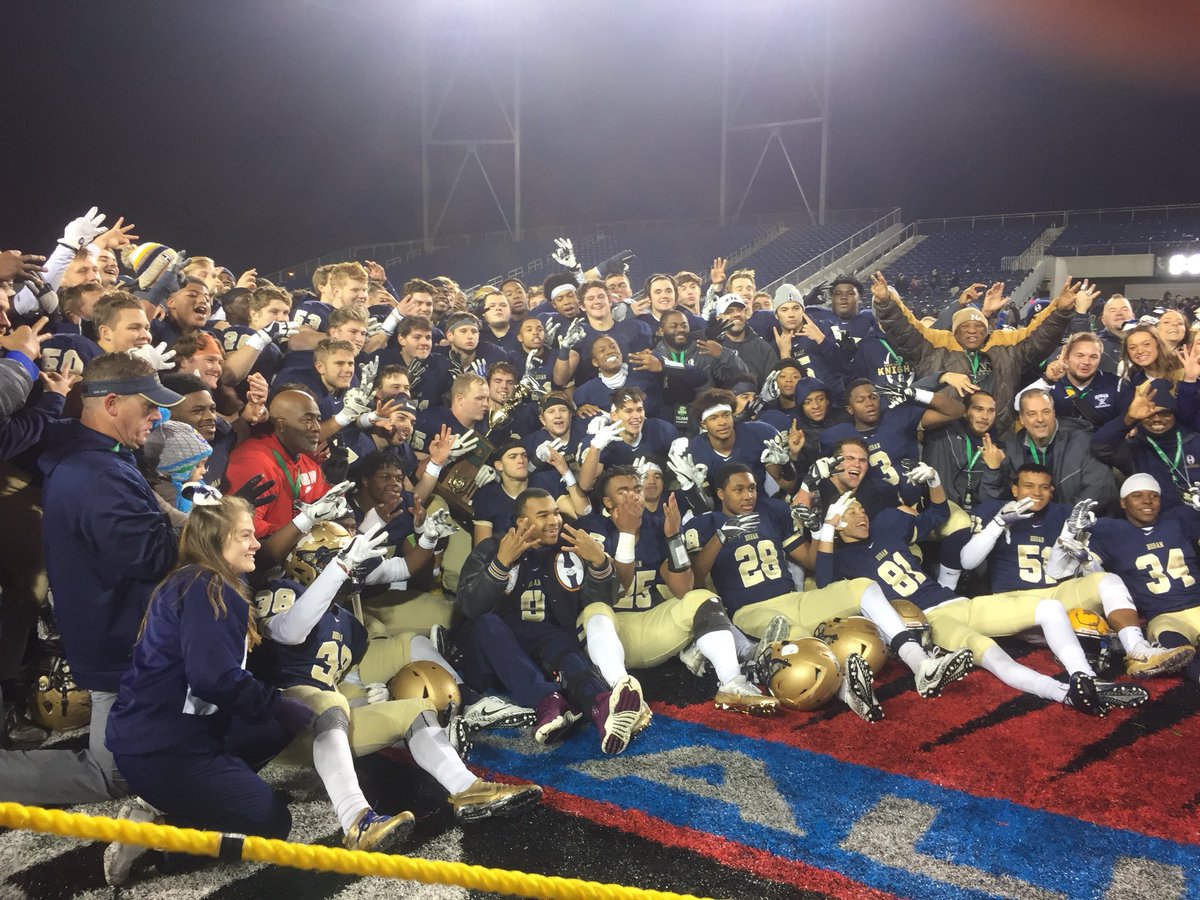 By Corey Perez
CANTON, OHIO – Akron Hoban quickly made it known they weren't intimidated being in Division II.
In fact one might say they they were made for it. The Knights have five guys being recruited by Division I football programs, have won two straight state championships albeit in Division III, a one loss season to perennial state power St. Ignatius 14 weeks ago was finished off with a 47-14 victory over Cincinnati Winton Woods.
The Knights fielded the opening kickoff from the Warriors and one play later freshman quarterback Shane Hamm dropped back and threw a 73 yard bomb to Navy recruit Garrett Houser.
Once Houser crossed the goal line you could feel the sense a blowout was ensuing. Winton Woods first series seemed to prove this feeling was going to be correct as the Warriors went 3 and out, only to have Hoban DL Daviaun Prince block the punt.
If it was just a blocked punt Warriors fans would've felt okay, but unfortunately that was not the case as Donny Swain scooped up the ball and returned it for a touchdown.
Even at this point Warrior fans felt like things would be okay because they had been in a similar situation just last week when they trailed Massillon Washington 21-0 before scoring 8 straight touchdowns to win 56-21.
Now that Winton Woods almost had Akron Hoban right where they wanted them, they began putting together their first good drive of the game until Kenny Maybury threw an interception on the left side of the field. A few plays later the Knights connected again on a deep ball with Houser for a touchdown.
This time it was extremely obvious Houser stepped out of bounds around the 3 yard line before scoring, but because their is no replay in high school the play stood as called on the field, touchdown Hoban. The Warriors may have been down 21-0 last week, but this wasn't the Massillon Tigers.
Winton Woods tried kept fighting in the first half as they scored on their next possession on a 16-yard pass from Maybury to Cornell Beachem, the Warriors cut the Knights lead down to 14 points and this would be the closest Winton Woods would be all game, as Hoban lead 42-14 at the half.

NEO Sports Insiders Newsletter
Sign up to receive our NEOSI newsletter, and keep up to date with all the latest Cleveland sports news.