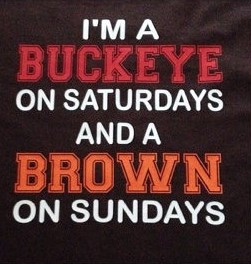 Public Policy Polling surveyed Ohioans and found that 57 percent believed the Ohio State Buckeyes football team would beat the Cleveland Browns head-to-head.
This poll makes clear several factors.
The Browns have a ton of work to do in the court of public opinion.
Even if we acknowledge that most of the people who believe Ohio State could beat the Browns head-to-head don't know a thing about football, it still is true that the perception of the Browns is at what could arguably be considered an all-time low.
The Browns are being mocked in their own state. Whether the fans who voted idiotically are right or not, if the Browns weren't such a joke, hyperbolic polls like this would not exist.
The other factor this points out is that a significant portion of the voting electorate is not well-educated.
If you've been paying attention to this 2016 Presidential Election, first off, I feel sorry for you. But I'm right there with you. And secondly, it's pretty clear that whether you're left-right-middle or completely outside the box, there are a lot of dumb voters.
Why would a poll on football be any different?
The overlying theme of this is that if the Browns want to change the perception of them, they have to go out and win.
If anyone is seriously trying to put out an argument that a college team could beat an NFL team, they are either trolling or just don't know football.
But rather than bash the Browns or bash the stupidity of the fans voting in this poll, let's just see some wins next season and I guarantee that poll questions like this won't even be asked.

NEO Sports Insiders Newsletter
Sign up to receive our NEOSI newsletter, and keep up to date with all the latest Cleveland sports news.