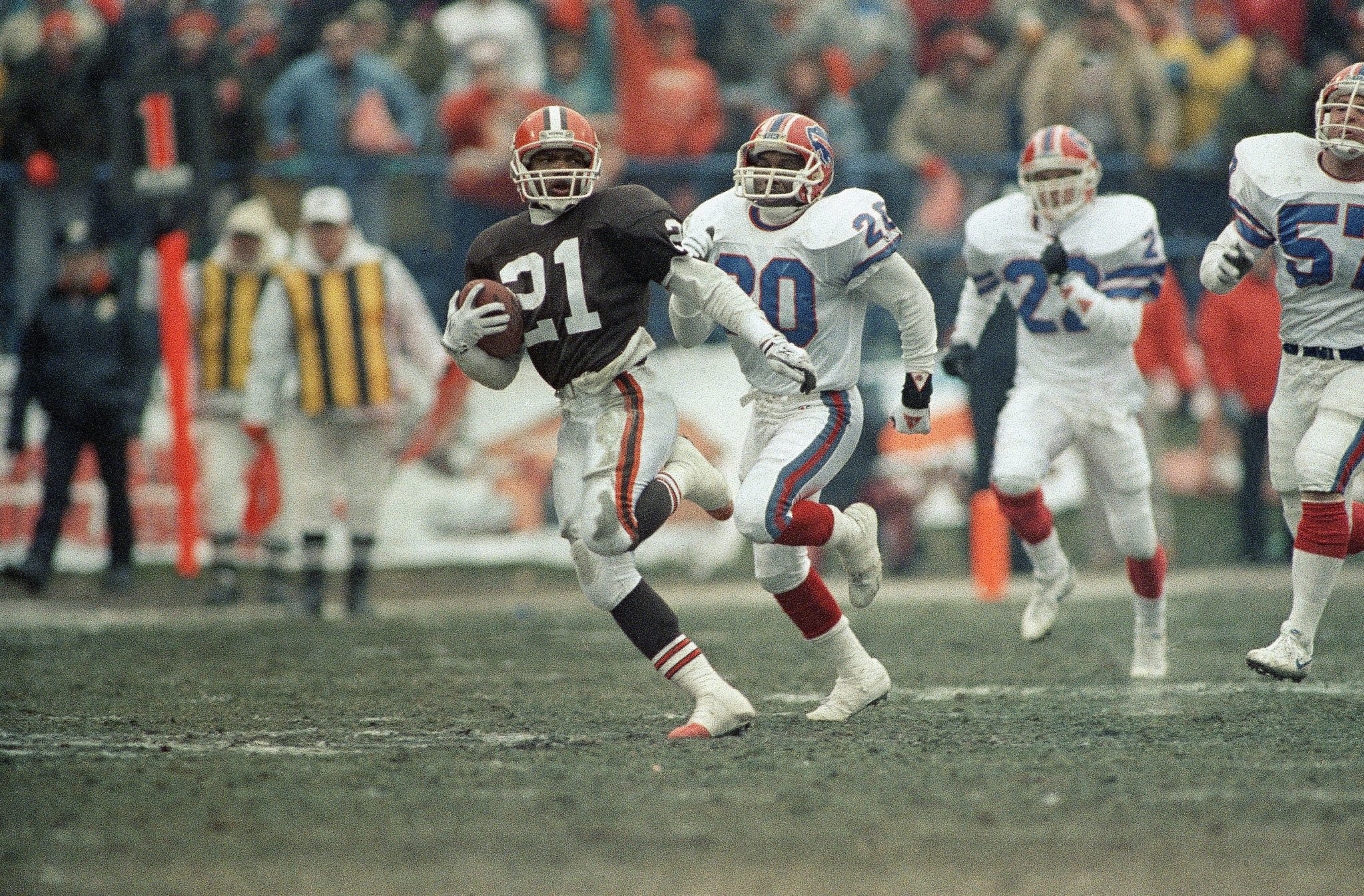 Today the NFL announced the list of modern-era nominees for the Class of 2019, and couple former Cleveland Browns are on the list to possibly get into the Hall next year.
Here's who is on the list who played for the Browns at one point in their career
QB Jeff Garcia – The long time 49'ers QB came to the Browns on March 9th, 2004, spending one season with the team. In one game as the teams starter in 04 he went 8 for 27 passes for 71 yards and 3 interceptions in a 19–12 loss to the Dallas Cowboys, resulting in a career-low passer rating of 0. He spent a solid part of the season on the bench injured.
RB Earnest Byner – While Byner sadly is most known for 'The Fumble' in 1987, he was a workhose back who along with Kevin Mack combined to pound defenses during his time in Cleveland. He returned for the team during their final season in Cleveland in 1995 when all was forgiven after the 87 fumble against Denver.
RB Eric Metcalf – A dynamic kick returner and running back, Metcalf was with the Browns as a draft pick in 1989 to 1994, and will best be remembered for his amazing moves during punts and kickoffs, including two punt returns for scores against the Steelers in a 28-23 win during the 1993 season.
Coach Mike Holmgren – Holmgren didn't coach the Browns, and likely his time in Cleveland is better left forgotten, as he was the teams' president, and spent four forgettable seasons from 2009 to 2012 with the team collecting a check
Coach Marty Schottenheimer – The coach that led the Browns to two of the clubs best seasons in history, 1986 and 1987, two seasons that ended with crushing AFC Championship game losses to the Denver Broncos. He was 44-27 in four and a half regular seasons with the Browns as coach, winning three AFC Central Titles.
TE Mark Bavaro – Best known as a stud at the tight end spot for the Giants, Bavaro came to the Browns for the 1992 season under Bill Belichick, and appeared in all 16 games.
LB Carl Banks – Another former Giant who came to the Browns when Bill Belichick was the teams' head coach, Banks was a leader on the Browns defense in 1994, when the Browns went 11-5 and led the league in points allowed.
LB Clay Matthews – Matthews was the 12th pick in the first round for the Browns in 1978, and had a great career in Cleveland from 1978 to 1993. He ended his career with 69.5 sacks and 14 picks, including a game-saving pick against the Bills at the goal line in 1989 to save the teams' season.
LB Chris Spielman – Speilman never actually played a down in a game for the Browns, but appeared for the team in preseason in 1999, but a neck injury ended his time with the team as he retired before the start of the season. Played for the Lions during his time in the NFL, and also played at Ohio State.
Here's the complete list of all the players up for the Hall in 2019: The list will be whittled down to 25 in November and to 15 finalists in January.
QUARTERBACK — Randall Cunningham, Dave Kreig, Jeff Garcia, Donovan McNabb, Steve McNair
RUNNING BACKS — Shaun Alexander, Tiki Barber, Earnest Byner, Larry Centers, Corey Dillon, Eddie George, *Edgerrin James, Darryl Johnston, Eric Metcalf (WR/KR/PR), Clinton Portis, Fred Taylor, Herschel Walker (also KR), Chris Warren, Ricky Watters
WIDE RECEIVERS — *Isaac Bruce, Gary Clark, Henry Ellard (also PR), Torry Holt, Chad Johnson, Derrick Mason, Sterling Sharpe, Rod Smith, Hines Ward
TIGHT END — Mark Bavaro, Brent Jones, Jay Novacek
OFFENSIVE LINEMEN — Willie Anderson (T), *Tony Boselli (T), Lomas Brown (T), Ray Donaldson (C), *Alan Faneca (G), Chris Hinton (G/T), Kent Hull (C), *Steve Hutchinson (G), Mike Kenn (T), Olin Kreutz (C), *Kevin Mawae (C/G), Tom Nalen (C), Chris Samuels (T), Richmond Webb (T), Steve Wisniewski (G)
DEFENSIVE LINEMEN — La'Roi Glover (DT/NT), Russell Maryland (DT), Leslie O'Neal (DE), Simeon Rice (DE), Richard Seymour (DT), Neil Smith (DE), Bryant Young (DT)
LINEBACKERS — Carl Banks, Cornelius Bennett, Tedy Bruschi, Seth Joyner, Wilber Marshall, Clay Matthews, Willie McGinest (also DE), Karl Mecklenburg, Sam Mills, Chris Spielman, Takeo Spikes, Darryl Talley, Zach Thomas
DEFENSIVE BACKS — Eric Allen (CB), Steve Atwater (S), Ronde Barber (CB/S), Bill Bates (S), LeRoy Butler (S), Nick Collins (S), Thomas Everett (S), Rodney Harrison (S), *Ty Law (CB), Albert Lewis (CB), *John Lynch (S), Tim McDonald (S), Dennis Smith (S), Troy Vincent (CB), Adrian Wilson (S), Darren Woodson (S)
PUNTERS/KICKER — Jason Elam (K), Jeff Feagles (P), Sean Landeta (P)
SPECIAL TEAMS — Brian Mitchell (KR/PR also RB), Steve Tasker (ST also WR)
COACHES — Don Coryell, Bill Cowher, Tom Flores, Jim Hanifan, Mike Holmgren, Jimmy Johnson, Richie Petitbon, Dan Reeves, Marty Schottenheimer, Clark Shaughnessy, Dick Vermeil

NEO Sports Insiders Newsletter
Sign up to receive our NEOSI newsletter, and keep up to date with all the latest Cleveland sports news.