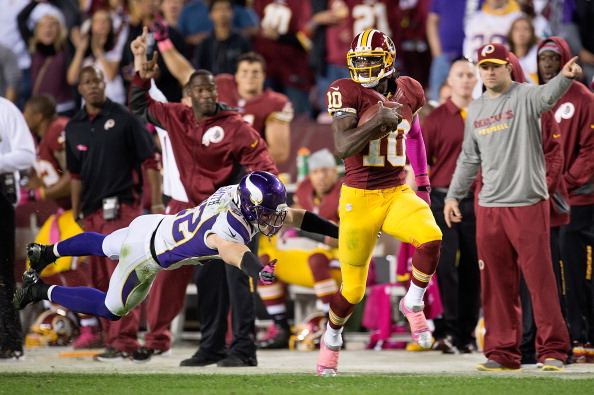 Even when the free agency period appeared dull for the Cleveland Browns, they found a way to grasp our attention once again – "they" being the brain trust constructed of VP Sashi Brown and friends.
As reported by multiple media outlets, former Washington Redskins QB Robert Griffin III has struck interest from the Browns. It would only be suitable for a wrench the size of an NFL rules and regulations book to be thrown into the Browns' draft plans a month and some change before the first overall pick is handed in.
However, head coach Hue Jackson has stated he doesn't intend to let the possible signing of RGIII interfere with his "diligent" process, which to me as a fan is re-assuring.
"…we're still in our process. We're not just going to jump on the table and do something to do it. We have to weigh all of the factors." – Hue Jackson via FoxSports.
Well I would sure hope so, Hue.
Let's get the 'ugly' out of the way. Griffin hasn't touched the field since last preseason when he unfortunately suffered a concussion that sidelined him long enough to let Kirk take the wheel. Even Colt McCoy stole the spotlight when he defeated the red-hot, at the time, Dallas Cowboys in prime-time.
Kirk Cousins' contract speaks for itself when asked how Jay Gruden and the coaching staff felt about Robert's ability to contribute. Understandably, the ACL injury, along with a pestering ankle ailment, are giant flashing red lights when talking about interviewing for the position of Franchise Quarterback.
I invite you to see the possible benefits of signing the former Heisman Trophy winner. His athletic ability alone is something that has intrigued NFL scouts out of college. At 26, Robert Griffin III would be brought in here to compete for a starting job.
Head coach Hue Jackson has also made it clear to Griffin that he should prepare to compete with the No.2 overall pick. In an article posted by Mary Kay Cabot of cleveland.com Hue Jackson was quoted with saying this about the possibility of bringing along RGIII and drafting Jared Goff or Carson Wentz at No.2:
"If it did (happen), to me, he would have to compete and I don't ever worry about that. The cream always rises to the top, and if a guy is afraid of competition, then you have the wrong guy anyway. We'll be fine regardless of how it goes, whether it goes that way and we draft somebody else or it doesn't go that way and we end up taking two quarterbacks. You never know."
Cleveland has experienced with the whole 'let's try to find a mentor who has some fumes left in the tank and develop this shiny piece of brass and march it out later in the year when we're 2-11' idea and it has resulted in a seamlessly never ending drought for the post-season.
Bringing in Griffin would only draw a positive competition out of either the No.2 overall pick, knowing that he has to match up to someone as versatile as RGIII. Also, it would feel like a real competition is actually taking place. Remember when Brian Hoyer 'beat-out' the No. 22 overall pick of that same year? Me and you both know Johnny Manziel obviously didn't stand a chance of being the signal caller his rookie year.
Griffin has also been known to construct high-light reel worth plays such as these through-out his brief NFL career:
In conclusion, trying to figure out how this move does or does not make sense for the Cleveland Browns can cause migraine-like pains. The risk vs. reward situation is one the Browns have been trying to tamper with for years and if Hue Jackson and the front office feel Griffin can contribute, then I guess we'll have to have lengthy conversation about Josh McCown – (63.7% — 2,109 yards – 12 TD – 4 INT – 93.3 QBR).
Until then, stay posted to NEOSI for the latest news and developments on Robert Griffin III and the Cleveland Browns. Feel free to share your thoughts with me on Twitter.
@VinceMillerCLE

NEO Sports Insiders Newsletter
Sign up to receive our NEOSI newsletter, and keep up to date with all the latest Cleveland sports news.