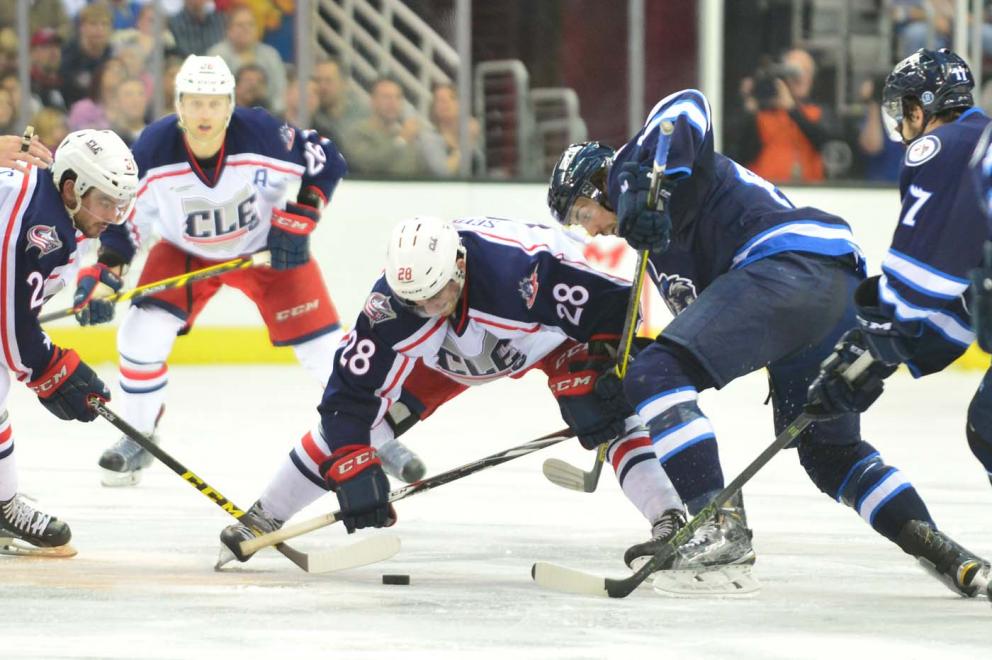 CLEVELAND – The Lake Erie Monsters came into Friday night's game looking to win the first game of a 3 game weekend homestand as part of Monsters Youth Weekend. However the Monsters were unable to take advantage of their shot-on-goal difference as they fall to the Manitoba Moose 4-0.
The Moose' Dan DeSalvo was able to get the first score early in the game to set the tone for the game. The Monsters tried to create offense with them getting 36 shots on goal compared to the Moose' 23.
However thanks to Moose' goalie Connor Hellebuyck's 36 saves and additional scores by Kuchton, Kramer, and Melchiori, the Moose proved to be too much for the Monsters offense to handle.
The Monsters and the Moose will meet again tomorrow night at 7pm at Quicken Loans Arena. The Monsters snap a two game win streak and fall to 33-19 while the Moose snap a five game losing streak and improve to 19-35-1.
Game notes:
Scores: 39 Dan DeSalvo 6:03 1st Period (2nd Goal of season)
Assist: 42 P. Stoykewych & 2 A. MacWilliam
Scores: 8 B. Kichton 16:04 into 2nd Period (7th Goal of season)
Assist: 17 J. Lodge
Scores: 22 D. Kramer 11:20 into 3rd Period (4th Goal of season)
Assist: 17 J. Lodge (2nd assist in game)
Scores: 44 J. Melchiori 17:29 into 3rd Period (3rd Goal of season)
Assist: 2 A. MacWilliam
After 1st Period: Manitoba Moose 1 (8 shots, 13 saves), Lake Erie Monsters 0 (13 shots, 7 saves)
After 2nd Period: Moose 2 (16 shots, 24 saves), Monsters 0 (24 shots, 14 saves).
Final: Moose 4 (23 shots, 36 saves), Monsters 0 (36 shots, 19 saves).

NEO Sports Insiders Newsletter
Sign up to receive our NEOSI newsletter, and keep up to date with all the latest Cleveland sports news.