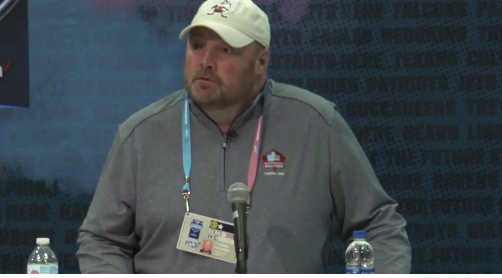 The buzz around this week's NFL Combine is very subdued in Cleveland where the Browns finally found their franchise quarterback. Fanfare or not, for new head coach Freddie Kitchens and general manager John Dorsey there is still plenty of work to do.
They'll be spending the next few days in Indianapolis vetting and analyzing players they will eventually consider drafting come April. That process began Wednesday with Kitchens meeting with the media for the first time since his introductory press conference in January. The first-year head coach fielded questions about plenty of the hot topics surrounding the team during the offseason, including the signing of Kareem Hunt. Here are some highlights from what he had to say.
1) A man of the tape
"I'm from the old school thought of,' just tell me what's on tape.' That's what coach Parcells used to say, just tell me what kind of football player they are. So this week more for me than anything else is get to know the kid, get to know the person. See what makes him tick. See what makes him mad, see what makes him happy, see what makes him motivated."
Right off the bat, Kitchens made his philosophy for evaluating the players known. He trusts what he sees from players on the tape and that will be his guide in terms of how talented a player is or isn't. Beyond that, Kitchens made it clear the combine for him is about getting to know these prospects. Teams have the opportunity to meet privately with players, which every year seems to produce headlines about the bizarre questions some teams ask. Kitchens and company can also evaluate how specific players respond to questioning in a press conference throughout this week as well. Sure, there will still be some evaluating done based on how guys perform in the on-the-field drills and how they measure up, but Kitchens is more concerned with their tape and character.
2) Needs to support Kareem Hunt
"Right now Kareem Hunt is a Cleveland Brown and it's our job to support him to be a better person. At some point, football is gonna end for all these guys and it's our job as coaches and as people and as mentors to give them something to do in a good nature. … We're in the people business to make him a better person and to give him the resources and support system that he needs to become a better person."
This was a very interesting response to the first question Kitchen's faced about Kareem Hunt. The Browns new head man essentially said that it's their responsibility to transform Hunt into a better person following the domestic violence incident he was involved in last winter. One one hand, across all levels of sports coaches are expected to be role models who help mold their players into better people. That can be true at the NFL level as well. But Hunt is also an adult. A young adult, yes. But an adult nonetheless. At the end of the day it is on Hunt to want to change and seek the help he needs. Not the Browns. By signing him though, they do have to now go that extra mile to keep him in line, which may be the larger point Kitchens was trying to make. At the end of the day though, the Browns didn't sign Hunt because they want to make him a better person. The NFL isn't a charity organization. Hunt is getting a second change because he's good at football. As Kitchens added later though, Hunt's second chance hasn't started yet. He has a lot of work to do.
3) "Nick Chubb is our running back."
Kitchens was upfront when he was asked (expectedly) about what the insertion on Kareem Hunt into an already talented running back room meant for Nick Chubb. The 2018 second-round pick is still top dog in the Browns backfield. That said, Kitchens went on to mimic general manager John Dorsey in saying that they want good football players and that the franchise will always endorse competition among players. He also doesn't expect Chubb to back down from a competitive situation. Considering that Cardinal's GM Steve Keim is being vague about his team's commitment to the rookie QB they drafted last year it was definitely worth asking what Hunt's presence means for Chubb. Based on this response, nothing.
4) Bring back a wide receiver?
"Breshad [Perriman] is a good football player. Rashard had more success with us than he has anybody else. We've got plans for Breshad moving forward and hopefully we'll get him back."
Wide receiver is considered one of several position of need for the Browns this offseason and there are a number of ways they can go about addressing it. There's the draft of course and others have even suggested a blockbuster trade for Odell Beckham Jr. However, maybe the simplest way to address it is keeping the core of guys intact. That would include unrestricted free agent to be Breshad Perriman, who the Browns signed five weeks into last season. Perriman flamed out in Baltimore as a first-round pick in 2015 but got his career back on track in Cleveland. Based on Kitchens' remarks the Browns obviously want him back. John Dorsey and company will have to decide if Perriman's impact large enough to warrant the large payday he's reportedly seeking.
5) Baker needs a break
"The one thing I told [Baker Mayfield] when he left the building was that I wanted him to get away from football. This time last year he had been training already for two months. And then we leave here he continues to train for the draft, OTAs, training camp so it was like a year and a half process almost. So he needed to get away from football."
People don't always realize the whirlwind of a year-and-a-half of work that rookies endure, from training for and playing a college football season, then going right into training for the NFL, rookie camp, training camp and playing a rigorous 16-game NFL season. It's non-stop and can take a real physical toll on a player's body. The offseason after your rookie year is the first chance these newbies get to really catch their breath and recover. So what was Kitchens' advice to Baker Mayfield after a memorable rookie season? Get away from football. The 44-year-old went on to explain the importance of every member of his team finding balance in their lives with football (work for them), their families, recreation, etc. And while Kitchens has no problem with Mayfield going on late night talk shows he didn't mention whether or not Myles Garrett dunking basketballs and breaking backboards was acceptable.
Follow: @Spencito_

NEO Sports Insiders Newsletter
Sign up to receive our NEOSI newsletter, and keep up to date with all the latest Cleveland sports news.