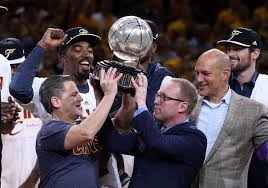 1.) Woah Delly
The fans of Cleveland might be upset again as another fan favorite may very well be on his way out of Cleveland. Fans saw the "Wild Thing" Anderson Varejao get traded during the season after spending his entire 11 year career to that point in Cleveland. Matthew Dellavedova became a fan favorite after working his way into the rotation from making the Cavs as an undrafted free agent in the dark days.
He gained popular notoriety for his play in the 2015 playoffs for some so called dirty plays and for his performance with Kyrie Irving, Kevin Love, and Iman Shumpert hurt. Known as a scrappy and hustle defender, Dellavedova has continued to improve in all aspects of his game. His shooting from the outside was the best of his career this year, and he has continued to grow as a passer too. His hard work hasn't gone unnoticed as teams will take a hard look at him in free agency. Detroit and Milwaukee are two teams that are strongly linked to Delly.
There are chances he can get upwards of 10 million a year from somebody looking for a point guard. The Cavs and their luxury tax will make resigning Delly extremely unlikely. The NBA Draft was another indication the Cavs might be moving on from Delly. They traded 2.4 million dollars to move into the second round to take 5'9" PG Kay Felder from Oakland. That's Oakland in Michigan and not in the Bay Area for those wondering. That puts three point guards on the roster between Kyrie Irving, Felder, and Mo Williams who accepted his player option for next season.
If they wanted to go even deeper, Quinn Cook could be another option. Cook was the NBA D-League Player of the Year for the Canton Charge, the Cavaliers D-League affiliate. Cook averaged just under 20 points per games to go with 5.5 assists and 4 rebounds last season. The Cavalier faithful will be tuned in to the future of the Aussie in free agency.
2.) Swish
Of all the players the Cavs have as impending free agents, J.R. Smith is the one that needs to be resigned. Previously known as a hot-headed guy that can only shoot the ball before coming to town, JR has shown a much different side since being here. With a focus on basketball and not the limelife,
Smith has had some of his best seasons as a pro in Cleveland. His defense has been phenomenally better than advertised. He has continued to knock down shots from three and is an energy guy when the offense goes into a lull. He was one of the main reasons why the Cavs made it to and won the NBA Finals.
Staying in the Cavs system where he is comfortable and has flourished should be a priority for him as well. In the Cavs big spending offseason last year, J.R. got lost in the mix. It took him all the way until the end of August to resign with the Cavs, nearly two months after free agency began and that was for a one year deal under market value with a player option.
He can't be the afterthought this year and he won't come cheap either. While his past problems may make him give Cleveland a little bit of a discount to stick within his comfort zone, he still deserves more than what Iman Shumpert got lost year. At 31, his contract will be tricky but I'm guessing it will be somewhere in the three year 35 million range.
3.) How Committed Are They To Small Ball?
The biggest switch from David Blatt to Tyronn Lue was in the pace of the offense. Coach Lue likes to run an aggressive fast paced offense. The way he wants to play can be compared to Golden State, something any NBA fan is familiar with. Under Lue, the big guys didn't see a lot of playing time.
Timofey Mozgov fell out of the rotation and will likely get a better offer from another team that feel like he can return to his 2014-15 form. Sasha Kaun is still under contract for one more year and was clearly a "Blatt guy: with their connection to the Russian national team. I think he will remain buried on the roster for one more year since the team still has spots on the roster to fill.
Varejao was traded away during the season, leaving Tristan Thompson, Kevin Love, and Channing Frye as the only bigs remaining on the roster. Will Lue continue to commit to a smaller lineup and not go after some bigs in free agency or will they take a chance on an enforcer in the middle? With the new sheriff in town for a full offseason, the plan for how the team will play can be impacted by the rotation players brought in over the next few months.
4.) Who Will Take The Veteran Minimum?
The Cavs will hopefully keep most of their roster intact for next season. Dellavedova and Mozgov seem to be the only ones more likely to be playing in a uniform that does not say Cleveland next season. Felder was drafted to seemingly replace Delly. That leaves Mozgov or Dahntay Jones' spots as maybe the only two for next year if Smith, James Jones, and Richard Jefferson all return next season.
The Cavs have until August 1st before Jones contract becomes guaranteed and the team has already picked up Jordan McRae's option. Due to the Cavs already mind-boggling salary, they are only able to offer the mid-level exception and minimum contracts. To fill those roles, the team will be on the lookout for a veteran player willing to take less money to chase a ring.
This has become a common trend in the NBA recently with David West being the prime example. He turned down a 12 million dollar option from the Pacers to take the 1.5 million dollar minimum to play for the Spurs. While most players wouldn't take that big of a cut, there are some that would consider Cleveland a great option. Who those players are is still to be determined but that will be the only likely way they end up here.
5.) Is This David Griffin's Vision?
It's been just over two years now since David Griffin has taken control of the GM role for the Cleveland Cavaliers. While his predecessor Chris Grant loaded up on draft picks, Griffin has made a lot of trades involving players to reshape the team. While he was helped by LeBron deciding to come back, he still had a lot of work to do to get this team from a 19-20 record to becoming the NBA Champions one year later.
Just because the team has won doesn't mean they are anywhere close to being done. Two years has been some time to get his fingerprint on the roster but the offseason will tell what he thinks of it as Lue will get his first full offseason with the team. Perhaps his biggest move so far has been trading for Love, a move that has seemed to work at times but was not the answer most fans were hoping.
After dominating in Minnesota, he hasn't lived up to the same success while being a third option. His shot has struggled and his play has been inconsistent. Griff said he wanted to keep this team together and not break it up going into the offseason. Anybody knows that if you have a chance to make your team better that you need to take advantage of the opportunity.
Will Griff stick with what he's got and make some small moves and hope the team repeats, or will he continue to tweak the team as he has done so since taking over? The Cavs are not going to be players in free agency so a trade would be the likely route with Kevin Love being the obvious candidate. Let's see what his vision for the team is this upcoming season.

NEO Sports Insiders Newsletter
Sign up to receive our NEOSI newsletter, and keep up to date with all the latest Cleveland sports news.